Don't Wait for the Grass to Grow! Hop on the Knight Bus in "Wizards Unite"
by Brienne Green · Published · Updated
It wouldn't be going too far out on a limb to say that most of us would trade every last roll of toilet paper in our houses to be able to hop aboard the Knight Bus for a quick trip to Hogwarts right about now – while still social distancing, of course. But since that's sadly not in the cards, we wizarding world gamers can settle for the next best thing: a virtual trip, courtesy of Harry Potter: Wizards Unite. You can read all about the impending arrival of everyone's favorite purple triple-decker below, plus delve into the much-anticipated appearance of the Castelobruxo exchange student in Harry Potter: Hogwarts Mystery! We also have a few bonus looks at the upcoming Harry Potter: Puzzles & Spells, which has been busy soft-launching in various countries. So without further ado – phones at the ready!
Wizards Unite Update
The Wizards Unite crew has gone above and beyond to ensure the game can be played from home since the COVID-19 quarantine began, including eliminating Wizarding Challenges from tasks required to complete both special events and daily assignments. But players who don't live adjacent to a Fortress have certainly missed those battles against angry Acromantulas and Cornish pixies somehow skilled in the martial arts. Faraway Fortresses taunt us on our maps.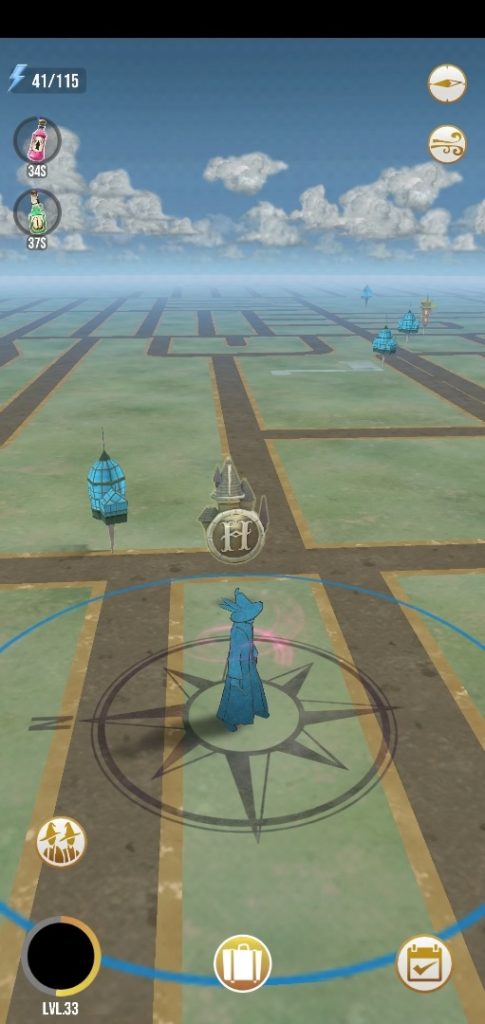 But no longer! Wizards Unite announced Monday that the Knight Bus is on its way to transport us stranded witches and wizards to none other than Hogwarts. There, a special Fortress will allow us to zap Erklings to our hearts' content.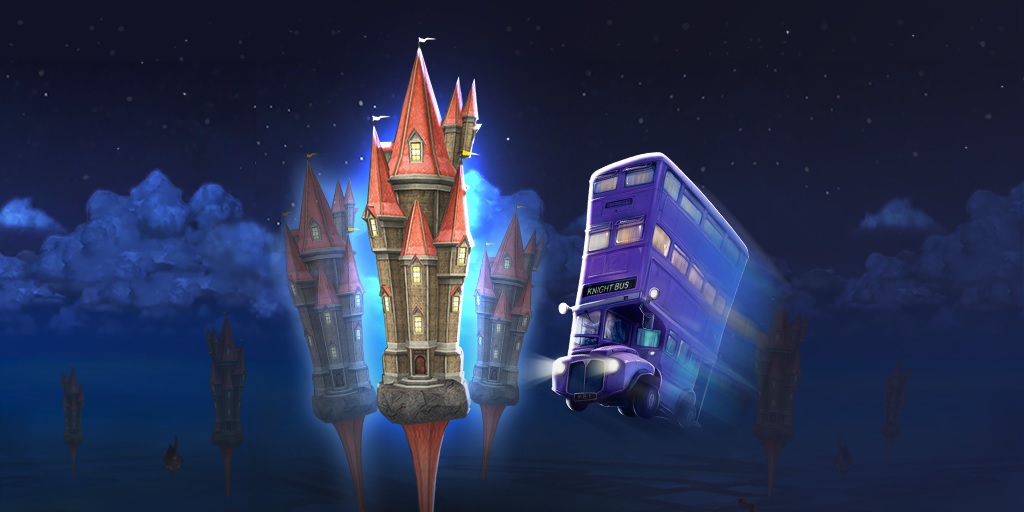 Here's some even better news: The feature won't disappear when we're all free to wander again. The bus will continue to run its Hogwarts route, something that will be particularly appreciated by gamers living in remote areas or small towns in which Fortresses are few and far between. The Knight Bus will be recklessly driving its way onto your screens very soon, so keep an eye on the game's Twitter account for the green light. Note that only players who've attained Level 7 and above will be able to catch the bus.
Those of us who prefer fighting solo may also have to learn to play well with others for the time being, Wizards Unite Hub says. With everyone being dropped off at the same Fortress, you're likely to see others joining your chosen Chamber unless you're quick on the draw with the start button or able to play during off-peak hours.
We're also hoping to see the Knight Bus expand its scheduled stops at some point to include Inns and Greenhouses. Some of us are running low on gifts!
Moving on, Part 2 of the Burrow Besieged Brilliant Event is underway as of this afternoon!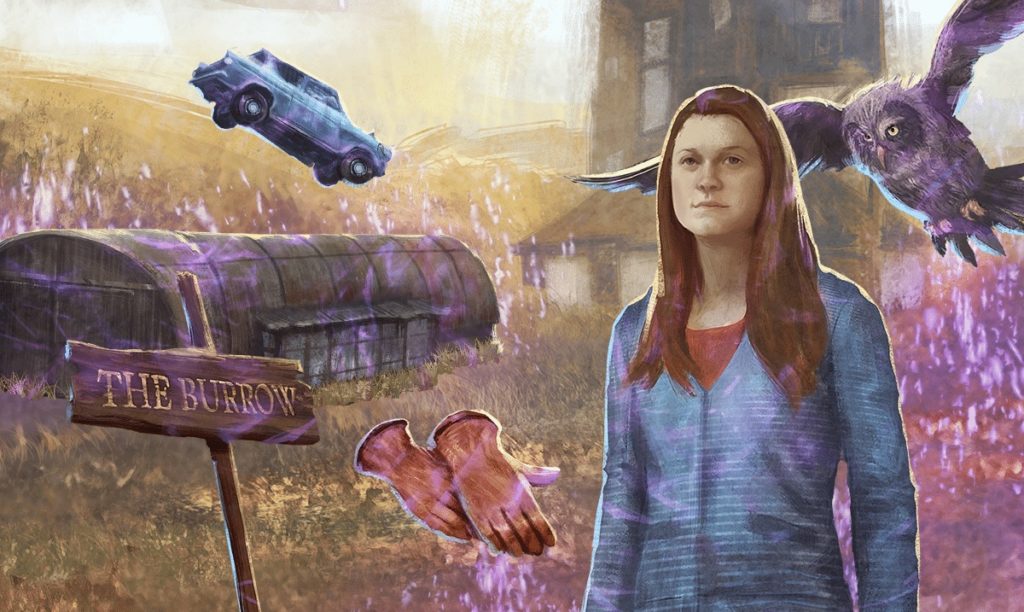 You'll have until 2:00 p.m. (ET) on Tuesday, April 28, to add the special Foundables to your event Registry Page. Appearing in shimmering purple form via your map will be Brilliant Young Ginny Weasley and the Brilliant Flying Weasley Car. Complete event tasks to receive Brilliant De-gnoming Gloves and Brilliant Arthur Weasley's Shed. Activate event-specific Portkeys to pick up the Brilliant Burrow Sign, and collect fragments through the bonus assignment to complete Brilliant Errol.
You'll also see gnome Confoundables popping up in packs (or herds, or whatever large groups of gnomes are called) since they'll be needed to complete several event tasks. Don't forget your free Diagon Alley Shop bundle and to leave time for the bonus assignment, which you'll have to complete to add Brilliant Errol to your collection! Your event-specific Portkeys will be taking you back to Weasleys' Wizard Wheezes, and major props to the developers on this one!
Speaking of Weasleys' Wizard Wheezes, you may have noticed its new Registry Page in the Wonders of the Wizarding World Family! You can now expect to see Proprietor Fred Weasley, Proprietor George Weasley, Lee Jordan, the Puking Pastilles Display, and Open Skiving Snackboxes Foundables making their debut in the game!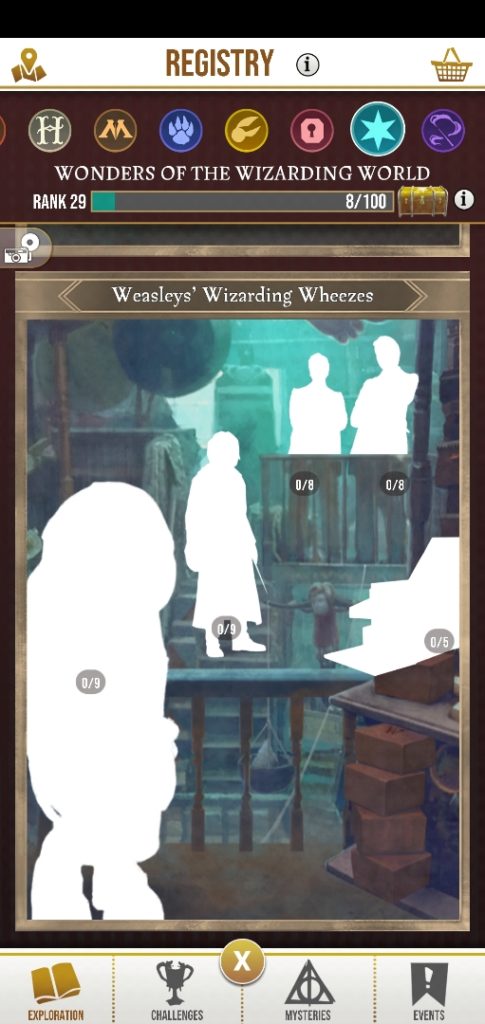 Finally, Version 2.12.0 is going live, and those updates are listed below.
Portkeys: 5 km and 10 km Portkeys will now include increased Spell Energy and Wizarding XP rewards. Portkeys unlocked after you've installed the update will also have their distance requirement decreased once again by half until further notice. It can be hard to walk around your house when it's full of stacks of hand sanitizer and ramen noodles, so this will totally help.
General: As you log into Wizards Unite - which iOS users can now do with their Apple IDs - you'll notice your Code Name, email address, and provider appear at the bottom of the screen, as does a little clock in the bottom left corner that indicates the game is loading, although the download bar at bottom center is still there doing the same thing. Why? We're not all that sure, actually. Hey, game developers get bored in self-isolation too! You also now have the option of disabling push notifications for Portkeys and gifts from the settings menu, and Landmarks have been removed from the map for the time being.
Hogwarts Mystery Update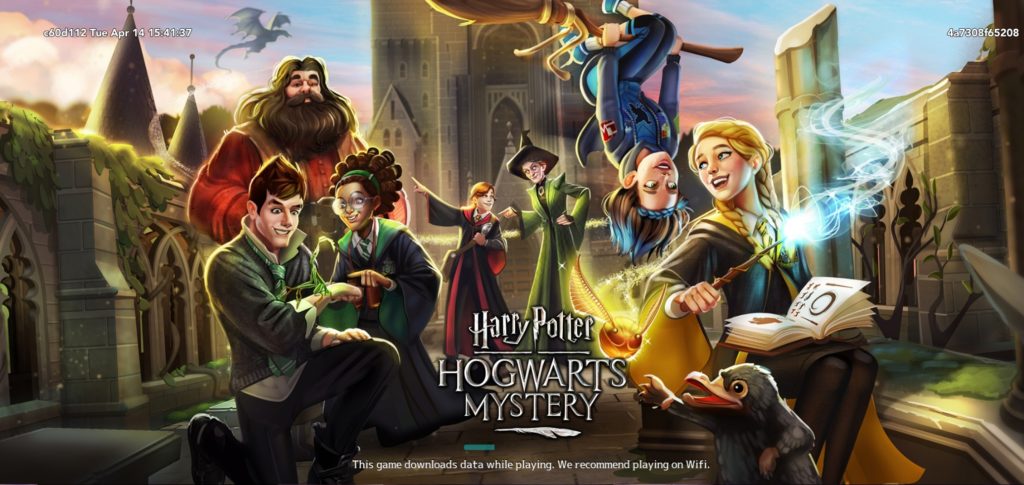 Players of Hogwarts Mystery will have recently noticed some big changes to the game's aesthetic. Among them, Location Selection now appears as a group of icons across the width of your screen rather than a vertical list on the left, and the on-screen icons have been shrunk and rearranged.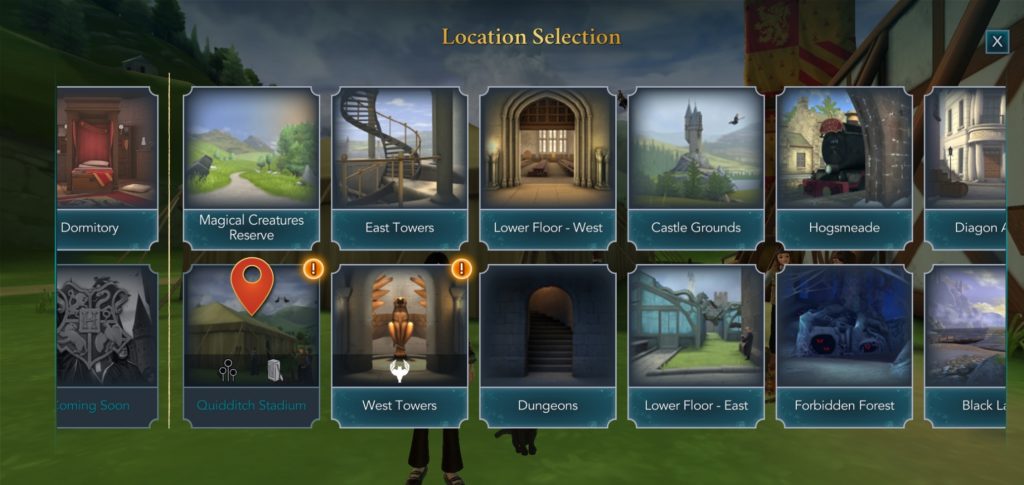 It's a lot to get used to for people who were accustomed to navigating the game by muscle memory, but the location icons are pretty and the screen is less cluttered, so we'll roll with the flow. Moving on, if you earned enough House Crests - and were obsessively unwilling to have that one final piece of constellation-themed furniture conspicuously missing from your dorm - you're now sleeping among the stars! We love the fact that Canis Major and Cassiopeia are visible on the bed!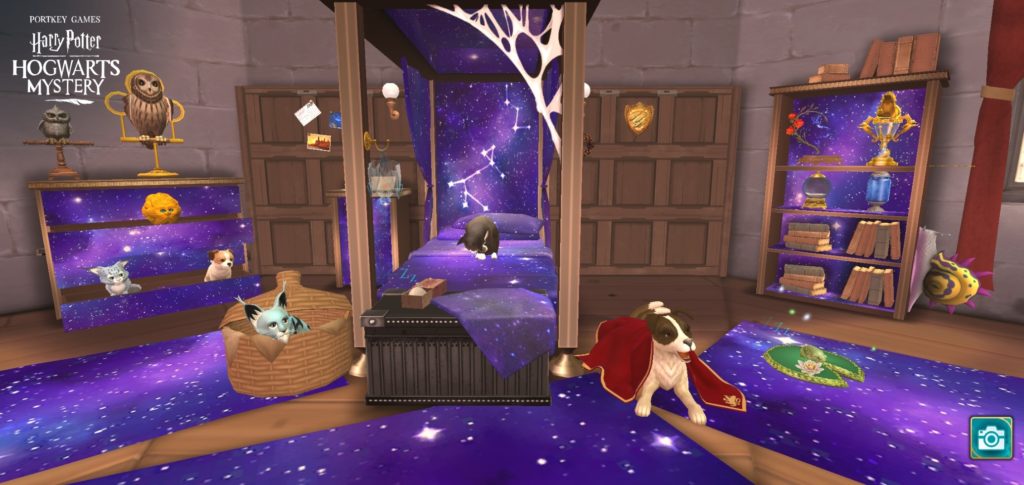 As for the story, the Castelobruxo exchange student has finally arrived!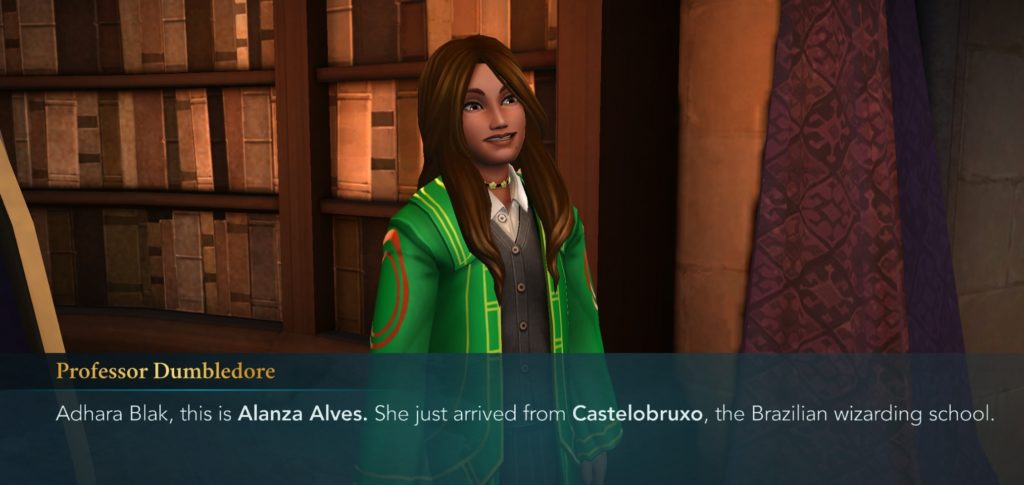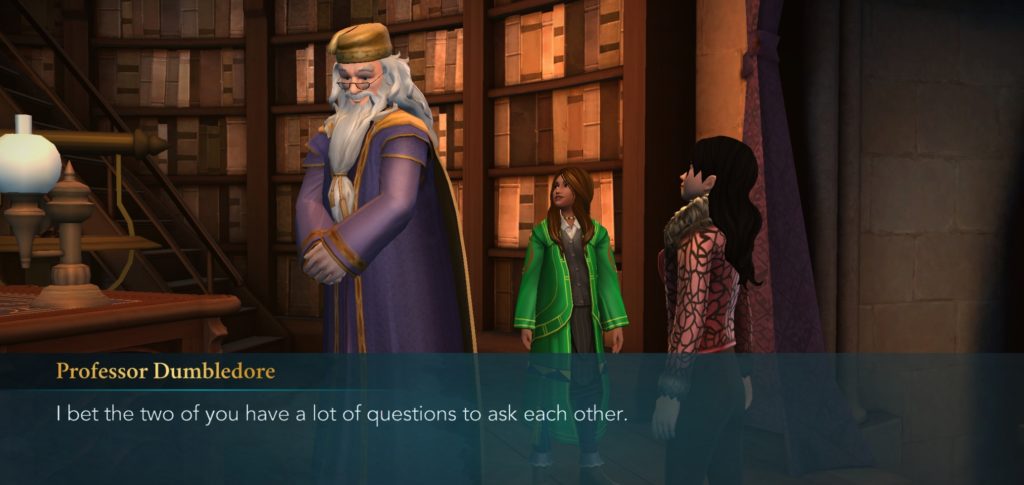 We're over here, Dumbledore. But yes, we definitely have many questions for Alanza!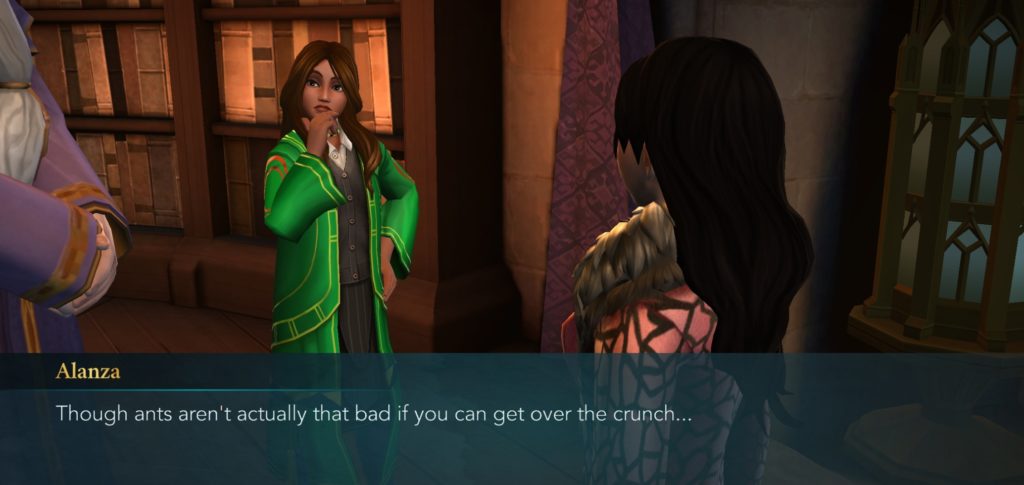 That wasn't one of them! Here at Hogwarts, we call that TMI. Alanza, meanwhile, has a lot of questions for you as well.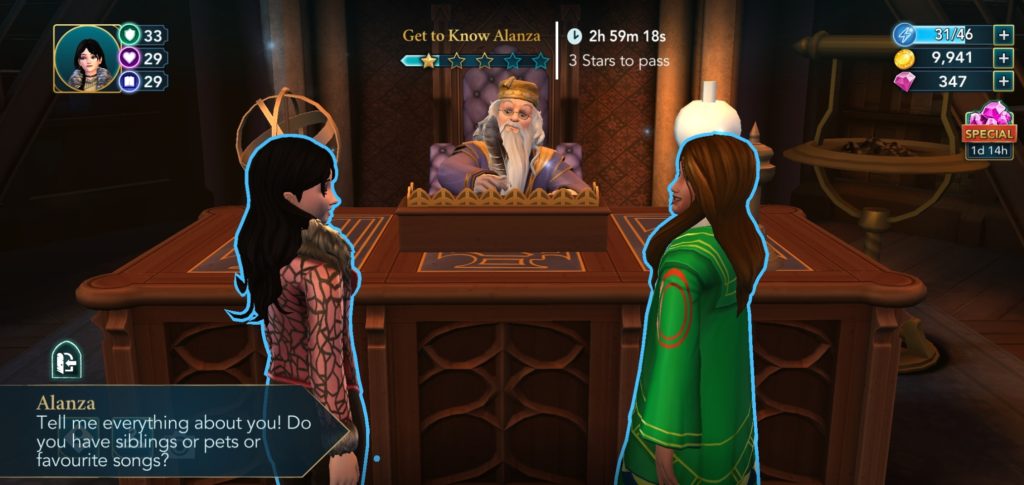 This game has burned us enough times that we're suspicious of everyone now, and that goes double for Alanza, since she's clearly trying to pump us for the sort of information that would help her guess our passwords. You're not hacking into our Wizard Amazon account, girlie! But since Dumbledore has appointed us Hogwarts's goodwill ambassador, we're obligated to show her around.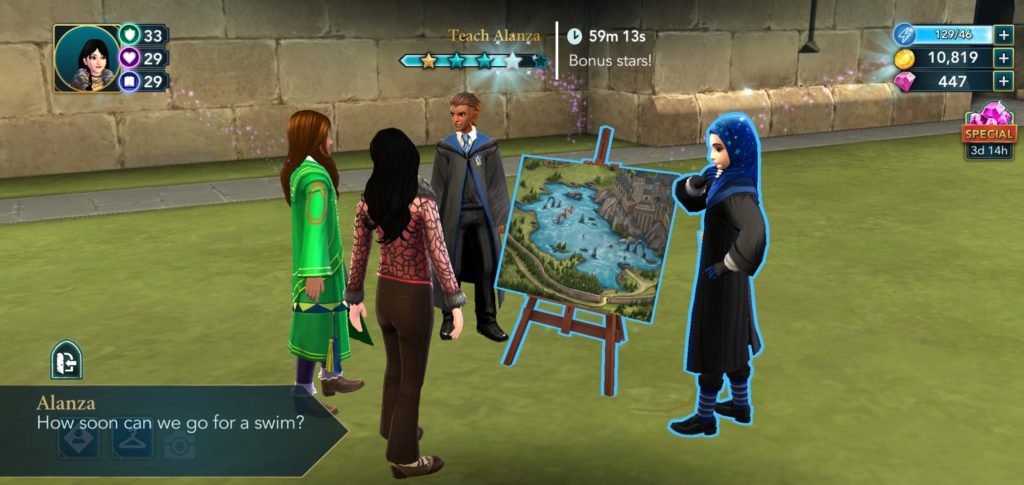 As soon as you feel like being murdered by grindylows, Alanza. Anyway, the initial introductions portion of the Hogwarts tour could have gone a little better.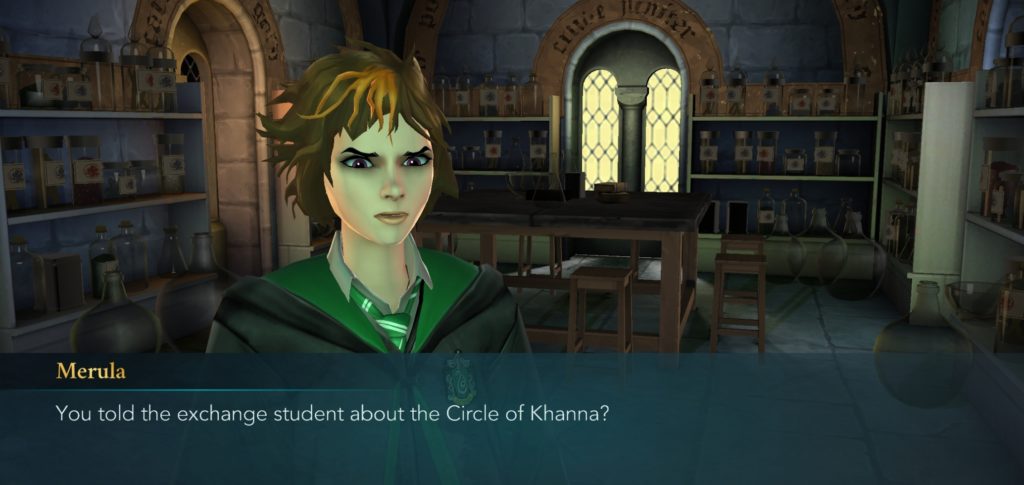 Technically, Badeea did. So stow your righteous indignation, Snyde. But yes, now we have Alanza's Type-A interest piqued, and she becomes a bit pushy about joining. That leads to her blabbing about the Circle of Khanna in front of Hagrid.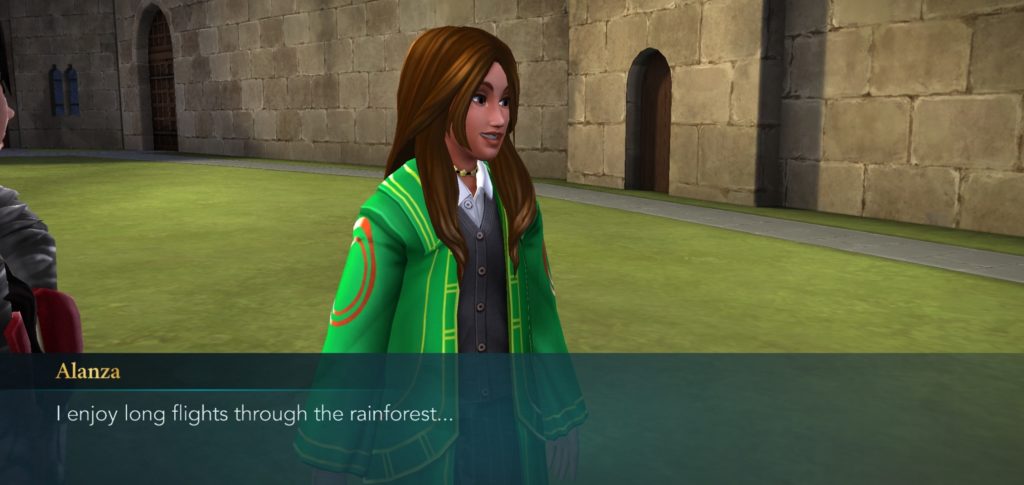 Well, prepare to depart from the end of our foot. We opted to take the honest route with Hagrid because what sort of monster would lie to him? (If you're that sort of monster, let us know in the comments what he said.)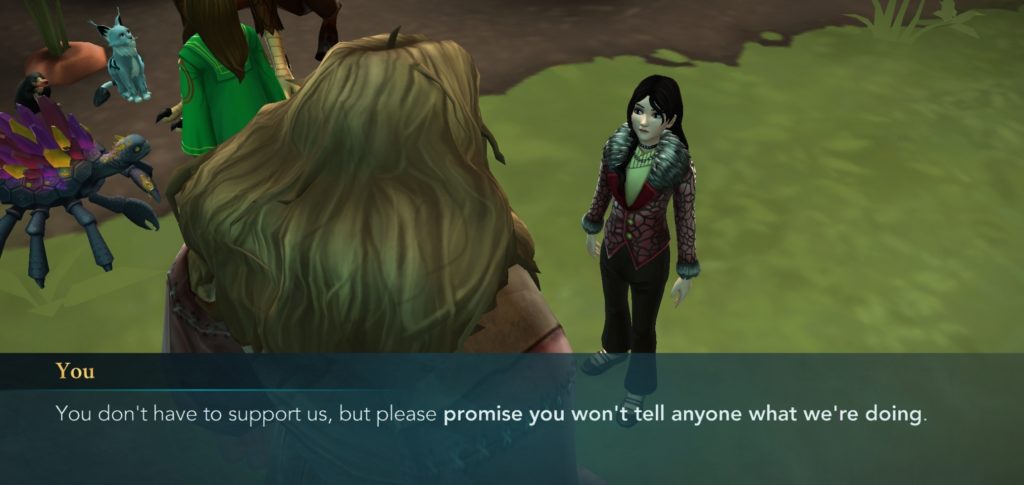 And if you do, we'll tell Dumbledore about your illegal trafficking of exotic animals. We may be above lying to Hagrid, but we're not above blackmailing him. So at this point, Alanza's behavior could be construed as suspicious, but she has her good qualities too.
Incendio!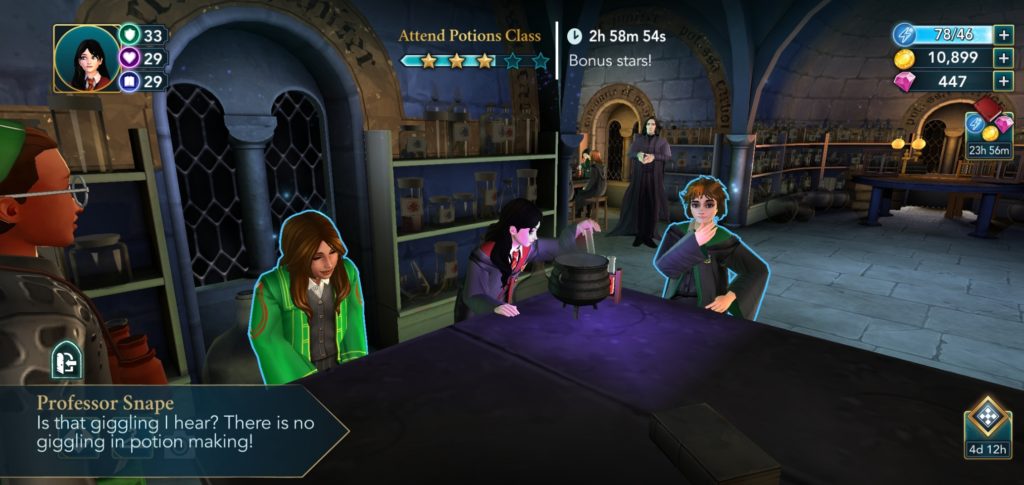 And there's no crying in Quidditch! As it stands, the cat's out of the bag regarding the Circle of Khanna, as Ismelda so astutely observes, but we're left with Alanza's word that she'll keep the secrets.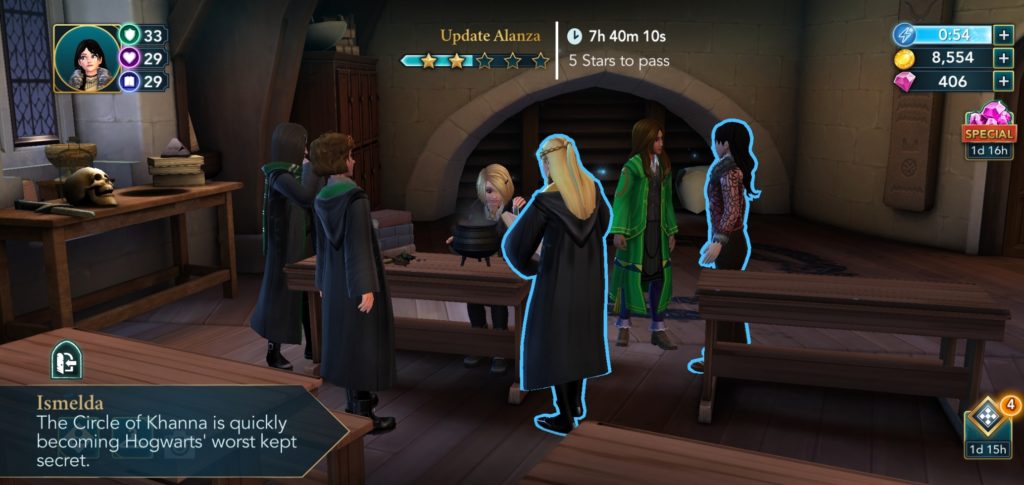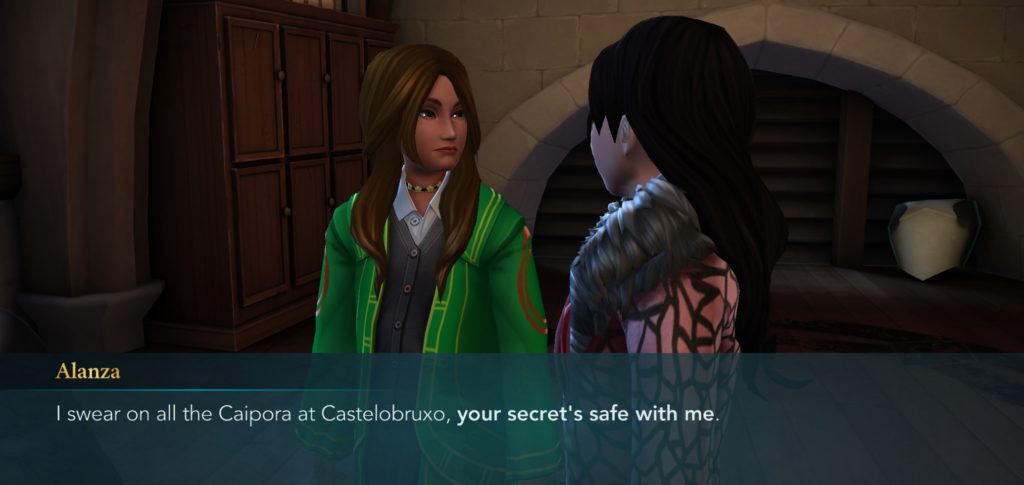 By all the hippogriffs at Hogwarts, we're holding you to that. As for what we have to look forward to in the game, we'll apparently be welcoming Bill Weasley back to Hogwarts soon for s'mores.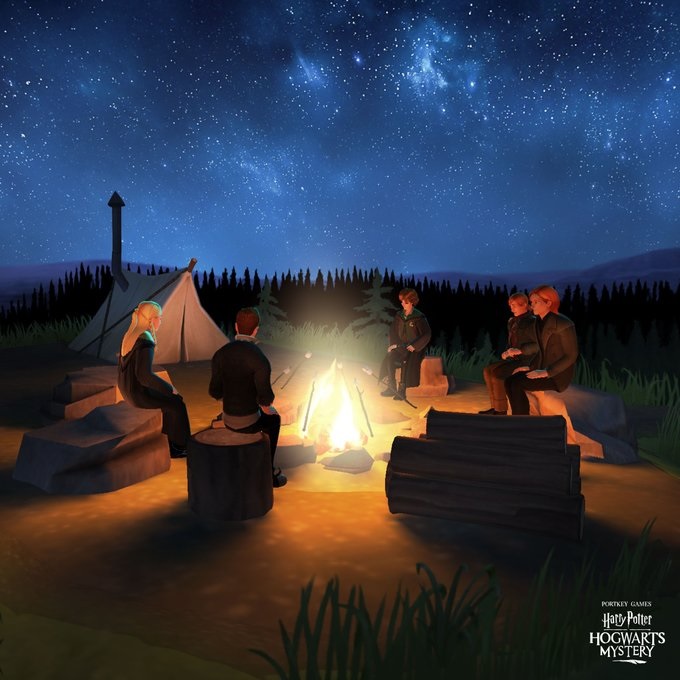 But almost as important as s'mores, Bill needs help with a special mission at Gringotts Wizarding Bank! We can't wait to see this location.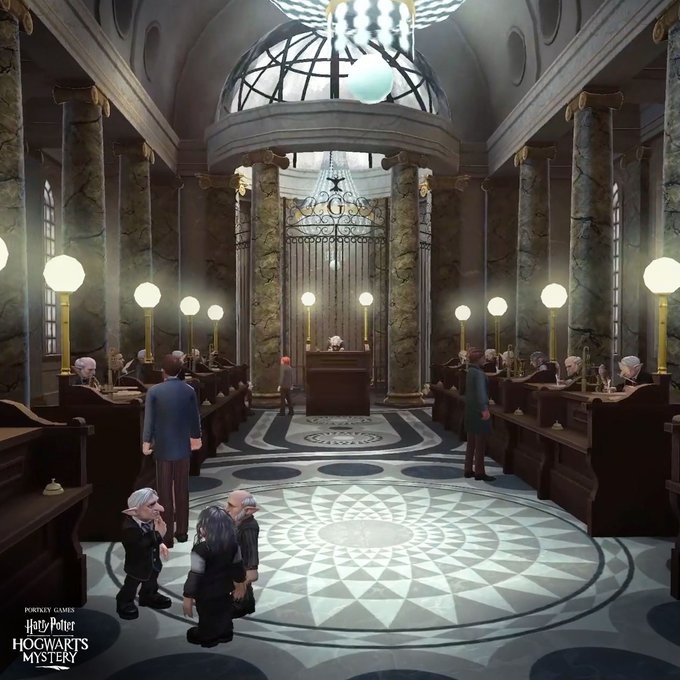 On a final note, if you're in need of gems, gold, or extra energy, now would be the time to stock up. Hogwarts Mystery is running a points special on Google Play.
Our Google Play Point promotion starts today! pic.twitter.com/jm80d1nVT5

— Harry Potter: Hogwarts Mystery (@HogwartsMystery) April 20, 2020
Other Game Updates
While Harry Potter: Puzzles & Spells still isn't available in the United States, it's been adding new countries to its soft launch. And from an active app page in a Google Play Store that is already offering the game, we were able to get an expanded description and some additional screenshots.
As you progress in your match-3 adventure, unlock classic moments from the films, including Harry, Ron and Hermione toppling a troll, Fred & George playing pranks, and Hagrid taking care of his magical creatures! Learn more about the wonders of the [w]izarding [w]orld as you collect cards depicting artefacts, locations and oddities, which can earn you the help of a magical creature that will aid your match-3 puzzle solving! So get ready to 'swish and flick' your way to a magical journey of your very own in the most whimsical of match-3 games!
It looks like the game is getting overall positive reviews so far. If you absolutely hate surprises (or just want a sneak peek), you can check out the video below from Android Gameplay Weekly's YouTube channel while you wait.
And as a final treat for you Animal Crossing: New Horizons players, Twitter user capsulebutt has lovingly created all four Hogwarts House common rooms using the game's capacity for home decorating. They're adorable! Hopefully, they inspire you to spend some downtime on your own special creation.
I made the Harry Potter Hogwarts Common rooms in ACNH~ ⚡️🦁🐍🦡🦅 It took a very long time haha. Gryffindor, Slytherin, Ravenclaw and Hufflepuff respectively. Which do you like best? pic.twitter.com/uixZwKzA9K

— capsulebunny acnh (@capsulebutt) April 13, 2020
What do you think of the changes in Hogwarts Mystery? Are you excited to catch the Knight Bus in Wizards Unite? Let us know in the comments!