The Eighth Man Creates US Quarantine Cup 13
Even in quarantine, Muggle quidditch tournaments can still happen. When the 2020 US Quidditch Cup was canceled, many people had questions. What would happen? Who would win the tournament? The Eighth Man, a quidditch community site for analysis and strategy, had the same thoughts. That's how Eighth Man staff member Joshua Mansfield got the idea for US Quarantine Cup 13.
The Eighth Man simulated games and posted results continuously over the past couple of weeks. Mansfield built the program using data from World Cup VIII through Quidditch Cup 12. The simulator created a probabilistic score for every game. To be sure the staff did not influence results, the Eighth Man made ten different pool draws with three potential champions, anonymized them, and let the people vote.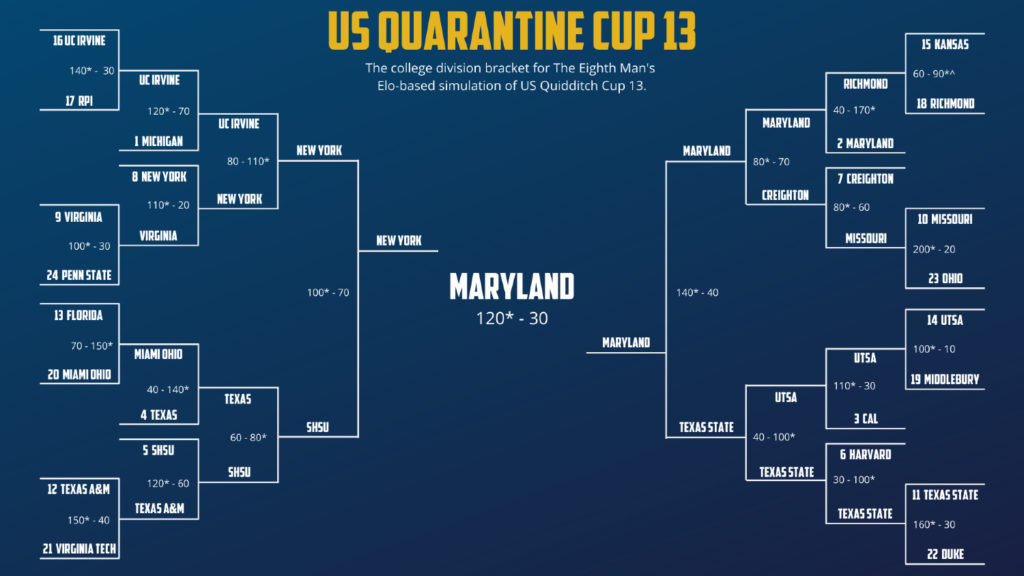 The Eighth Man staff members posted recap articles about matches. They even conducted interviews with team captains about their team's performance in games. The tournament lasted almost three weeks, March 30–April 19. The final match was on Sunday, and the team of the University of Maryland won against the team of New York University. In an interview with US Quidditch, Mansfield said he thinks that the response of the quidditch community was pretty positive.
Ultimately, this project became so fun for me because I haven't played quidditch since February, and wanted at least a little dose of it in my life. I think a lot in the community have echoed that sentiment – even if it comes at the expense of their team being 'upset' in the model. It's been great to see team Twitter accounts engaging with the scores and results coming in.
Now that Quarantine Cup 13 is done, Mansfield wants to share the results of other simulations and then optimize the algorithm to make the program better. He's also open to the idea of creating a Quarantine World Cup since IQA World Cup 2020 was postponed.