The Eighth Man Creates Fantasy Fantasy Tournaments
Now that US Quarantine Cup 13 has ended, the Eighth Man, a quidditch community site for analysis and strategy, has created two new fantasy tournaments: the All-Timer Tournament and the All-Campus Cup. Both are part of the Fantasy Fantasy Tournament series.
These fantasy tournaments won't actually be played. The Eighth Man will use a combination of its analysts and the public vote to decide winners.
The All-Timer Tournament is for every player.
The All-Timer Tournament can include any player from the entire history of Muggle quidditch. General managers filled out applications, and six managers were chosen, most of whom are from the United States. Fraser Posford is from the United Kingdom, and Austin Wallace is from Canada.
Every general manager can choose any player from the draft boards. They can even pick another general manager, since managers are not automatically considered part of their own teams. Choosing players happens every Tuesday at 5:45 p.m. ET on Facebook Live. Managers are using a snake draft format, meaning the manager who picked last in one round picks first in the next.
On April 28, general managers picked the first two players for their teams. Those players are listed in the graphic below, and almost all of them are from the US, except Callum Mayling, who is from Australia.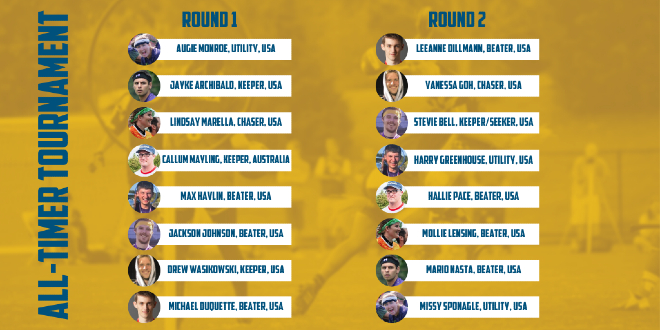 The All-Campus Cup is only for college players.
The All-Campus Cup is only for players who played on college teams during the 2019–20 US Quidditch season. General managers already sent their applications, and eight managers were chosen. Rules and the team selection format are the same as in the All-Timer Tournament.
Choosing players happens each Thursday at 5:45 p.m. ET on Facebook Live. The first two rounds of players were picked on Thursday, April 30.