Merch Madness: A Box Full of Dobby, Prefect Badges, and Travel Cases
This time, we want to buy all this merchandise just for ourselves. How does the saying go? Treat yo' self! This week's Merch Madness is a great selection of those fun Harry Potter treats that you would love for yourself.
Prefect Badge Pins
Declare yourself prefect of your House and claim your authority with the perfect prefect pins. Pick from red, green, blue, or yellow badges to represent your Hogwarts House with pride. The prefect title is written across the front and is polished with a glossy finish. You can purchase your badges from the Harry Potter Shop for £4.95. UK Wizarding World Gold members can save 20% off their purchases as well.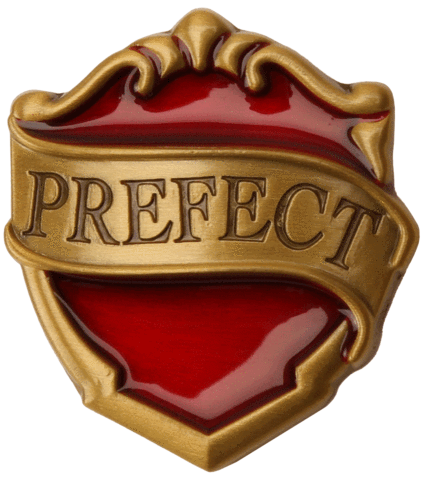 Velvet Train Case
Travel in style with a velvety soft toiletry train case. Stitched on the front of each case are the emblems of the House of your choice. You can pick from the traditional colors of the Houses and even add a personalized monogram. They are for sale online from Pottery Barn Teen starting at $69.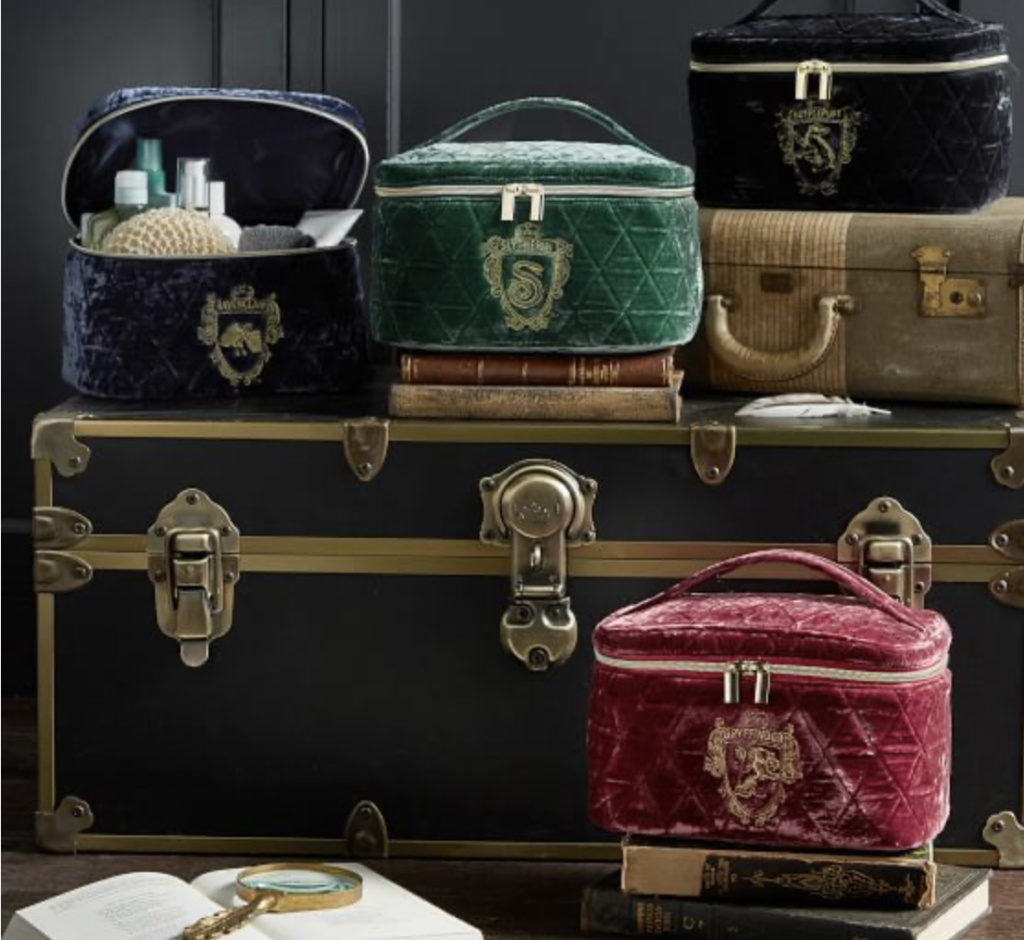 Dobby Gift Trunk
Who doesn't love Dobby? Nobody – the answer is nobody. Show off all your affection for the little house-elf with a gift trunk full of Dobby. The set comes with a personalized Hogwarts School trunk,  T-shirt, personalized acceptance letter to Hogwarts, plush Dobby, tote bag, notepad, and pen. The trunk is available for purchase from the Harry Potter Shop for £100. UK Wizarding World Gold members can save 20% off their purchase.
Alex and Ani Bracelet Set
Maybe wearing Dobby's face plastered on your shirt isn't your style, but a simple jewelry set from Alex and Ani may be more for you. The rose-gold piece is great for subtly telling the world you have a love for Harry Potter. The main heart pendant reads, "After all this time?" on one side and "Always" on the other. The second bracelet showcases clear and rose-gold beads to give the set a little sparkle. You can purchase the set online from Alex and Ani for $59.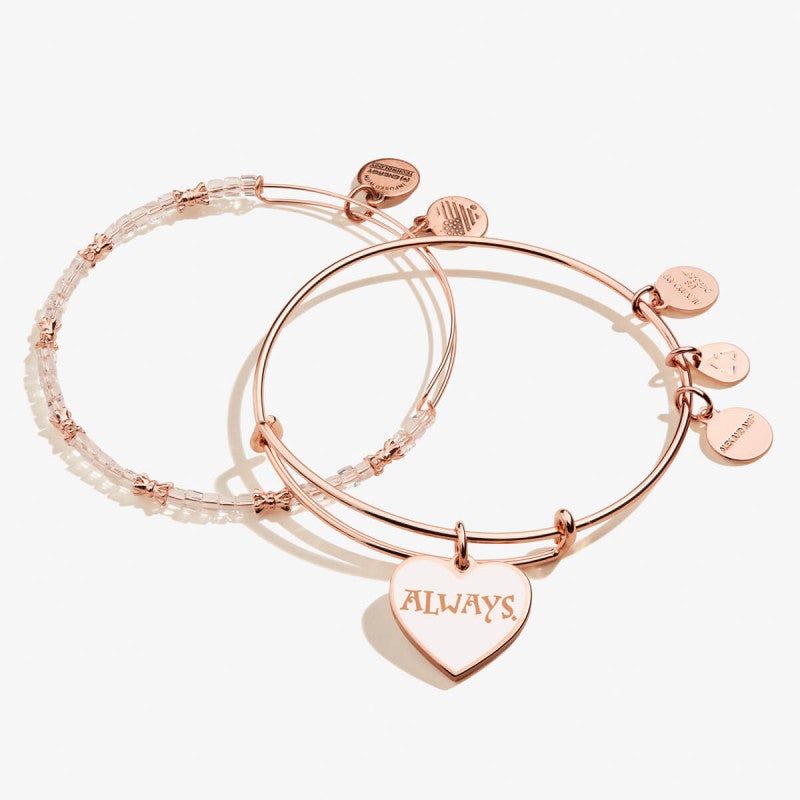 Deathly Hallows Long-Sleeve Shirt
Most of the themes surrounding the Deathly Hallows might be a little dark. Change up the style with a floral print. This long sleeve features the Deathly Hallows symbols on the front with a flourish of flowers. Similar designs run down the sleeves. You can find the shirt on the BoxLunch website for $32.90.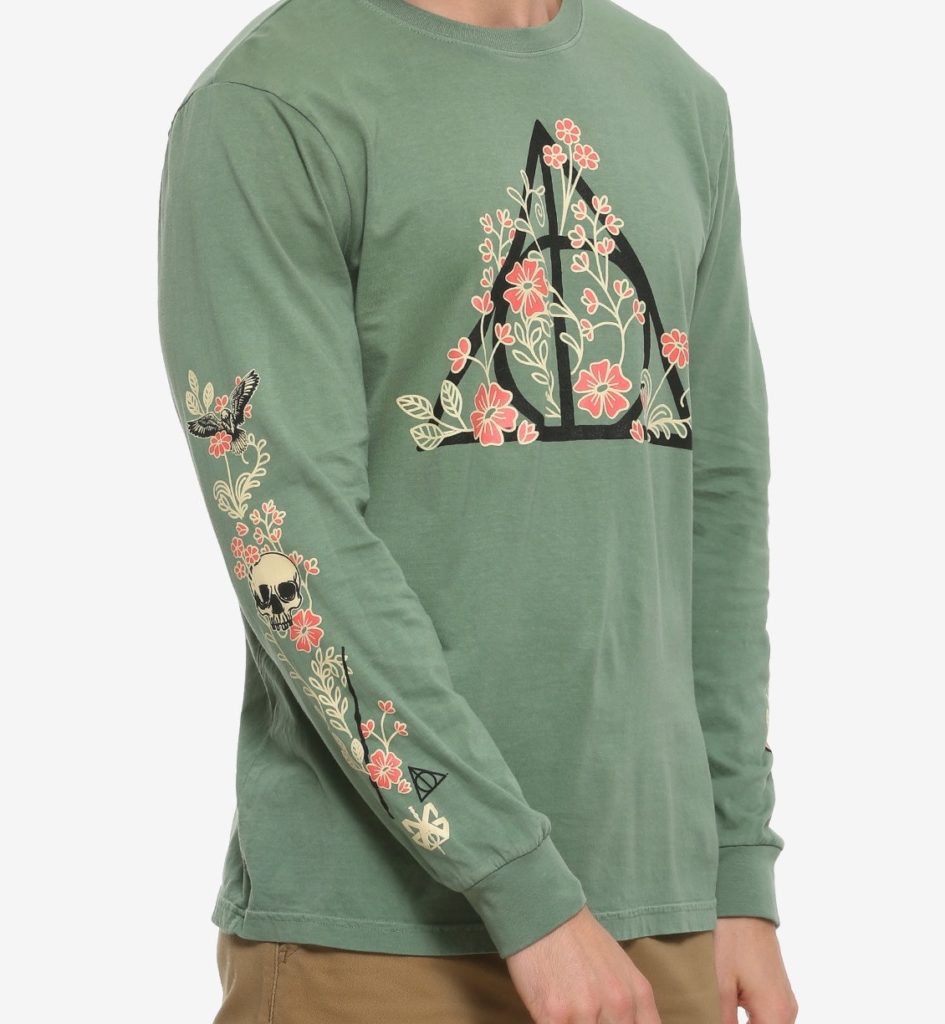 That's it for this week's Merch Madness. Check back later for more fabulous and wonderful Harry Potter pieces.