Pride Month – Five Recent Magical YA Books to Add to Your TBR
As Harry Potter fans, many of us are voracious readers always looking to add to our unending TBR piles. In honor of Pride Month (and just because they're really good books), here is a list of five magical YA books featuring LGBTQ+ characters that Harry Potter lovers will enjoy.
Pet by Akwaeke Emezi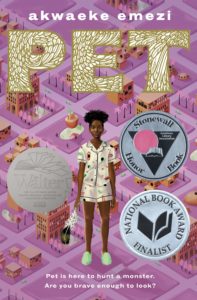 Pet takes a long, hard look at society and the ways in which we deny and perpetuate the existence of monsters amongst us. The novel is set in the not-too-distant future after a group of angels overthrew the system we live in today and built a new world, void of the monsters of the past. Pet is the story of Jam, a 15-year-old trans girl, and her best friend, Redemption. When Jam accidentally cuts herself on her mother's painting, she brings it to life. But when Pet, the creature from the painting, insists that it is here to hunt down a monster that survived the revolution, Jam doesn't know if she should believe it. Monsters don't exist anymore, do they? At least, that's what she's been told her whole life.
Buy on Bookshop.org
Buy on Amazon   🇺🇸
Buy on Amazon   🇬🇧
The Mermaid, the Witch, and the Sea by Maggie Tokuda-Hall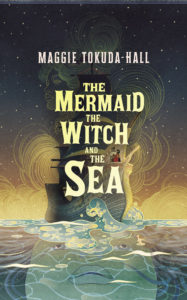 The Mermaid, the Witch, and the Sea is a harrowing fantasy adventure set on a pirate ship.  Young Lady Evelyn Hasegawa and orphan-turned-pirate Florian (born Flora) embark on the trip of their lives when Evelyn, sent to meet her new husband, boards the Dove, a slaver disguised as a passenger ship. Florian, who took shelter with the crew of the Dove years ago, is tasked with the job of keeping Evelyn safe until the crew is ready to reveal the true purpose of their voyage. If at first Florian is stiff and awkward around Evelyn, hours spent learning to read under her tutelage quickly change that. The Mermaid, the Witch, and the Sea asks tough questions about identity, family, love, and what it means to do the right thing.
Buy on Bookshop.org
Buy on Amazon   🇺🇸
Buy on Amazon   🇬🇧
The Brilliant Death by Amy Rose Capetta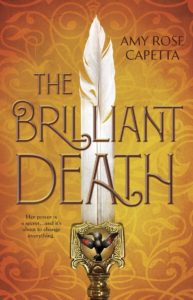 The Brilliant Death tells of Teodora di Sangro, a strega who is used to hiding her ability to turn enemies into music boxes and mirrors. Her world is turned on its head when she meets Cielo, a genderfluid shapeshifter, who offers Teo a taste of what it would be like to fully control her powers. The only one with powers in her family, Teo struggles against the limitations that society and her family have placed on her for being a girl – only her brothers can inherit, though it's she who wields the power to protect them. But just as her romance with Cielo develops, Teo is swept up into the treacherous world of politics, murder, and magic.
Buy on Bookshop.org
Buy on Amazon   🇺🇸
Buy on Amazon   🇬🇧
A Winter's Promise by Christelle Dabos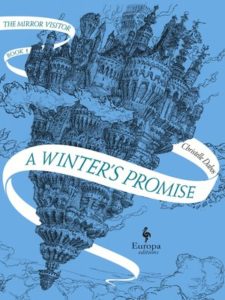 A Winter's Promise follows the adventures of asexual-presenting Ophelia as she is sent to Pole – one of the floating chunks of land that are all that remains of earth's surface. Her life and family are all located on Anima, where many inhabitants have a variety of powers over inanimate objects. Ophelia herself is able to travel through mirrors and is known as a Reader – someone who can tell the history of an object by touching it with her bare hands. The life that awaits her on Pole promises to be a cold and daunting one, full of intrigue, magic, and worst of all, a fiance who is a complete stranger. A Winter's Promise is a sweeping fantasy full of fantastic world-building and treacherous alliances.
Buy on Bookshop.org
Buy on Amazon   🇺🇸
Buy on Amazon   🇬🇧
Gideon the Ninth by Tamsyn Muir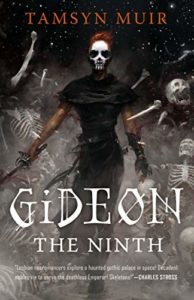 Gideon the Ninth is a creepy, hilarious, heart-wrenching, riot of a novel. The perfect mash-up of fantasy and science-fiction, it's the story of 19-year-old Gideon – orphan, expert swordswoman, and proud owner of some seriously raunchy lady magazines. Thwarted in yet another attempt to escape the desolate stronghold of the Ninth, where all the inhabitants paint their faces like death and spend their days praying over knucklebones, Gideon is coerced into acting as guard for her necromancing nemesis, Harrowhawk. Definitely one to read with all the lights on, you won't be able to put it down until you've read every sassy, terrifying word.
Buy on Bookshop.org
Buy on Amazon   🇺🇸
Buy on Amazon   🇬🇧
So whether you're looking to dive into the world of monster hunting or a planet where black-robed women can raise the dead, there's sure to be something for every Harry Potter fan on this list. Happy Pride!