Back to Hogwarts Supplies Guide
It's time to pull out your Floo Powder, broomstick, or hail the Knight Bus and get to Diagon Alley because before we know it, it will be the start of term at Hogwarts. If your letter has been lost this year (maybe for many years in a row), never fear; you can still get ready for a magical school year. The key? Magical school supplies. Get your Galleons ready because you won't want to miss out on these.
For students:
Every student needs a reliable backpack. Show your Hogwarts pride with this gorgeous brown canvas Hogwarts logo backpack: Featuring the Hogwarts logo and sturdy straps, it's sure to catch everyone's inner (and outer) eye. Strong zippered pockets promise plenty of room for your spellbooks, wand, quills, and Weasleys' Wizard Wheezes products. Looking for a more whimsical backpack? This five-piece backpack and snack bag set includes adorable character likenesses that are sure to bring a smile to your face. In addition to the backpack itself with sturdy zippered pockets, the set comes with a foldable snack bag, a soft accessory case, a clear PVC utility pouch, and a screw-top tin water bottle with carabiner clip key chain. No trunk needed; you've got everything you need in this set.
Don't forget supplies in that backpack. Show off your House pride with this beautiful Gryffindor journal or Gryffindor ruled notebook. You'll feel like Hermione herself as you take notes. The journal comes from the Noble Collection and features ribbon bookmarks and a die-cast metal clasp. The ruled notebook is from Insight Editions and features House emblems and famous wizards in that House. Each style comes in all four Houses.
Every good notebook needs something to write in it with. This pencil supply box and pencils set comes with 24 House-themed pencils and a tin box to store them in between classes. Or try a set of eight House pencils that lets you show off all Houses, perfect for starting debates on Sorting with your friends. Want even more magic? Pretend to cast spells (or just try to get her grades) with this Hermione wand pen that comes with a bookmark. And to keep all your quills, ink, pens, and pencils together, this Hogwarts pencil case is just the thing.
For teachers:
A magical day in class starts from the moment students walk in the door. Help make that transition even more fun with this King's Cross/platform nine and three-quarters curtain. Students will feel like they're being whisked away to a school for witchcraft and wizardry. Keep that going with these Marauder's Map-style floor footprints. The floor of your classroom has been void of decoration for too long. Add some intrigue to your floor with these adorable footprint stickers. Reminiscent of the Marauder's Map, they're sure to get the attention of students and everyone else who comes into your room.
Your own desk and supplies deserve some magic too. Continue to decorate your classroom with a magical style all year round with this adorable Harry Potter washi tape, perfect for holding posters, student work, notebooks, and more. Styles include House emblems, characters, Patronuses, Quidditch, and more. Need something sturdy to hold papers together? Papers will seem like a breeze when they're held together with these adorable character paper clip page markers. Featuring Sirius, Snape, Ron, Harry, Dumbledore, Malfoy, Hermione, and Voldemort styles, you'll never lose your place again.
For everyone:
No matter where you are with your schooling, you'll always need books. Swing by the Hogwarts library. If you're still getting ready for your Hogwarts exams, you need this set of books. Featuring Fantastic Beasts and Where to Find Them, Quidditch Through the Ages, and The Tales of Beedle the Bard, this beautiful set will prepare you for any magical case you might come across.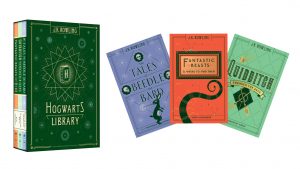 Keep track of all your lessons, exams, and midnight duels with this spiral-bound 12-month Marauder's Map planner. You can start whenever you want as this planner is not dated, making sure that you don't miss a day. With a beautiful laminated cover and tabs, as well as included stickers and pockets, it's an attractive way to stay organized. Keep track of those days with a day-at-a-time box calendar. Days will fly by with this adorable calendar. This 2020 calendar features colored photos of characters, facts, and trivia. The set also comes with an easel and fun stickers.
No matter how, where, or when you're going back to school this year, we wish you good marks, kind professors, and good Quidditch conditions.