Queenie's Apple Strudel
You prefer strudel, huh, honey?" (WtFT Scene 41)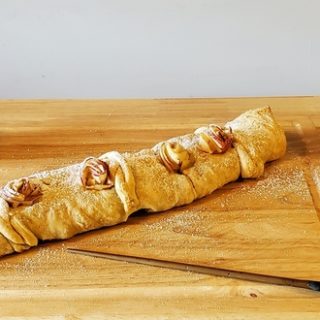 Queenie's Apple Strudel
Jennifer Fancher
Strudel gained popularity circa 18th century in Southern Germany near Munich. Queenie's concoction is the perfect dessert to round off a magical feast.
Ingredients
2

sheets

puff pastry dough

frozen

2 1/2

lb.

apples

gala

1/3

cup

raisins

1/4

cup

butter

1/3

cup

bread crumbs

panko

1/2

cup

pecans

pieces

1

Tbsp.

lemon juice

1

cup

water

powdered sugar

optional

1/3

cup

sugar

1/2

tsp.

cinnamon
Instructions
Strudel
Remove puff pastry dough from freezer. Unpack and allow to thaw.

Soak raisins in warm water.

Set two apples aside. Peel, core, and slice the rest at 1/2" thickness.

Combine cinnamon and sugar in a separate bowl.

Once dough is thawed, lay out sheets side by side on a lightly floured surface. Attach sheets together by lightly wetting two ends and gently pressing pieces together.

Cut nine 1/4" strips of dough from one end to make three braids; cover and set aside.

Melt butter and brush over entire surface of dough (not all butter should be used). Sprinkle buttered dough with bread crumbs. Layer apple slices, raisins, and pecans in center third of the dough. Sprinkle with cinnamon/sugar mixture.

Fold each side over the filling and seal. Brush seam with a small amount of melted butter, if needed.

Carefully move strudel to parchment-lined baking sheet. Add braids to the dough as desired, tucking ends under the pastry. Brush entire pastry with remaining melted butter.

Bake strudel for 25–30 minutes.
Garnish
Cut remaining two apples in half and remove core by cutting into apple at an angle around the core. Then cut apple halves into paper-thin half-moons.

Combine apple slices in bowl with water and lemon juice. If apples are not covered by water, add more.

Microwave apples for 3 minutes.

Lay apple slices in a line, each one covering half of the previous. Roll slices to make a rose.

Sprinkle strudel with powdered sugar (optional) and decorate with apple roses.