Delve into the "Hogwarts Legacy" Story, Tell Us Your "Hogwarts Mystery" Creature Names!
by Brienne Green · Published · Updated
The big news in wizarding world gaming this week was obviously the announcement of Hogwarts Legacy. Since footage of a mysterious Harry Potter RPG first surfaced in October 2018, we've wondered and wished, and on Wednesday, our wait was over. The confirmation of the game's existence – plus its amazing trailer – has generated much excitement, and you can read more about it below. In addition, Harry Potter: Wizards Unite has rolled out a new update that should fix its recent compatibility issues, Harry Potter: Hogwarts Mystery is inviting us to have a little virtual fun outdoors, and a new modification for Microsoft Flight Simulator will finally answer the question of where the Dursleys went after being evacuated from Privet Drive. This isn't canon, of course, but it should be. Phones at the ready!
Hogwarts Legacy Update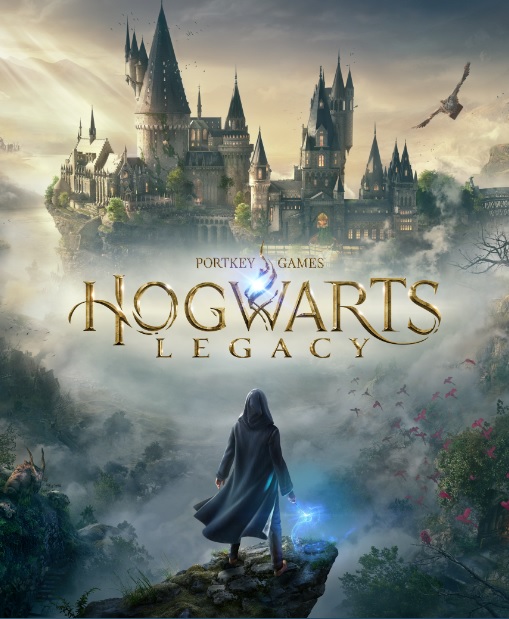 We're still recovering from Wednesday's release of the feast for the eyes that is the Hogwarts Legacy trailer. And while there will undoubtedly be much to analyze as we await the game's 2021 debut, the most intriguing thing about this title right now is its setting: the wizarding world of the 1800s.
Much like Hogwarts students who inevitably picked up bits and pieces of information despite trying to sleep through History of Magic, all we know of that time period comes in the form of factoids: Grogan Stump was appointed Minister of Magic in 1805 or Phineas Nigellus Black was born in 1847. That means the team at Avalanche - which developed the game for Warner Bros. Games - was handed the incredible opportunity to flesh out an entire era in the wizarding world. Adrian Ropp, Head of Story for Avalanche, gave us a glimpse into that process in a recent piece for the official PlayStation blog:
Sometimes I stop to appreciate the surreal nature of my story meetings. 'How should this character's voice change when they drink Polyjuice [Potion]?' 'How long do house-elves live?' 'Are Graphorns omnivores?' These are the types of questions that drive us toward authenticity, and the types of questions you only think to ask when you have steeped yourself in the lore.
These are also the types of questions Potterheads ask themselves while shopping for oatmeal or trying to sleep. We're definitely gratified that the developers are taking the task so seriously. He specifically mentions the fact that Nearly Headless Nick - sadly divested of most of his head on Halloween 1492 - would already be haunting the halls of Hogwarts and that a forebear of Garrick Ollivander would have been carrying on the family's long tradition of wandmaking. In fact, Ropp says the most difficult part of the process has been determining which details weren't going to be explored in the game.
We are always asking ourselves how we can draw from the rich library of characters, creatures, and themes - and imagine how those details would influence the school more than a century before Harry Potter's arrival. Who was the headmaster? What challenges did students face? What influenced their society before Tom Riddle, before Newt Scamander? I like to say that what we are giving fans is something familiar in a way they have never seen.
Meanwhile, we've been rewatching the trailer intently, and the characters are a definite source of curiosity. Two men could be seen conducting the Sorting Ceremony. Potions class, meanwhile, has an apparent proud history of unpleasant professors: A bearded man with shoulder-length hair is shown stalking into the classroom before slamming a bottle of who-knows-what down onto a table. In a brightly lit greenhouse, an exuberant-looking witch gives a lecture on Herbology. And how about that mysterious figure in the skull mask?
The creatures are exciting as well. Mooncalves, Inferi, Dementors, a Graphorn, a troll, an Acromantula, and a dragon that gives off some seriously frightening Balrog vibes can all be spotted in the trailer. We know that Hogwarts is rooted in the past, even in the 1990s. But subtle touches - such as the clothing, the school robes, that unwieldy broomstick, and those classy table runners in the Great Hall - let us know we're in an unfamiliar time. And while we only catch a quick glimpse of Hogsmeade, it's like something straight out of Fable.
"Live the Unwritten" appears to be the game's tagline, and it's a fitting one. We're all heading into uncharted territory, and Ropp is happy to be navigating.
When the first book came out, I became an instant fan. I see each day the multi-generational appeal these stories have earned. I am so proud to be a part of this amazing journey and very grateful that we can finally share the excitement with the world. This is a labor of love, and the real magic comes from the dedication and imagination of a team who wants nothing less than to make this an authentic and compelling Wizarding World game.
What have you noticed about the trailer? What are your hopes for this new title? Let us know in the comments!
Hogwarts Mystery Update
It's been a slow few weeks in the world of Hogwarts Mystery, but things are looking up. As of Friday, the new Festival Fun side quest is live!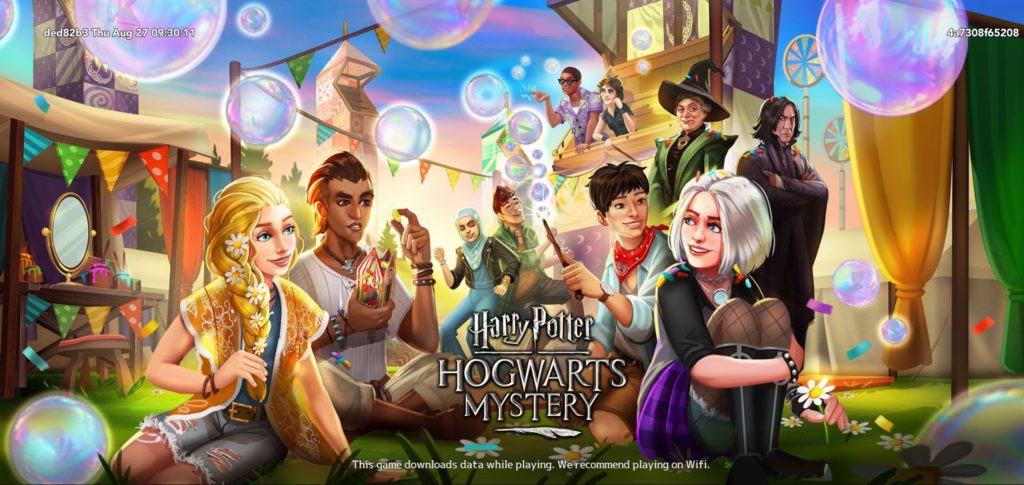 We're on a five-day countdown for the first part of this quest, and according to the game, we'll be searching for the identity of our secret admirer and waiting to see which uninvited alumnus will crash the outdoor festival that Hagrid is working hard to prepare. Fantasy plot twist: It's Patricia Rakepick, everyone pelts her with Hagrid's rock cakes, she's knocked unconscious, and the story line comes to a really bizarre and abrupt end when Moaning Myrtle follows the plumbing into the Black Lake and defeats the final Cursed Vault. But since that's not happening, we'll have to settle for an even more stressful task: finding a festival date. Our rewards will apparently be an outfit and a photo of our date for our dorm room. Get festive, gamers!
Since it's just gotten underway, we'll recap this side quest in our next game update. For now, let's do something else frivolous outdoors. With the recent introduction of several new beasts to the Magical Creatures Reserve, we're curious: What have you named your motley assortment? We considered several options, for instance, when naming that obnoxious little twit the gnome. Most of the names we chose were vetoed by the game, but we found a fitting British insult that wasn't flagged. It also starts with a silent letter - K - and we'll leave it at that.
Elsewhere, we've paid homage to other favorite fandoms and childhood television programs.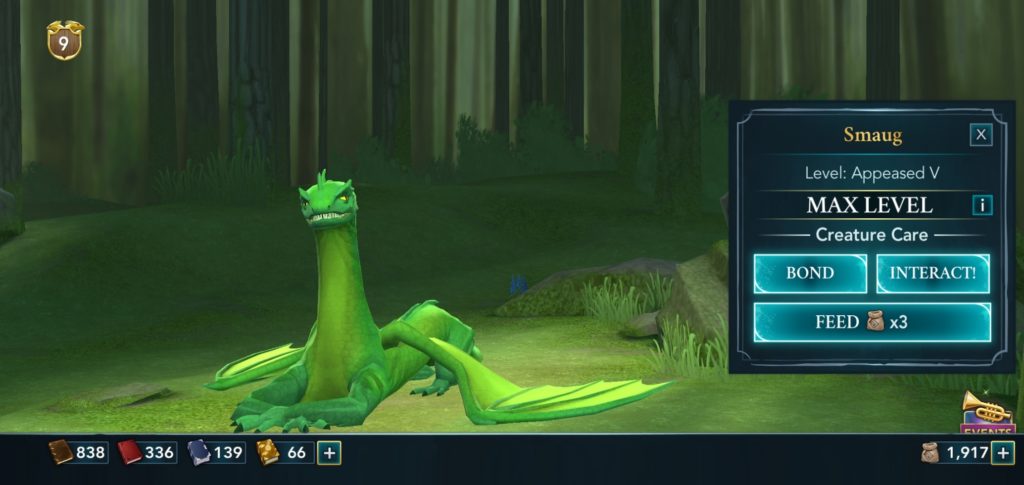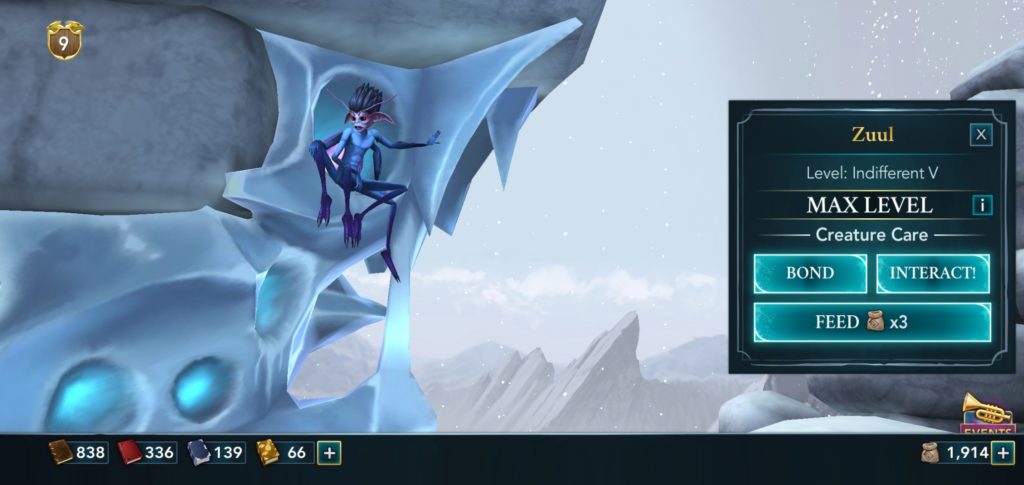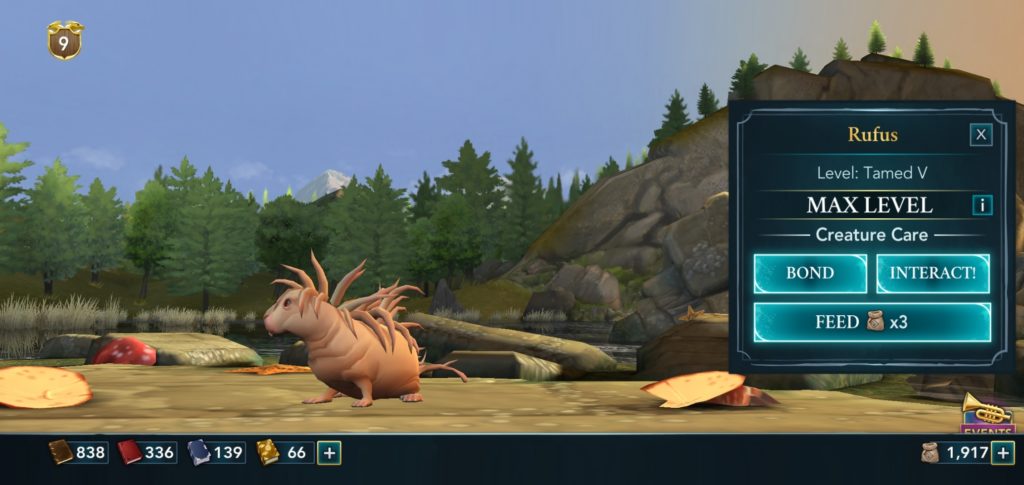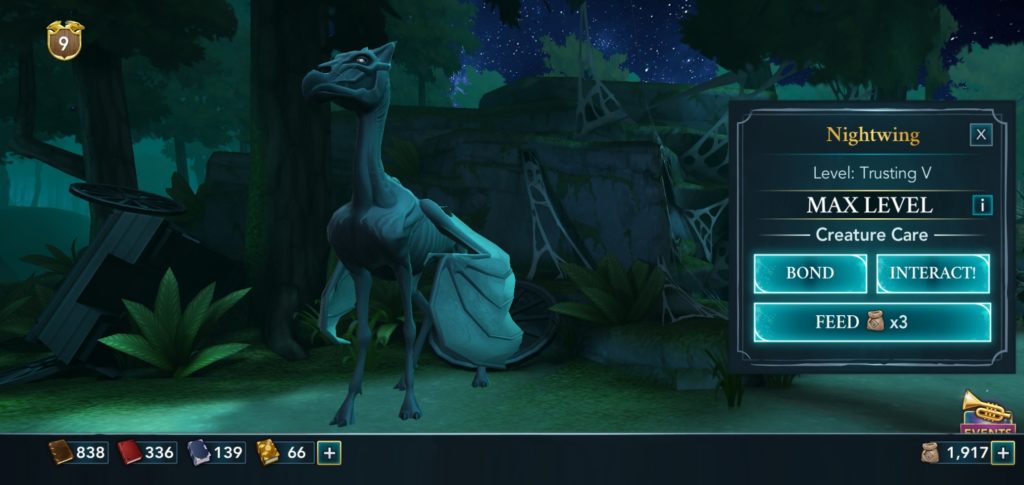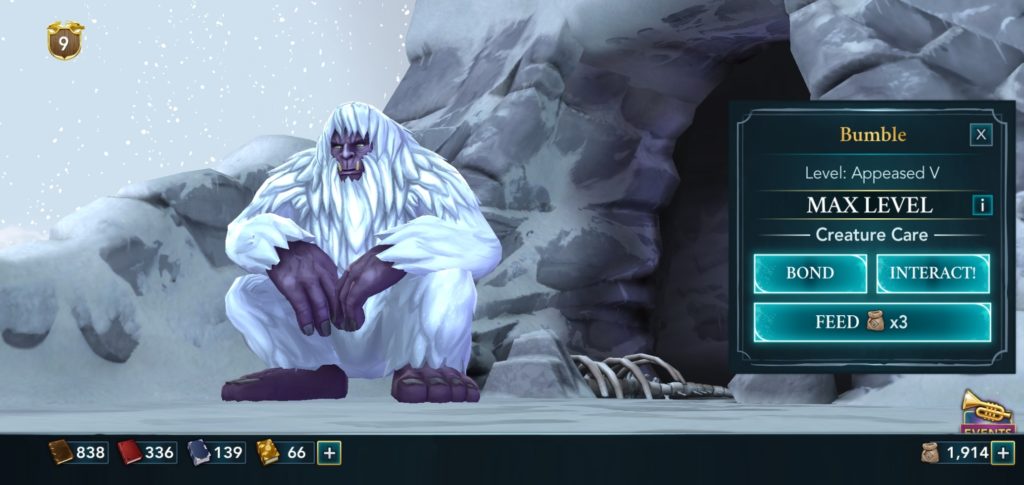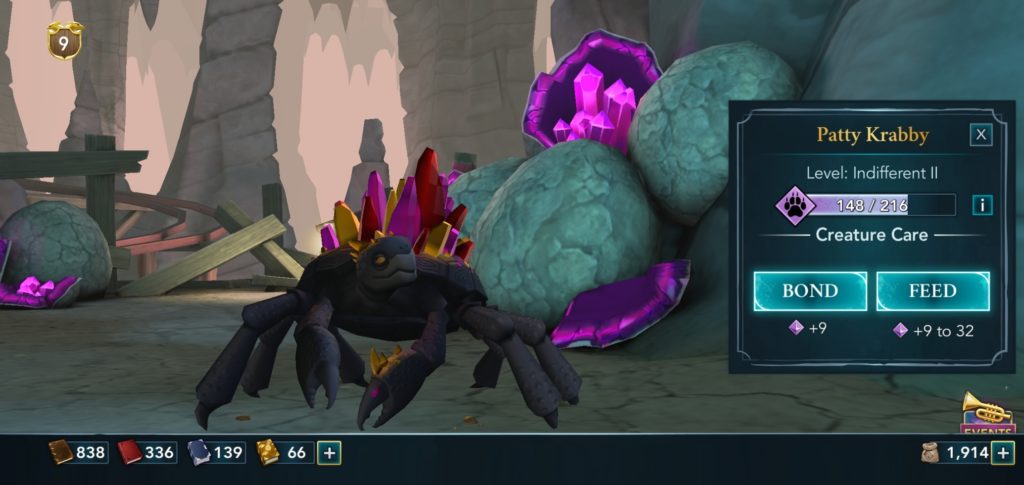 We also frequently stick to the theme at hand.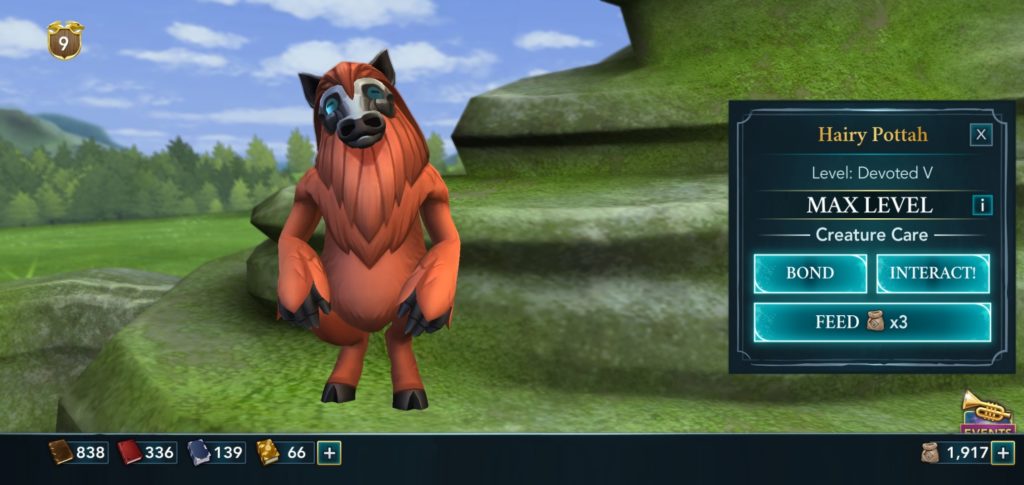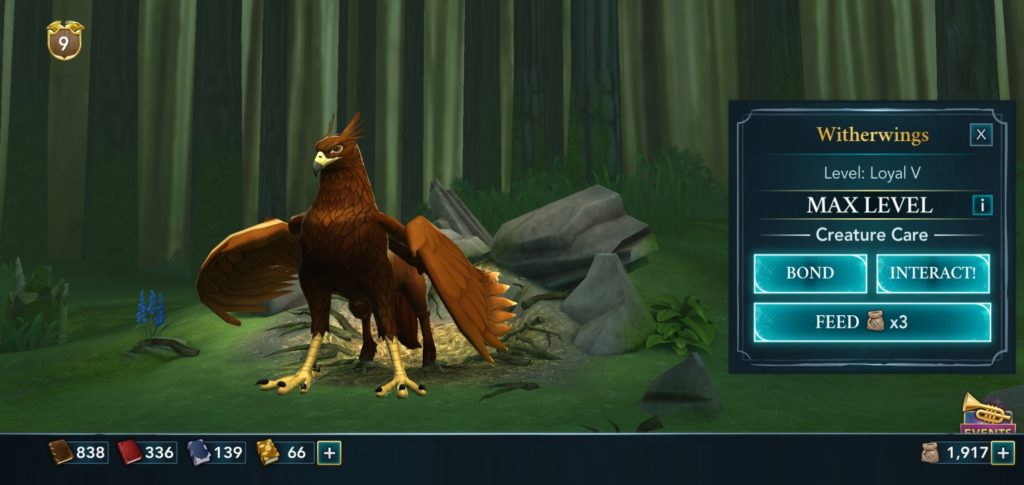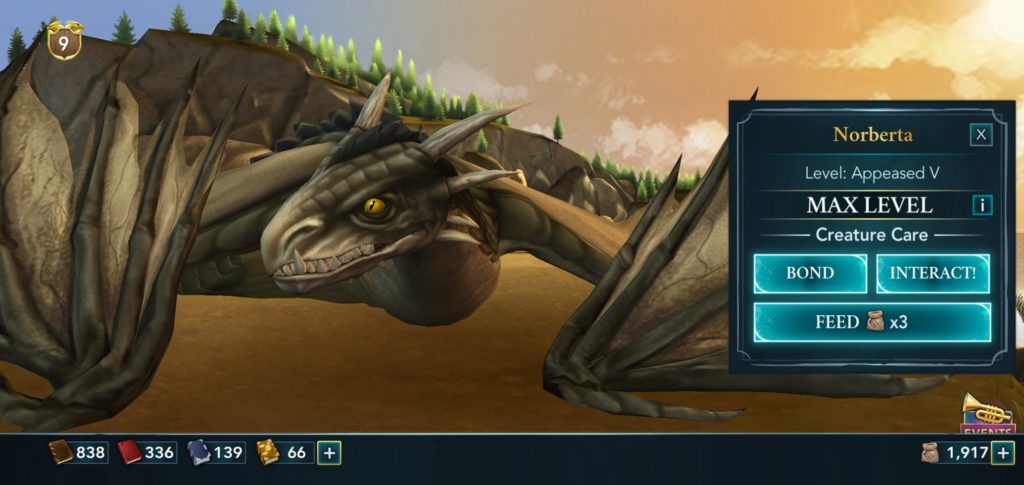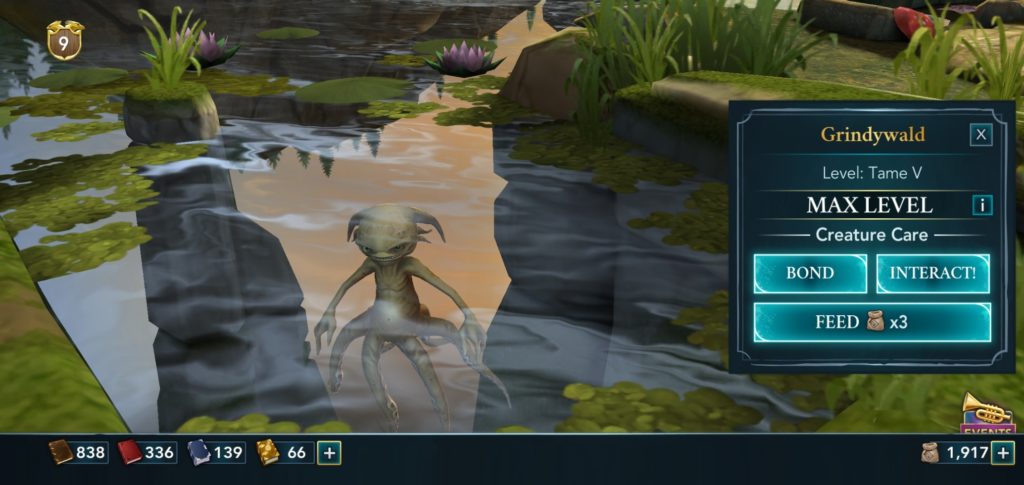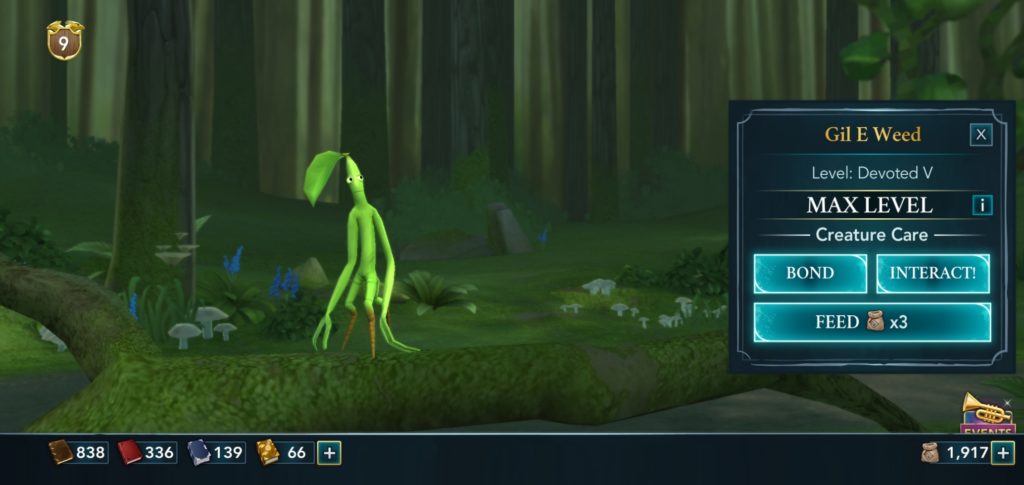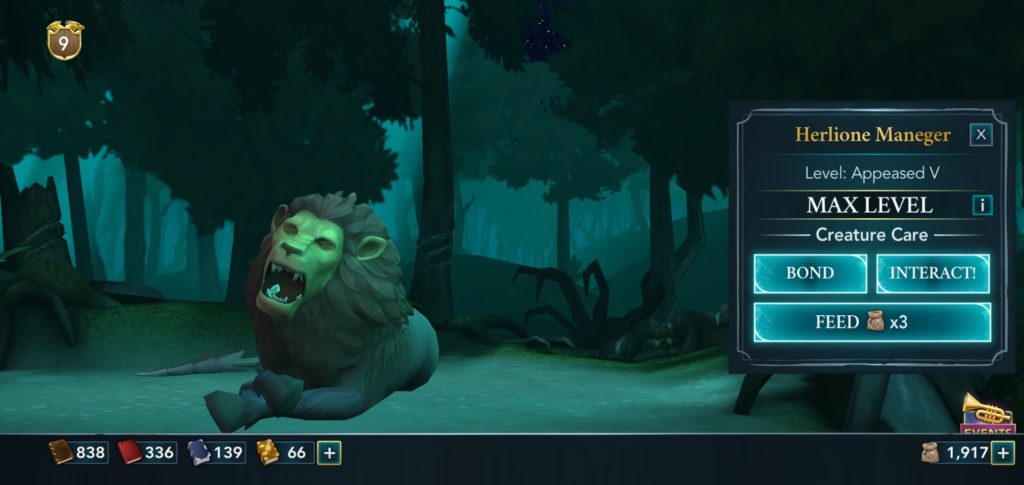 This thing, though, we've refused to name. They say that when you give something a name, that means you intend to keep it. We're still hoping the manticore runs away.
Seriously. We know manticores have a human face, but does it have to have the face of that skeezy guy who followed you into the parking lot once at Red Lobster?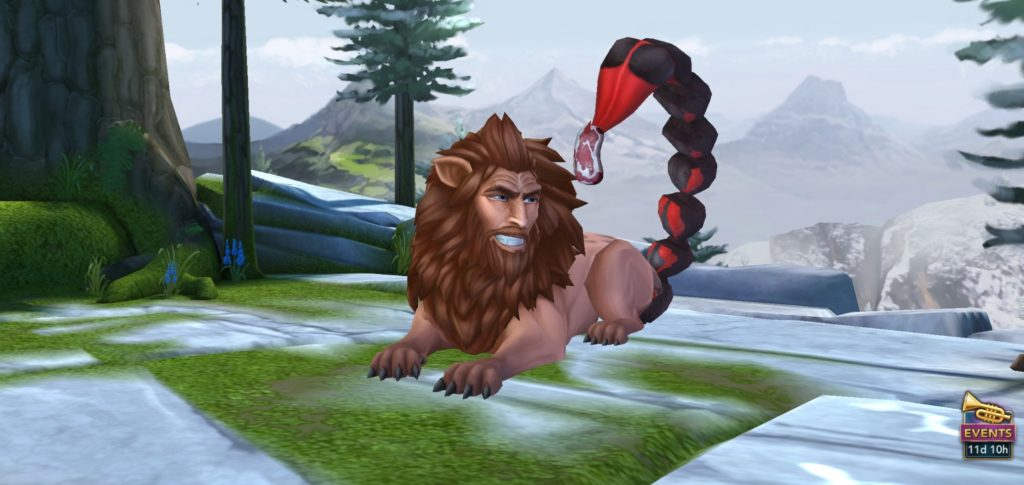 Yeesh. Anyway, a Hagrid-related side quest occasionally rolls around that can render your random creature names hilarious.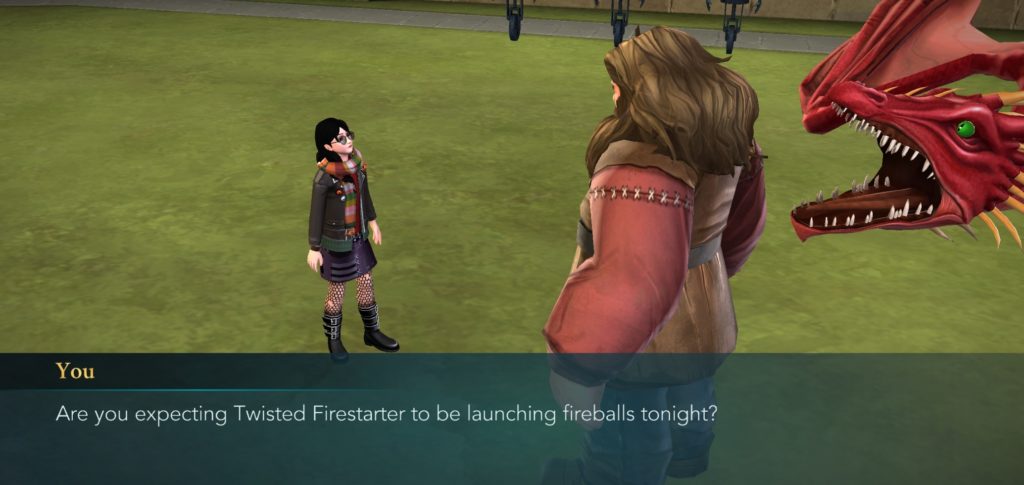 Um, yes. We actually are.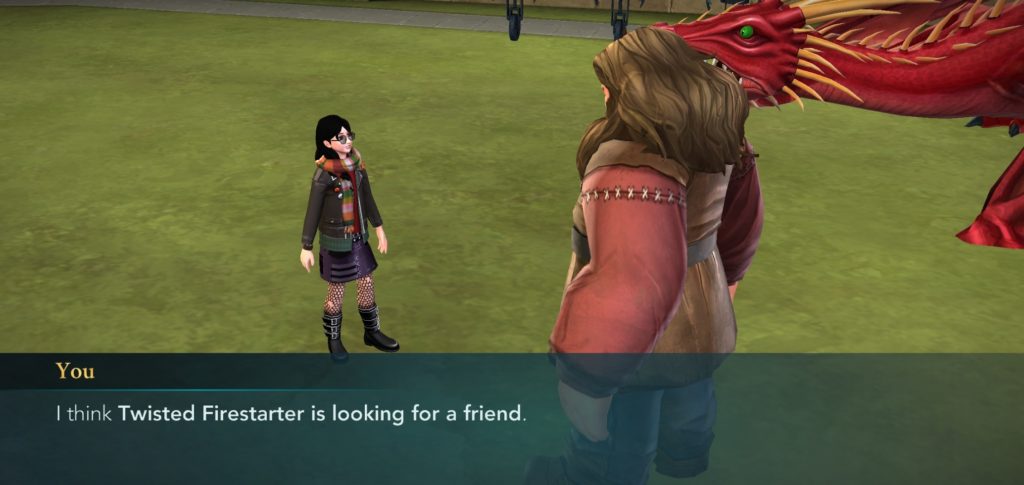 How can you tell?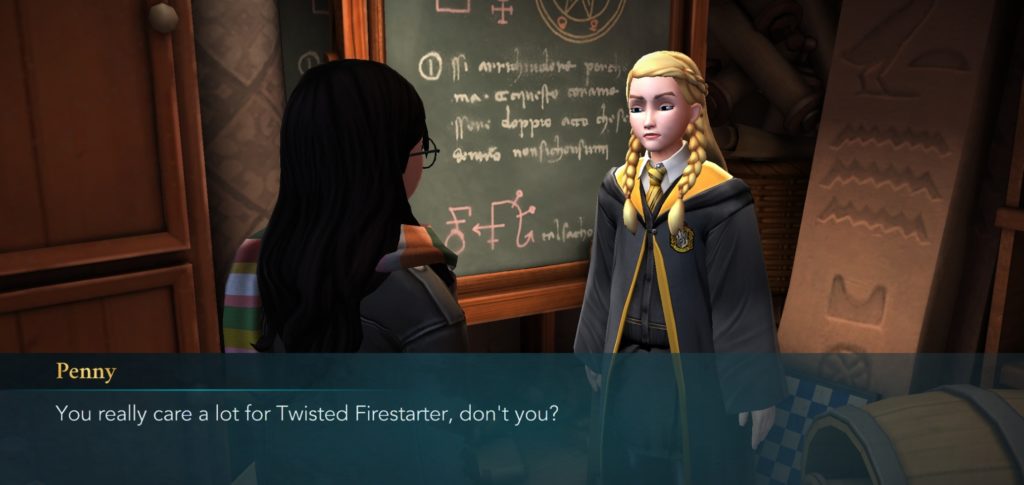 We do, to be honest. Hence the tribute. Rest in peace, Keith Flint of Prodigy! And on a serious but sincere note, if any of you out there ever feel like you have nowhere to turn, please rest assured that you do. You can reach the Crisis Text Line in the United States by texting HOME to 741-741. Shout, the United Kingdom's first 24/7 crisis text service, can be reached by texting HELP to 85258.
Wizards Unite Update
Topping the news list this time around for Wizards Unite is the release of Version 2.15.0, which will apparently fix the game for those iPhone users who recently transitioned to iOS 14. That software update didn't jive with the game, but that should be taken care of now.
The rest of the update is not all that exciting:
Potions: Players will now have the ability to purchase potions from the potion selection menu during Encounters and Wizarding Challenges. This is, of course, yet another temptation to spend money (what's $5 when you're trying to prevent Young Remus Lupin from fleeing, right?), but if you're in a jam and willing, then it will serve as a useful feature for you.
Bug Fixes: An issue in which players were not receiving Inn Charm recharges from Treasure Trunks after completing Knowledge Transfers in the SOS Training Node will be corrected, as will an issue with the visual effects for threat levels on Traces. The developers have also made text revisions to the Trace Charm Expertise page and corrected a visual issue affecting Magicum Vitae that cut off the text on the Tonic for Trace Detection bonus.
Meanwhile, will the issue of the Ministry ID photo not showing up ever be corrected for Android users? Asking for a friend. (Disclaimer: We're not asking for a friend at all. We're asking for us because we haven't seen our ID photo in about a year.)
Elsewhere, yet another Brilliant Event is underway!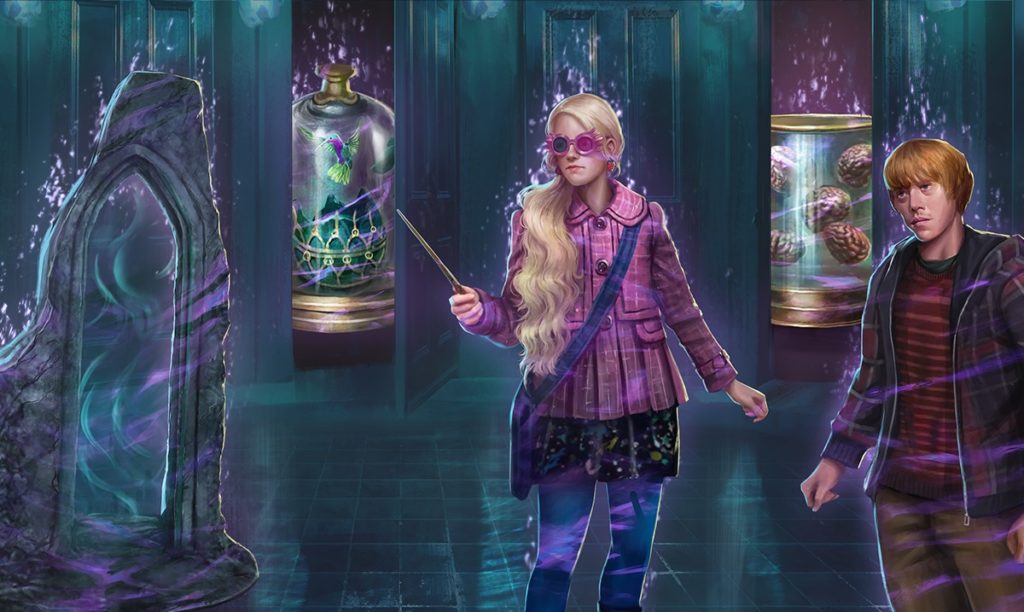 We're now turning our attention to the Battle of the Department of Mysteries, and Part 1 of the event is ongoing until 11:00 a.m. PT Tuesday, September 22.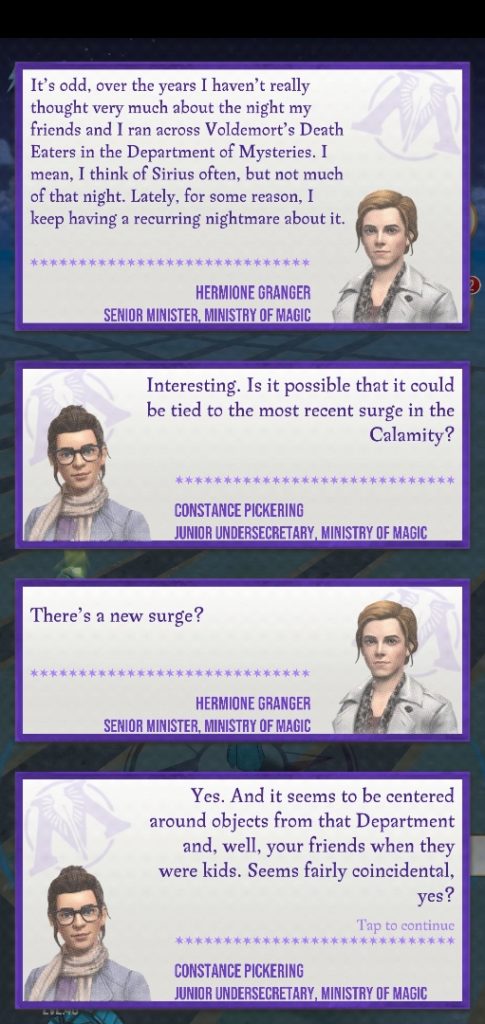 In the wild, you'll be searching for the Brilliant Veil and Brilliant Tank of Brains. Pick up Brilliant Luna Lovegood by completing event tasks, find Brilliant Ron Weasley in event-specific Portkeys or by completing the event's bonus assignment, and finish off your registry page with the Brilliant Bell Jar of Time, which can be earned by completing Wizarding Challenges with event-specific runestones. You'll also see more frequent appearances of the ultra-rare Time-Turner and Philosopher's Stone, along with the Mirror of Erised, Omnioculars, and Hagrid's Umbrella. Brew up some Tonic for Trace Detection potions, and remember to finish in time to complete your bonus assignment.
Another good tip from Wizards Unite Hub is to avoid placing completed images in your registry until you reach Part 4 of your event task list. Part 4 will include a requirement to place five images on the Brilliant Room of Rooms Registry Page, and this will allow you to avoid having to scramble to grind out the fragments necessary to complete five images.
Last but not least, we'd like to tip our caps to the actually entertaining Dragon Week. We had a blast getting to encounter all four breeds. Crikey, have a look at these beauties!
Other Gaming News
We at MuggleNet love us some Potter-themed game mods, and we've found another for you. Players of the PC version of Microsoft Flight Simulator will want to give a new creation by iG0dz a look. This mod will allow you to fly around the grounds of Hogwarts, which is currently sort of floating in the Black Lake but will be perched on its rocky outcrop in a future update.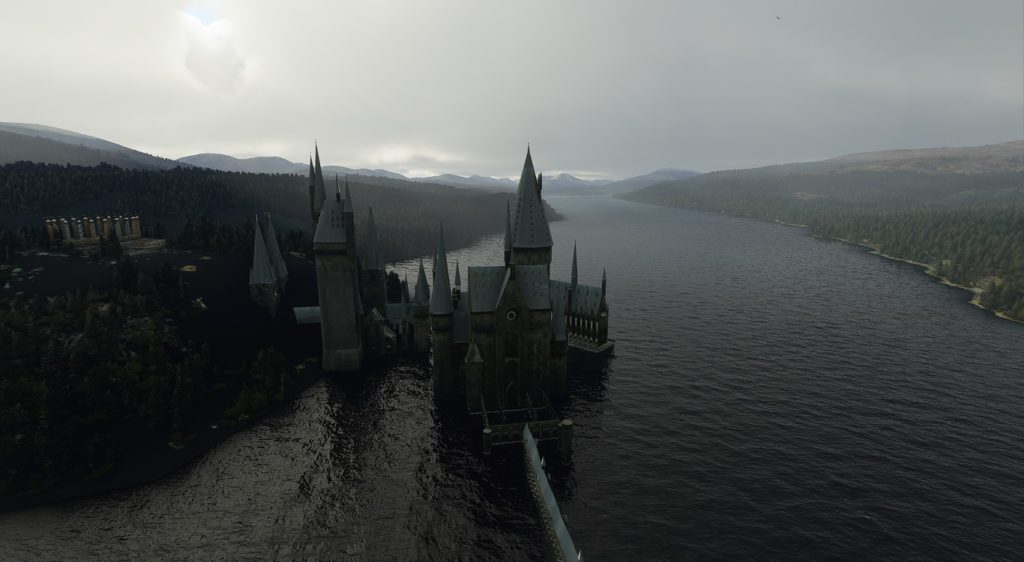 Enjoy a bird's-eye view of the Quidditch pitch and Hagrid's hut!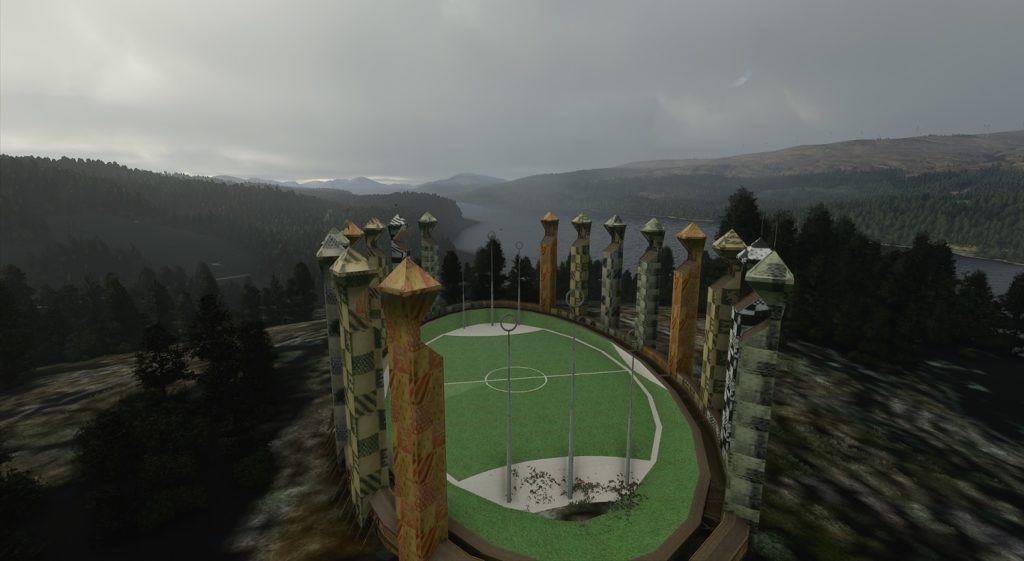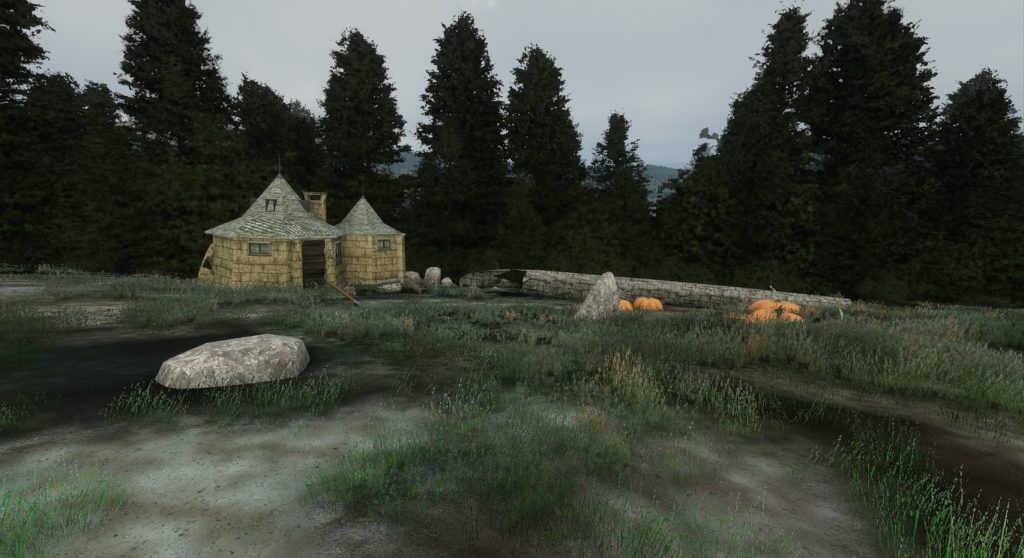 Fly past a... giant hippogriff wearing the Sorting Hat?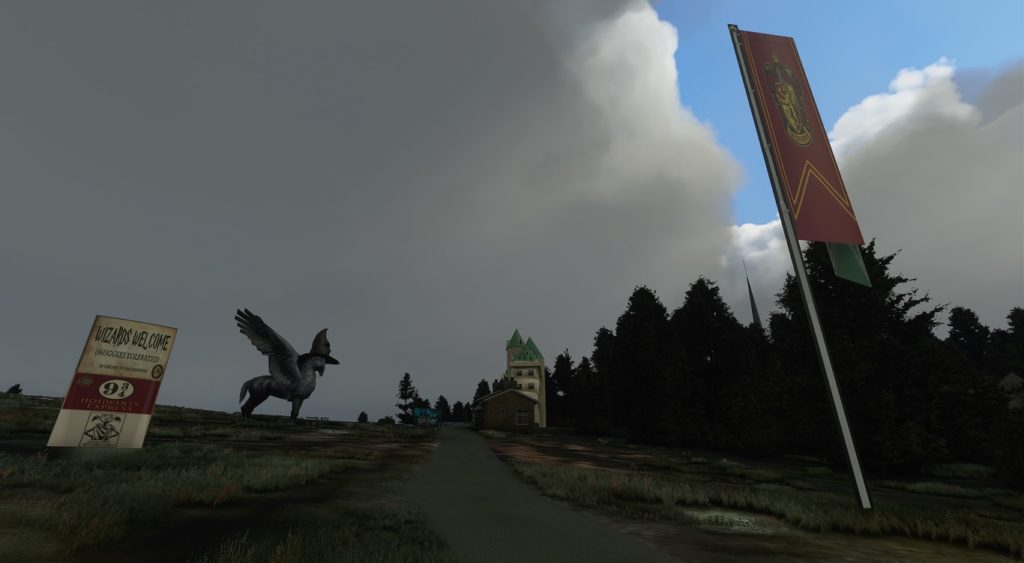 So that's where the Dursleys went when they fled Privet Drive: another Privet Drive in the middle of the Forbidden Forest! It even has a green screen. Okay, we have no idea what this is doing in the forest either, but it's funny.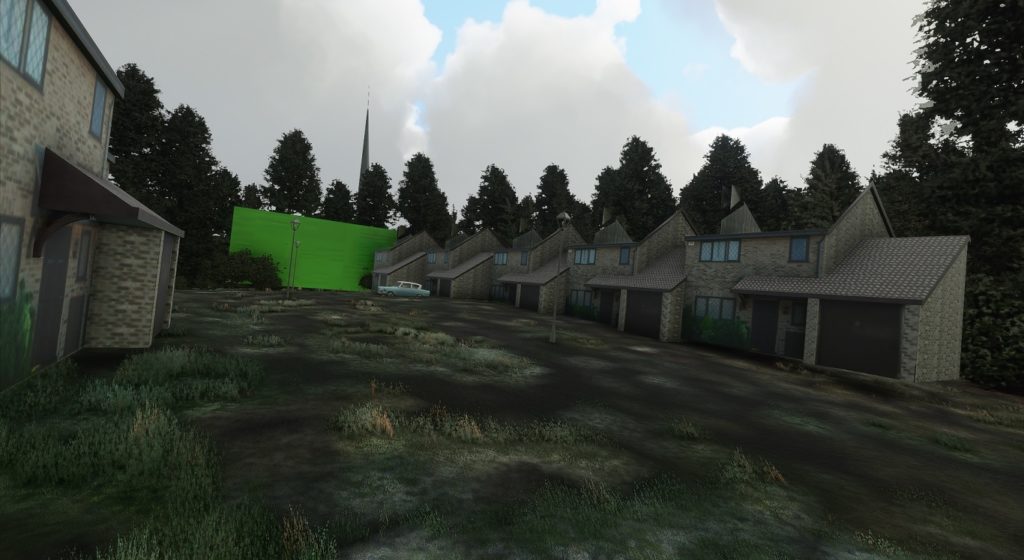 Moving on, most gamers - not the ones who own Mac computers and Nintendo Switches, but we digress - were pleased to hear that Hogwarts Legacy would not be exclusively available on the newest systems. Especially with a pandemic on, it would be asking a lot to shell out the $499.99 asking price for PlayStation 5 and Xbox Series X - and even the $299.99 retail cost for Xbox Series S - just to play this title. But the fact remains that the graphics on these new systems are going to be far superior, so serious gamers will eventually want to snag one. It was concerning, therefore, to hear rumors last week that Sony was cutting production on the PS5 by 4 million units. Fear not, however; Sony has since dispelled that rumor.
The manufacturer told GamesIndustry.biz this week that the rumor, initially reported by Bloomberg, is untrue.
While we do not release details related to manufacturing, the information provided by Bloomberg is false. We have not changed the production number for PlayStation 5 since the start of mass production.
Want more posts like this one? MuggleNet is 99% volunteer-run, and we need your help. With your monthly pledge of $1, you can interact with creators, suggest ideas for future posts, and enter exclusive swag giveaways!
Support us on Patreon