Have Some Magical Cake and Eat It, Then Visit This "Harry Potter" Airbnb
Dear Potterheads, we are pleased to inform you that Manila and Tagaytay in the Philipines are the places to visit right now, and if you have some Galleons saved up for a trip, you'll do well to spend it traveling to these cities. Why? Because it's the only place you'll ever actually get to taste that pudding Aunt Petunia made in Harry Potter and the Chamber of Secrets that Dobby totally destroyed and stay in a Harry Potter-themed Airbnb while you're at it.
Few scenes are quite as memorable as the one where Dobby dumps Aunt Petunia's perfect cake on top of Mrs. Mason's head while Harry watches in horror. We know Dobby had good intentions, but dropping something so delicious-looking on a guest's head was surely painful to watch (we bet Dudley would agree).
We'd be lying if we said we haven't wondered what the cake tasted like, had it not met its unfortunate fate before anyone could enjoy it. Fortunately for some, a bakery located in Manila in the Philippines has re-created Aunt Petunia's cake to a T.
The bakery, called Joyce's Pastries, is a made-to-order cake shop, which means you could probably ask them to bake you Aunt Petunia's cake and they'll gladly oblige. The cake consists of vanilla chiffon, chocolate ganache, and buttercream. We are quite literally drooling right now.
Once you've had your fill of magical treats, you can visit Tagaytay, about 40 miles from Manila, to stay in a Harry Potter-themed Airbnb that will leave you feeling like you walked straight into the Gryffindor common room. The property is listed as A Magical World of Wizards and Witches.
The living room and custom-made four-poster beds almost perfectly resemble the Gryffindor common room, while other parts of the space are designed to look like a local village pub and the Hogwarts Express. You'll feel like you finally arrived at Hogwarts after all these years of waiting for your letter. Fair warning: You might never want to leave again.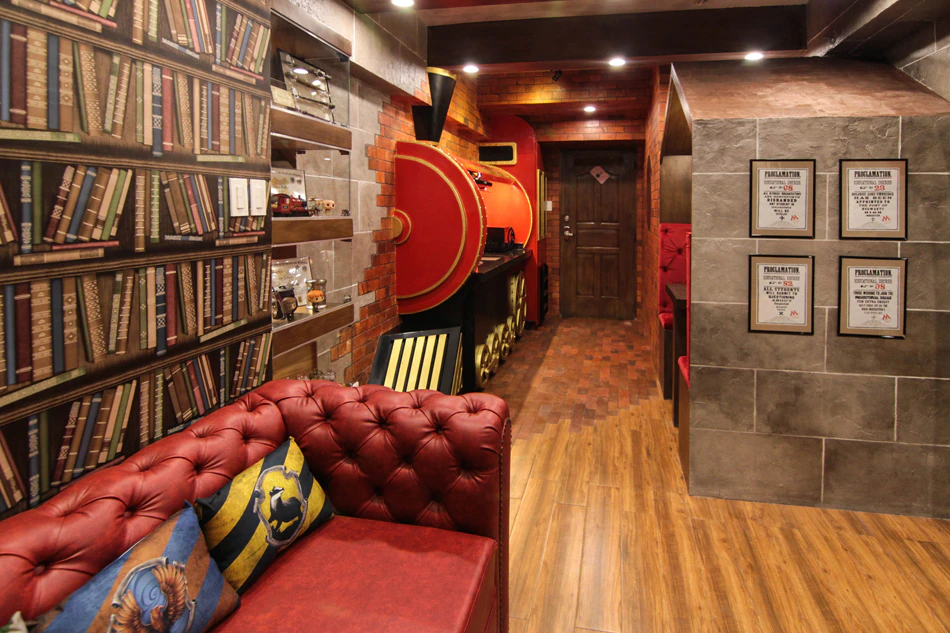 Would you like to visit this Airbnb? Do you think more Airbnb's should re-create the common rooms of the different Hogwarts Houses? Let us know in the comments.
Want more posts like this one? MuggleNet is 99% volunteer-run, and we need your help. With your monthly pledge of $1, you can interact with creators, suggest ideas for future posts, and enter exclusive swag giveaways!
Support us on Patreon