My Time at Wizard School – Part 4: The Players' Inspiration
Perhaps the most critical element that directly affects the experience of any LARP (live-action role-play), and which its creators cannot fully account for, is the players themselves. Following this year's Albion School of Sorcery, I caught up with my fellow players and asked them about their processes in developing their characters, their favorite moments from their experience at Albion, and even what they do at their day job. I was pleased to learn that, of the 13 players that attended this year, some are teachers, a handful have degrees in art and theater, and many enjoy cosplay, which explains the awesome use of costumes, wigs, and makeup in all of our event photos. Some of us had even LARPed before.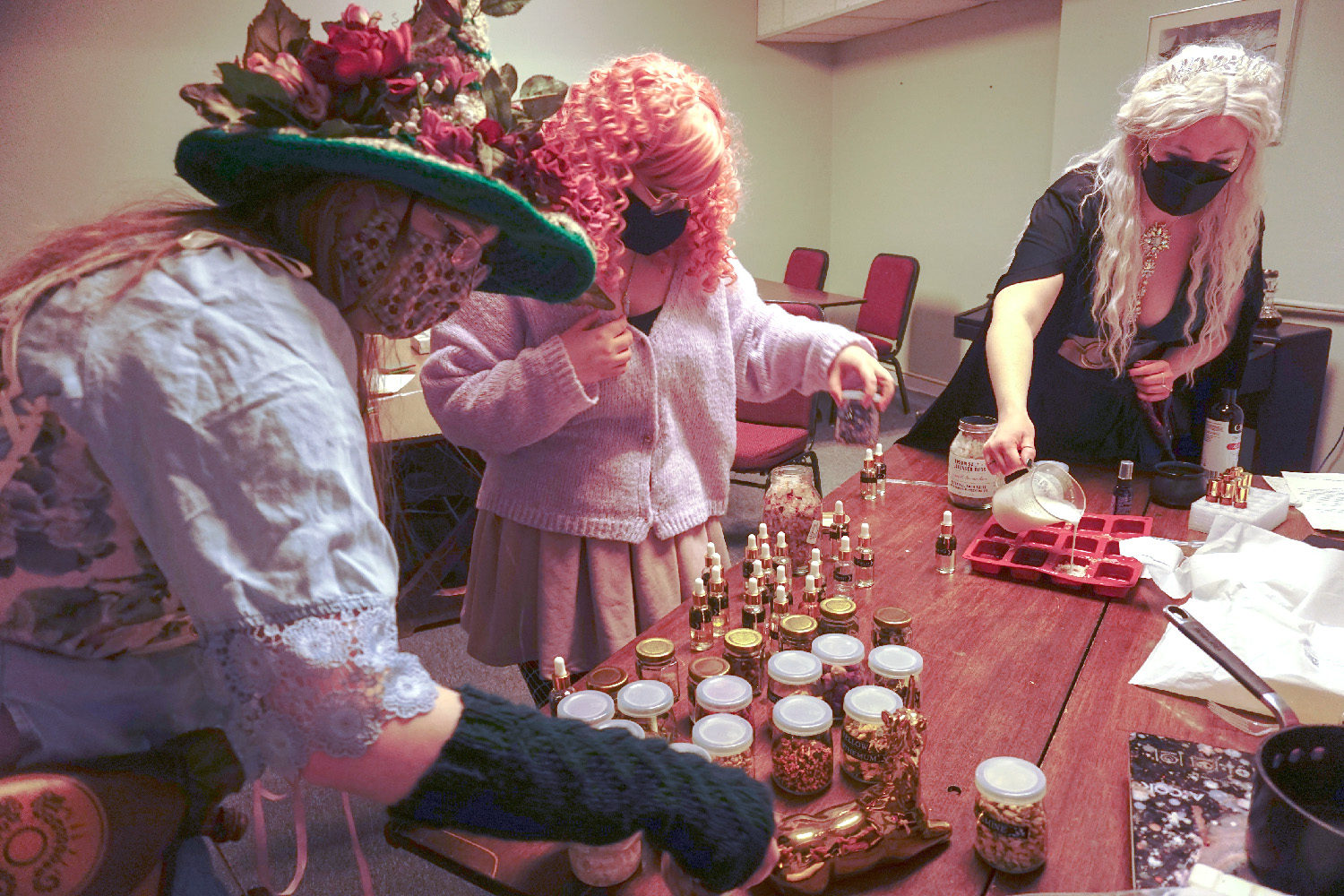 Margaret S., who played a character named Adrienne Bayne, fits most of the above criteria. Margaret is a self-described makeup addict with a degree in Art History whose character, Adrienne Bayne, had a surprising connection to my own character that she kept secret for most of the game, out of caution. Prior to Albion, Margaret participated in Outbound Hope, a science fiction LARP set on a real naval battleship. I found in my post-game interviewing that the most prolific performer out of all of us is Vhenan S., who I knew, during the game, as Constantine Le RéTif, French vampire and lover of all things chaotic. Their journey LARPing started about three years ago in the Las Vegas immersive theater scene, and they currently help run a twice-monthly fantasy LARP called Mynheras in Utah. Discussing their experience as a player at Albion, Vhenan emphasized Moonrise Games' dedication to character. "Some LARPS have intense rule mechanics that can really take you out of the moment (doing the math for hit points, spell damage, etc., etc.). I enjoyed that Albion was heavy on the storytelling." As far as how similar Constantine is to themselves, Vhenan says they both love secrets and mystery. I often found Constantine eavesdropping just outside the bubble where my character's siblings and I were huddled, or in one case, right outside the door to the Headmaster's office where I had just had a crucial meeting. It was hilarious, never knowing where he would pop up.
My own process of developing the character Dysmas Zephyrus had me taking elements of myself and emphasizing them in the LARP. This was a similar approach for some, but not all, of my fellow players. The character of Helios "Leo" Zephyrus (my character's younger brother) is the antithesis of his player, says Harley D., who played him. "I am pretty insecure and have super severe anxiety, so I wanted the character I played to be the total opposite." Hayli H., who played my sibling Selene Zephyrus, describes her character as the unashamed goth kid she always wanted to be as a teenager. "Going to wizard school was a childhood dream for me, so I tried to create the character my child self would have wanted: Goth, tied to the moon, confident, etc." Faelyn R., who portrayed the character of Valerian, also said her character was a more confident version of herself socially. And Katie P., who portrayed Vivienne Summerbell, chose a character who was "driven by grief and a desperation for answers," which is quite unlike her regular life where she works as a mortgage processor. (Fortunately, Katie also plays tabletop games and does cosplay for fun.)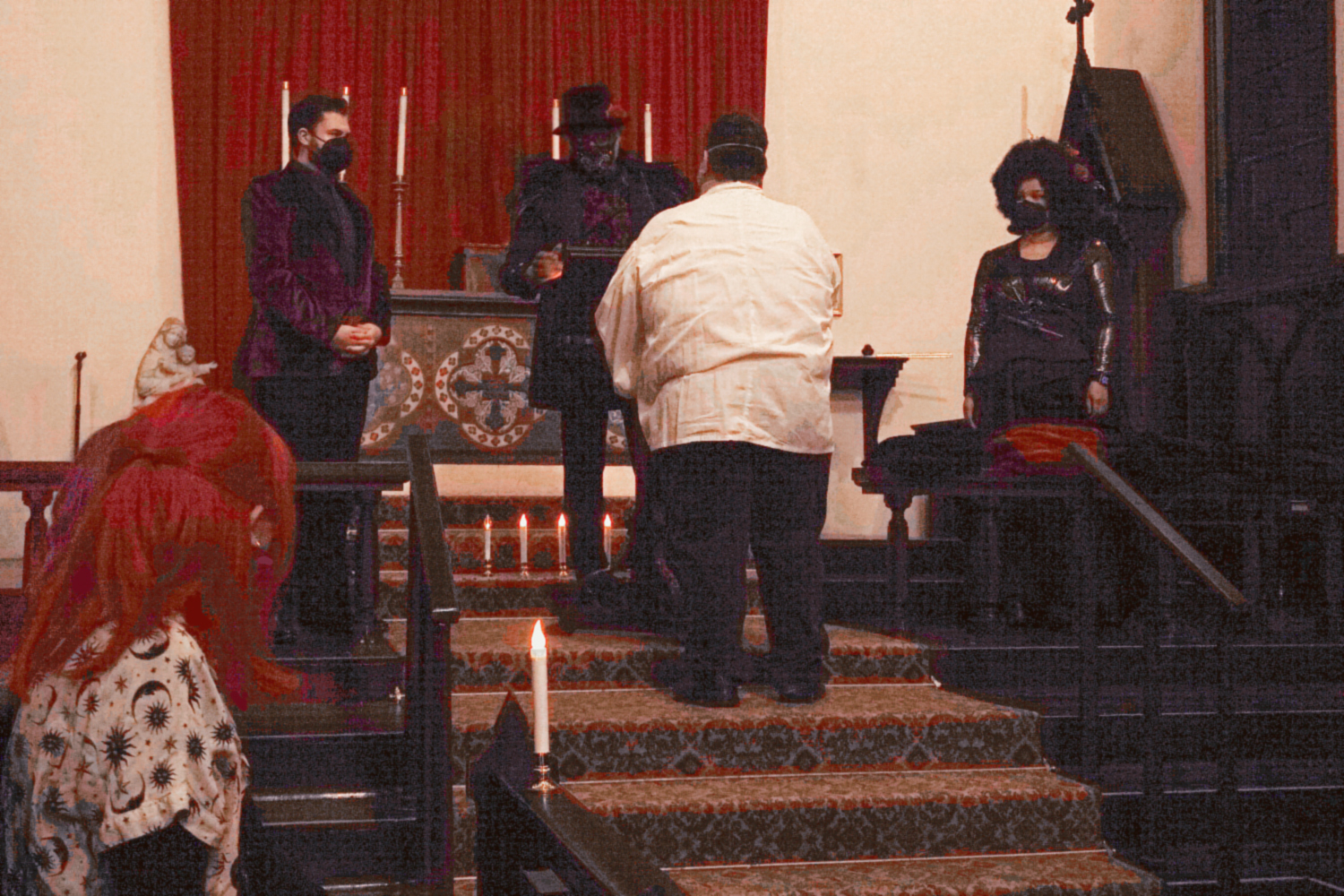 Brian S., pictured above being sorted into House Caelum, also attended the first Albion LARP in early 2020. His character Randy (apparently short for Mithrandir, he says with a wink) is the natural progression of what would happen if a science-fiction and fantasy geek such as himself were ever to find out that magic was real and go on to attend a school for magic. This year, as an escalation of the first Albion, Randy went undercover as "Galen," the "IT guy for the Magistereum" (Brian's real-life job is in IT.) The reason for the deception was so that Randy could covertly uncover the secrets required to free Albion School's resident dragon, which happened triumphantly on the third night to a chorus of applause. As a hobby, Brian regularly performs at Wheaton, IL's Westside Improv as part of The Unwritten Works of William Shakespeare.
Many players, for functional reasons, did use themselves as a starting point for their character. Rachel M., who played my "Solum" housemate Adelaide Faere, loves knitting and made her character a floral hat that was entirely knitted, which she wore throughout the week. Dominique B., who played the kind and caring Hollis Hayden, embodied the sympathy that she firmly believes in providing to others in the world and in her capacity as an early childhood educator. Stellina L. joined Albion as Asteria Laurelia, a character based on a laurel wreath tattoo she has. Her character Asteria is a half-dryad who was slowly and literally metamorphosing into a tree. Watching Stellina add more leaves and earthen designs to her skin and costume throughout the week was a pure delight. Stellina told me she loved the idea of being caught between two worlds, something her character got the chance to grapple with throughout the LARP.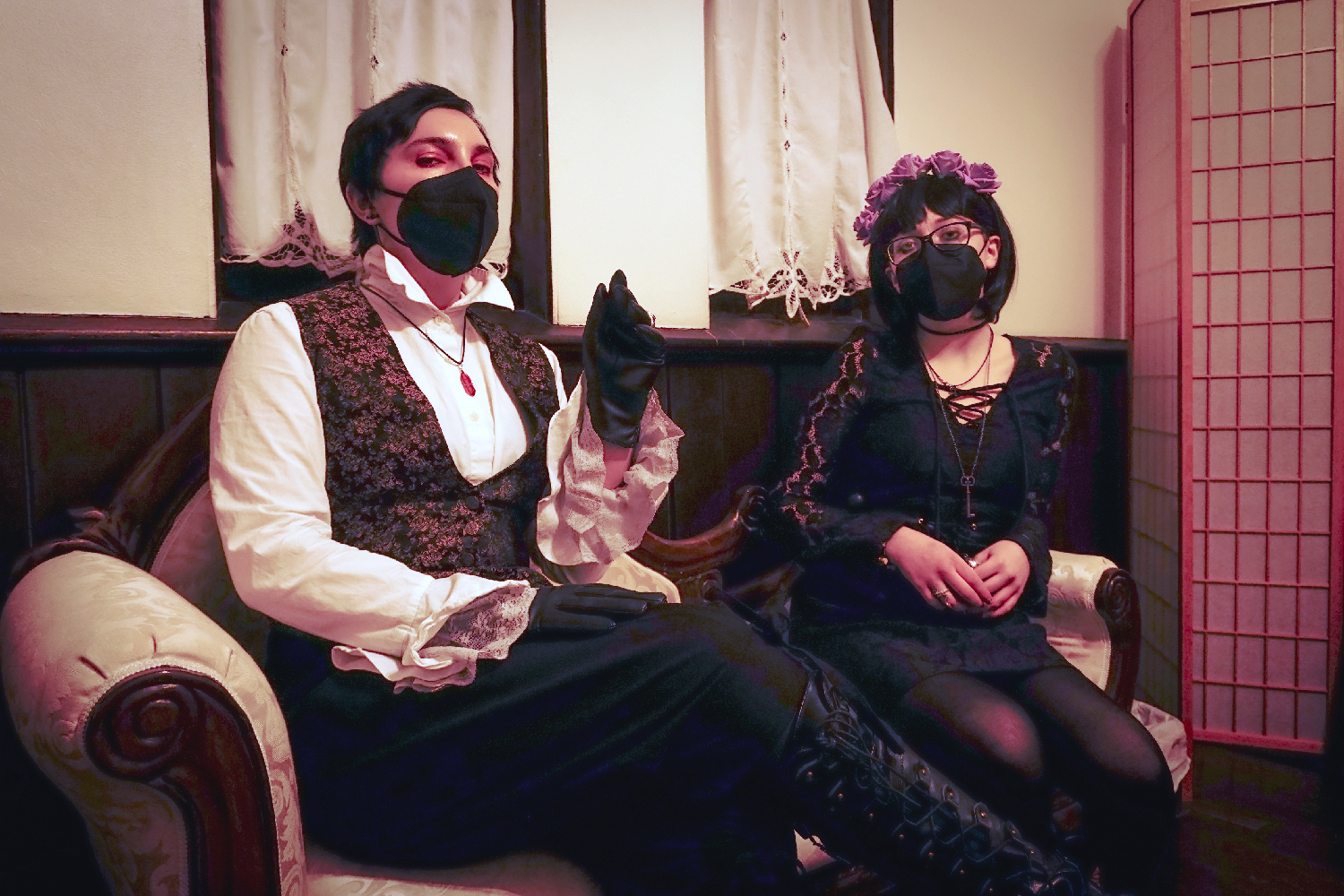 Finally, fitting with the theme of being stuck between worlds, I learned that Albion's second returning character Cardea DelaCroix (played by Clare K.), is named for the Roman goddess Cardea who helps to protect doorways. In the 50 years of story between the LARPs, Cardea was trapped in a spirit realm. Clare's character influence is in something that she calls abandoned clerics, or "people that have been touched by power and then left without it or without guidance." Her character was meant to be the physical embodiment of liminal spaces where magic is said to exist. Given the variety of answers I received, I am pleased by how many players wanted different things out of their LARP experience. One thing, however, was unanimous: we all really loved sneaking around for clues after dark.
You can now purchase tickets for the 2023 Albion School of Sorcery using our early access link. Use our link and code MUGGLENETMAGIC to receive $150 off your ticket price through June 26, 2022.

Admission to attend Albion School of Sorcery was provided to MuggleNet by Moonrise Games. All opinions belong to the reviewer.
Want more posts like this one? MuggleNet is 99% volunteer-run, and we need your help. With your monthly pledge of $1, you can interact with creators, suggest ideas for future posts, and enter exclusive swag giveaways!
Support us on Patreon