Hogwarts Houses as Types of Friends: Slytherin Edition
Each of the Hogwarts Houses has a distinct personality of its own, and it's really their little traits that set them apart from the other Houses and make them special. However, in the spirit of House unity, what if we saw these traits as complements of the others? It's interesting to think of combinations that could come together in an inter-House friendship and how they might feed into each other's different quirks. When it comes to the Slytherins, we have some ideas about how the residents of the dungeons would interact with folks from the rest of the Houses.
Ravenclaw: The "Let's Go on a Tangent" Friend
The snakes and eagles both love to spin ideas in their heads, whether they be wacky theories about the multiverse or strategies to achieve global domination. Slytherins and Ravenclaws have a great time bouncing ideas back and forth. While they might not be the best of friends, the Ravenclaws — being admittedly more intellectually advanced — understand how wild our minds can run and are able to empathize and provide a sense of rationality. This makes them the best folks for Slytherins to vent to and help them talk through a dilemma from an objective perspective.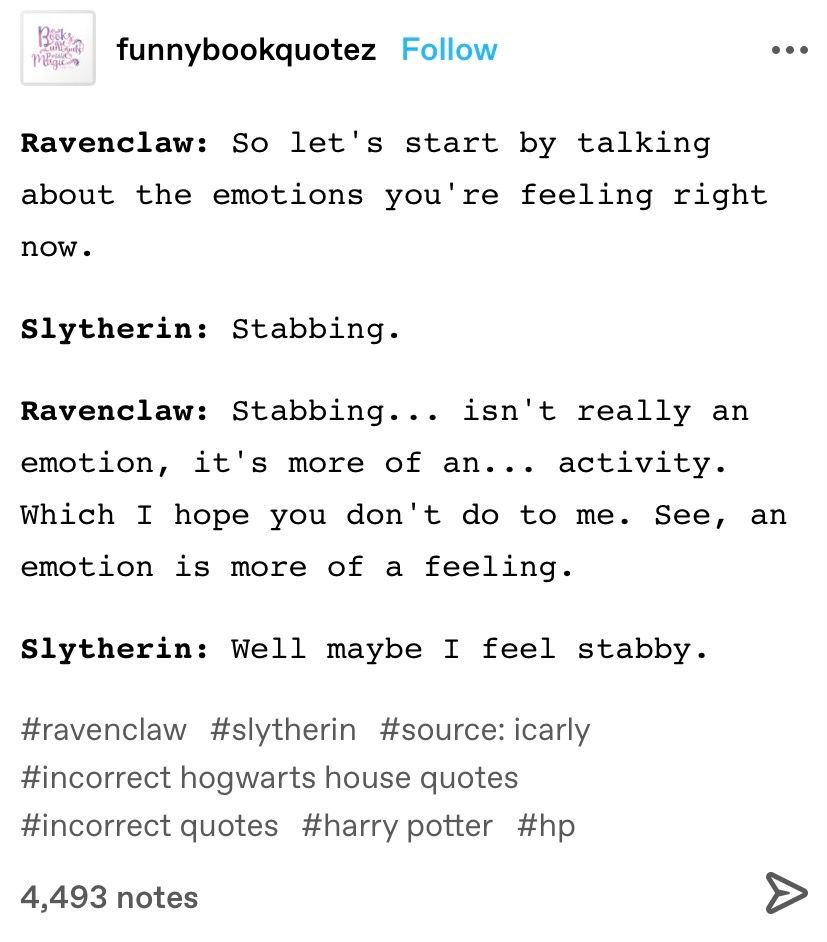 Gryffindor: The "Share One Brain Cell" Friend
When Slytherins and Gryffindors get along, they're a force to be reckoned with — or to be steered clear of. They make a notorious pair, both up on their high hippogriffs with very little impulse control to go around. They feed off each other's chaotic energy, pulling pranks on one another that, to a person with a sliver of sanity, would seem utterly absurd and borderline dangerous. But they're both thoroughly enjoying this whole exchange. Although they would ever admit it out loud, Slytherins appreciate Gryffindors' ability to understand and match their lunatic tendencies, and they miss their Gryffindor pals when they're not around.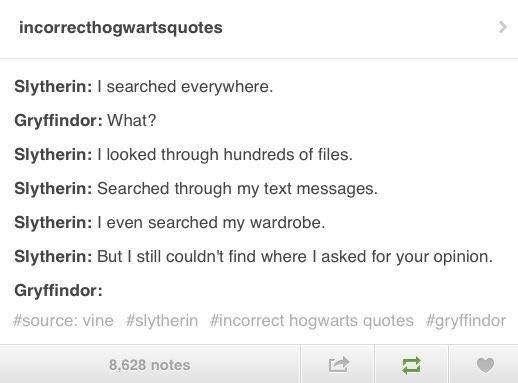 Hufflepuff: The "I've Got Your Back" Friend
Slytherins and Hufflepuffs share a bond that is nothing short of being platonic soulmates. Hufflepuffs are the only ones patient enough to really get to know someone without any judgment. Since Slytherins are often on edge, they truly appreciate the safe space that Hufflepuffs create. They ground Slytherins and keep their heads in the right place. In return for that kindness and compassion, Slytherins would move mountains for their Hufflepuff counterparts. Merlin help you if you so much as hurt a hair on a Hufflepuff's head — your only options are either to flee the continent or be ready to accept your gruesome fate.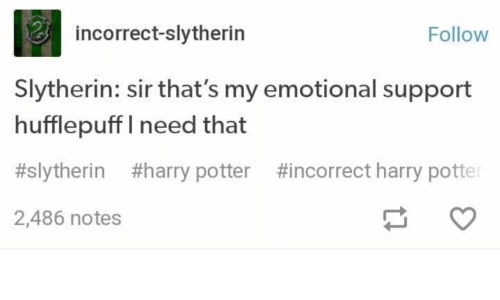 While competition can be fun, the four Houses don't always have to strive for superiority. Rather than sticking with our own kind in our tiny echo chambers, we can learn to accept our differences and appreciate everyone's individuality. Sure, we might not always get along, but we'd also be depriving ourselves of the unique perspective that each House brings to the table. After all, variety is the spice of life.
Want more posts like this one? MuggleNet is 99% volunteer-run, and we need your help. With your monthly pledge of $1, you can interact with creators, suggest ideas for future posts, and enter exclusive swag giveaways!
Support us on Patreon