Movie Review: "Top Gun Maverick" Is Nostalgic Heaven
It seems many people were as excited as myself to see the much-anticipated sequel Top Gun: Maverick. As we queued around the side of Leicester Square to be let into the cinema, we also caught a glimpse of the red carpet to be used at the premiere the following day.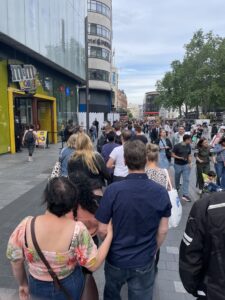 I might be biased, but seeing this film on the IMAX screen will certainly add to the experience. You feel like you're flying right up there with Tom Cruise and Miles Teller.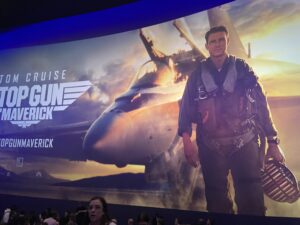 Top Gun: Maverick is a nostalgia-fuelled thrill ride from start to finish. Opening with the original theme song and color-graded shots of fighter jets on a carrier, you're transported straight back to the 1980s.
We catch up with an older and wiser-ish Lt. Pete "Maverick" Mitchell (Tom Cruise), still flying as a Navy test pilot and keen to show he can push beyond limits. This film tells the story of Maverick as he attempts to train a group of highly-skilled young fighter pilots to ready them for an incredibly dangerous mission. We see Maverick struggle with his past and learn to let go of emotions that are holding himself and his team back. On this assignment, there is no time for hesitations.
The movie captures the essence of the original classic scenes, and seeing Cruise speeding down the runway to the tune of Highway to the Danger Zone will have you running to put on your flight jacket and aviators. But younger members of the audience and those who haven't seen the first film won't feel left out as Top Gun: Maverick does a fantastic job of explaining the storyline through dialogue and flashbacks. In those flashbacks, we see Maverick and Goose, and with the help of Hans Zimmer's score, they resurrect the emotions of the first film.
While paying homage to the 1980s, the high-octane flight scenes bring it up to date. The aerial shots are dramatic and beautifully choreographed. Audience members will find themselves holding their breath along with the pilots as they perform extreme maneuvers, twisting and turning through the sky. Visually stunning, with no bad CGI or green screens to distract you from the action, you are really drawn into the dog fight.
Tom Gun: Maverick is action-packed, edge-of-your-seat stuff with glints of humor that gives the character's personality to go alongside the exhilarating aerial shots. Cruise puts in a performance worthy of the original. His dedication to the role elevates the movie, and returning cast and new members both do a great job of matching his energy.
Overall, the plot may be a little predictable ( or a lot), but there is enough to bring the audience together, fist-pumping and cheering like we're all in the cockpit together.
Want more posts like this one? MuggleNet is 99% volunteer-run, and we need your help. With your monthly pledge of $1, you can interact with creators, suggest ideas for future posts, and enter exclusive swag giveaways!