Music Recommendations Based on Your Hogwarts House – Ravenclaw
Music is all around us, available for any mood or activity. Whether you're looking for your next motivational beat for a workout or a soothing soundtrack to study to, there's something out there for everyone. This time, we're moving on from Gryffindor's musical recommendations and checking out Ravenclaw's taste in music. There's more to this House than meets the eye.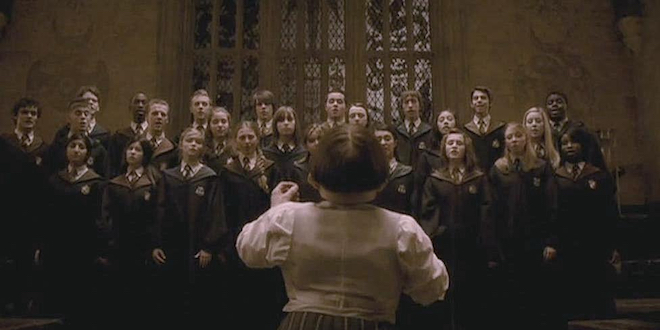 Ravenclaw's music is quite eclectic, and they're constantly exploring different artists and genres for something new. They love anything from soft, soothing study music to rap and metal. They're also in love with old classic genres like jazz and blues.

Classical/Cinematic Music:
The work of Erik Satie is a perfect fit for Ravenclaw. It is moody and beautiful and represents a more modern take on the classical music genre. They especially love when classical favorites are transformed on different instruments or reimagined in different ways. Have you heard Gnossienne No. 1 by Erik Satie on a glass harp? It's spine-tingling.
Vintage Favorite:
Ravenclaws love vintage music more than the mainstream hits of today, and At Last by Etta James has a special place in their hearts. It's the kind of love ballad that they like to indulge in from time to time. Who said that Ravenclaws don't have an emotional side?
Do they listen to Lo-Fi?:
Hell yeah, Ravenclaws love Lo-Fi. It's the perfect study music, after all — something that relaxes and focuses in equal measure. It's also a great way to explore another of Ravenclaw's favorite things with music: covers and remixes. Ravenclaws love songs that have been transformed in a new and interesting way.
Iconic/House Spirit Song:
Ravenclaws aren't all that jazzed about naming the one definitive "Ravenclaw" song, and they're a bit suspicious of anything that is too mainstream. However, parodies like "Weird Al" Yankovic's Word Crimes, I Like Big Books and I Cannot Lie, and Jon Pumper's We Don't Talk About Pluto are all ones that Ravenclaw loves to blast — much to the confusion of other Houses. They do love a witty moment, after all.
Favorite Decade:
If Ravenclaw were any decade, it would be the 1920s. It's the decade of jazz and blues, of experimenting and breaking social boundaries. Plus, being an expert in this decade of music gives them an excuse to launch into a conversation about history and culture.
A Piece from the Harry Potter Score:
Their absolute favorite piece from the Harry Potter score is Buckbeak's Flight. It's broad, sweeping, and emotional. Plus, that scene perfectly matches Ravenclaw. It's about flying, after all.
Favorite Genres:
Ravenclaw is into more eclectic music and alternative rock. For them, it's about how music can be constantly reinvented with different genres mashed together to create something completely new. Alternative bands like Arctic Monkeys, R.E.M., and The Smiths are a Ravenclaw's jam.
Christmas Carols:
If they had to pick one, it would be Silent Night. It's soothing and quiet, which is a nice break from some of the more jangly carols that can get old very fast when played constantly at Christmastime. And although they might hide it, Ravenclaws secretly love a good old carol sing-along with their loved ones.
Favorite Band:
Their all-time favorite band has to be Queen. Queen's music is just so eclectic, blending various different genres like opera and rock together to create something completely new. Plus, the lyrics are often pure poetry, full of powerful lines to riddle meaning out of. Just look at Bohemian Rhapsody.
An Unexpected Favorite:
Rap music. You might think that Ravenclaws are no fun when it comes to musical taste, all operas and study music. But no — they like a good beat just like anyone else; they might just want it to be a little more sophisticated. Rap is perfect for bridging that middle ground. Besides, people are really impressed when they know all the lyrics by heart. Favorite rappers include AJ Tracey, Stromae, and Haviah Mighty.
So there you have it — a deep dive into Ravenclaw's musical taste. Do you agree with our picks? Are you a classic Ravenclaw when it comes to music, or do you break the mold? Join us again next time when we explore the next Hogwarts House… Slytherin.
Want more posts like this one? MuggleNet is 99% volunteer-run, and we need your help. With your monthly pledge of $1, you can interact with creators, suggest ideas for future posts, and enter exclusive swag giveaways!
Support us on Patreon