Seven Reasons to Stay at Harry's Hangout on Your Next Trip to Universal
Ever wanted to stay in a Harry Potter-themed space while visiting the Wizarding World of Harry Potter at Universal Studios Orlando? We have just the space for you at Harry's Hangout. This short-term rental is a fully immersive magical experience that will leave you feeling like you're part of the wizarding world. "Harry's Hangout is as warm and homey as if Ginny and Hermione themselves designed the place," the owner, Jen, tells us. "We wanted the space to feel homemade and like a real house that someone could easily live in."
Jen took her love of Harry Potter and all things wizarding world and decided to create a space for other fans of the books and films. She also kept her kids in mind when they created Harry's Hangout — they wanted to make sure it would be somewhere kids would find just as magical as the adults did. With all of this in mind, we have compiled our top seven reasons why you should visit Harry's Hangout.
A Bedroom for Every House
This magical rental has a room for every Hogwarts House, providing a space for everyone in your family. Each bedroom is equipped with themed bedspreads, wall decor, and fun-themed artifacts to make you feel a part of the magical world of Hogwarts. As for your un-Sorted friends and family members, Harry's Hangout has other themed bedrooms. From a Hogwarts-inspired escape to Beauxbatons Academy elegance to a Durmstrang Institute getaway, you'll find the perfect spot for everyone.
Fun for the Whole Family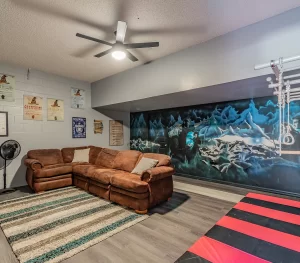 Harry's Hangout provides fun for the whole family with a room dedicated to family fun. This room has thoughtfully been named after the Room of Requirement and has a play gym as well as a Roku and oversized couch. The fun doesn't stop there; the guest book has a scavenger hunt included inside with both a kids' easy version and a more difficult one for adults. Solving the scavenger hunt will open up a special treasure with some magical wizard swag inside.
Magical Bathrooms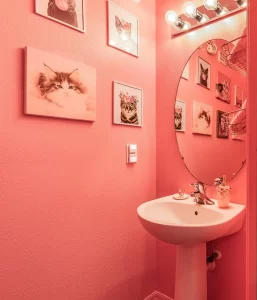 Even the bathrooms are immersive, including an Umbridge theme and themes to match the other rooms. You will also spot some fun wall decor that may look familiar.
Cool Off from the Park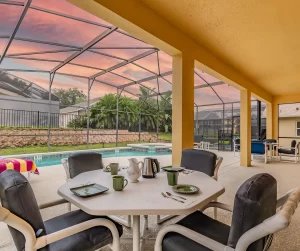 The private pool and jacuzzi area will leave you feeling refreshed from a day in the park and rejuvenate you to hit the ground running the next day. Harry's Hangout provides enough magic and comfort even for those days off from the park.
Feel Transported
The themed bedrooms aren't all this magical escape provides. With other themes such as Durmstrang and a Hogwarts master bedroom, this house never ceases to amaze. "This house is not trying to replicate Universal's Wizarding World. It is a complement to it and moreover meant to be a home away from home for wizards and witches at heart," the owners state. Harry's Hangout also has a common room for a more quiet space to read, write, and relax, as well as a Great Hall-themed dining area and a Weasley-inspired kitchen.
Never the Same Visit Twice
The greatest thing about Harry's Hangout is that it is always changing and being updated. "With repeated visits to Harry's Hangout, guests will discover something new as we keep adding more to the home," the owners said. So even if you stay there every time you visit the parks, you will always find something new in every magical trip.
Close to the Parks
With the front door being a nine-minute drive from Disney's Animal Kingdom, and 20 minutes from Universal Studios Orlando, you are always within a convenient distance from the parks. You can make a couple of trips to the parks throughout the day without feeling like you're in the car more than in the actual parks.
Ready to book your next family vacation? You can check out their website here, and be sure to follow their Instagram and Facebook for more.
Want more posts like this one? MuggleNet is 99% volunteer-run, and we need your help. With your monthly pledge of $1, you can interact with creators, suggest ideas for future posts, and enter exclusive swag giveaways!
Support us on Patreon