A Fan-Made Soundtrack to "Harry Potter and the Half-Blood Prince" – Part 2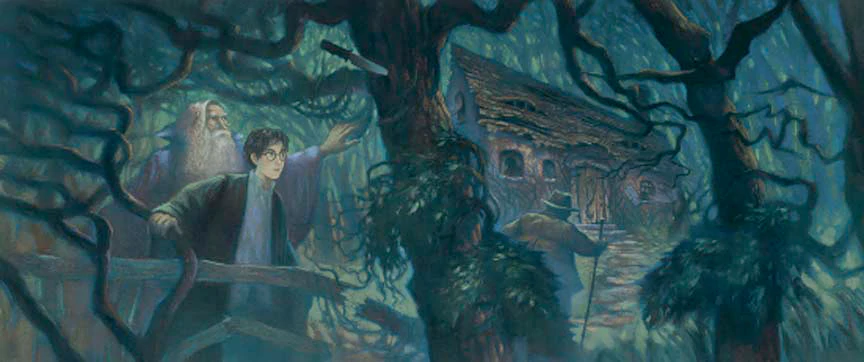 Stories are powerful. And with an expansive imagination, they have the opportunity to become an artistic vision that's not just based on the writing. We can't be the only ones who read books and envision each scene as a movie with a moving musical accompaniment. As mentioned in part one of Harry Potter and the Half-Blood Prince fan-made soundtrack, music has the power to enhance a deep story. So let's close out this list with some more music to accompany the emotions brought on by the narrative of Half-Blood Prince.
"Breathe (2 AM)" – Anna Nalick
Just as Anna Nalick intended, "Breathe" is a song that is like inhaling fresh air. It's difficult to find very many happy moments in this book. But being able to breathe freely is a very apparent emotion for the trio when Ron stops dating Lavender and Harry realizes Ginny is now available to date. Ron and Hermione are inwardly celebrating that Ron is no longer together with Lavender Brown. Meanwhile, Harry is having an internal debate on whether he should date Ginny.
"Fidelity" – Regina Spektor
Spektor is full of musical nuance, and "Fidelity" brings out the magical wonder of first love and first kisses. The scene itself needed a song that both encompassed the euphoria of winning the Quidditch Cup while also balancing the innocence of "firsts." I imagine the scene taking place as the song crescendos toward the end. Harry walks into the common room to applause; Gryffindor has won the Quidditch cup. Filled with joy, Harry and Ginny spontaneously kiss each other while everyone else stares in various states of surprise.
"Progeny" – Hans Zimmer
Hans Zimmer is one of my absolute favorite film composers. I'm of the opinion that Gladiator was one of his best scores. "Progeny" is eerie, liquid, and haunting. It is the fear of the unknown, as Dumbledore would say. This is why this track is best suited for Harry and Dumbledore's entry into the cave. Dumbledore presses his bleeding hand onto the rock face of the cave, and Harry and Dumbledore both board the boat and float along the sinister lake.
"Beauty Killed the Beast" – James Newton Howard – re-recorded by Dirk Brossé/The Flemish Radio Orchestra
I have a distinct memory of standing on top of the haystack on my family farm on a summer night, listening to this track and crying after having re-read the death of Dumbledore (I was a very dramatic youth). From Peter Jackson's King Kong, this track is originally set to the death of Kong. This track is so emotional, it seamlessly translates to any death, whether real or fictional.
Harry kneels over Dumbledore's dead body. Dumbledore had weakened himself and died for nothing. Inside Gryffindor tower, the grounds grow quiet. Fawkes has stopped singing. Dumbledore is gone.
(Note: This original track is from Peter Jackson's King Kong composed by James Newton Howard and is unfortunately nowhere to be found on Spotify.)
"Earth" – Hans Zimmer
This is another great track from Hans Zimmer's Gladiator. It has always reminded me of some sort of solemn occasion, especially when the mournful trumpet kicks in. So when I went through my re-read of Half-Blood Prince, my mind immediately went to Dumbledore's funeral. Hagrid cries silently as he carries Dumbledore's body down the aisle to his final resting place. The funeral service starts and the terrible truth finally hits Harry — Dumbledore is gone forever.
"Strength and Honor" – Hans Zimmer
This Gladiator favorite is the one that still, to this day, gives me goosebumps when I pair it with the moment Harry tells Ron and Hermione he's not going back to Hogwarts, he'll go to Godric's Hollow and then destroy the remaining Horcruxes. The music starts small, and then slowly builds and builds, until you feel the passion, strength, and resolve in Harry's speech.
And finally, here's a few songs to conclude the story — a list of "credits" songs, if you will. These are just songs that I listened to at this time in my life that seem to tie into the emotions brought on by the Half-Blood Prince conclusion.
"Hide and Seek" – Imogen Heap
This song starts by singing, "Where are we? What the hell is going on? The dust has only just begun to fall." Though this song is technically about a breakup, it also fits perfectly with the grief that has settled like dust on the students of Hogwarts, who are now facing a world without Dumbledore.
"My Understandings" – Of Mice & Men
Really, the lyrics of this song have nothing to do with the story, but the sound is raw — and raw is how we all should be feeling after reading Half-Blood Prince. What an emotional roller coaster.
"Missing" – Evanescence
The song has so many emo vibes and is perfect for Harry's emotions toward the book's conclusion. He's now faced with the pressures of being the Chosen One and the reality of losing his mentor.
Are there any other songs you think fit well with reading Half-Blood Prince? Let us know by commenting below!
Want more posts like this one? MuggleNet is 99% volunteer-run, and we need your help. With your monthly pledge of $1, you can interact with creators, suggest ideas for future posts, and enter exclusive swag giveaways!
Support us on Patreon