"Spontaneous Potter" – A Hilarious and Utterly Riddikulus Potter Improv Show
What does a show that features four chairs and a black and red keyboard mean to audiences? For those who attended the Harlow Playhouse on June 17, we saw the new Defense Against the Dark Arts teacher bringing his ten family members to Hogwarts, Hagrid watching the unknown Creevey brother being swallowed by the Giant Squid, and Ron believing that Hermione had taken a pregnancy test via the Owl Post. These are just some of the bizarre yet hysterical scenarios that the talented Spontaneous Potter players performed.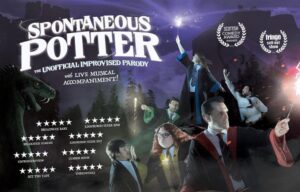 Formed in Edinburgh in early 2015, the improv group began their comedy career through their highly successful Spontaneous Sherlock show before branching into the world of Harry Potter with their Spontaneous Potter act, currently on tour in the UK.
Not sure what to expect, I was eager to see what the act was about, and it is fair to say it did not disappoint. During their introduction, the four Spontaneous Potter performers bounded onto the stage and explained what was in store for us — and them — for the evening's performance. This show is completely improvised, and there was a sense of excitement among them as to where the evening would go.
One of the performers was completely oblivious to Harry Potter, even though he was dressed in robes with a vague sense of the wizarding world. This fact earned him a pantomime boo from the audience. However, his lack of knowledge of all things Potter only added to the show's insane randomness, making the stories of that night even more hysterical and preposterous than they already were.
The players begin their performance by encouraging the audience to shout out words or phrases for "Harry Potter and the…" titles, in what would be a series of short scenes before their main performance.
The first suggestion was Harry Potter and Your Mum, a scenario involving Snape looking at pictures of Lily Potter on Facebook before painting a talking portrait of her with Harry watching. Harry Potter and the Raspberries ended with Hagrid killing off Hufflepuff House with his experimental raspberry wine, while Dumbledore gave flammable drinks to Fawkes. And the final title for this section was Harry Potter and the Moulin Rouge, which saw a hilarious moment of Dobby dancing provocatively in front of the audience — a situation that I never thought I would see.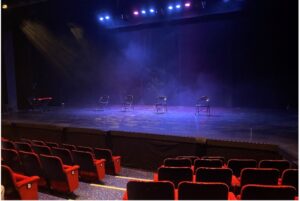 These unplanned events were just an appetite for what was to come for their original Harry Potter fan fiction, a title that was again suggested and voted for by the audience. The players had various suggestions thrown at them, including Harry Potter and the Smelly Feet; however, the firm winner was Harry Potter and the House Parties, which saw Draco planning to trap Harry by throwing a House party in the Slytherin common room. This would inspire the Gryffindors to throw an even bigger and better one. This resulted in Ron getting drunk on probiotic yogurt, McGonagall being in love with Firenze the centaur, and a Death Eater called Clive starting his internship with the Dark Lord.
It goes without saying how effortlessly flawless the Spontaneous Potter show is. The players perform multiple scenes, characters, and dialogue all at once, all while accompanied by improvised music by their talented pianist, as they go from one extreme to the other in a matter of seconds. How they managed to do this is just as spellbinding as anything from the wizarding world.
However, while this is a wonderful show that I cannot fault, it must be stressed that this is for mature adult audiences only. With tons of swearing, dark humor, and a bucket load of drugs and sex references, this is not intended for younger Potter fans and would be best suited for anyone over the age of fourteen or possibly even older.
A rightly deserved five-star-reviewed show, Spontaneous Potter must be seen to be believed and is an absolute treat for Potter and comedy fans alike. Even those who know nothing about the Boy Who Lived will still be howling and crying with laughter in their seats.
Spontaneous Potter is currently on tour in the UK until October 30.
Two show tickets were provided to MuggleNet by Spontaneous Players. All opinions belong to the reviewer.
Want more posts like this one? MuggleNet is 99% volunteer-run, and we need your help. With your monthly pledge of $1, you can interact with creators, suggest ideas for future posts, and enter exclusive swag giveaways!
Support us on Patreon