Event Report: Back to Hogwarts 2022
For many people, September 1 signifies the end of the summer holidays, a slight chill in the air, and everything becoming flavored with pumpkin spice. For the Wizarding World community, however, it means something very different. It is a chance for fans to come together and celebrate the return to the most famous of all wizarding world schools.
After two years of waiting (luckily not in Azkaban), the annual pilgrimage to King's Cross was finally back in person, and no amount of Dementors would have kept us away. I arrived early, and though there were a few hours until the departure announcement, fans of all ages (as well as a few bemused commuters) were starting to gather around the central red carpet stage on the main concourse.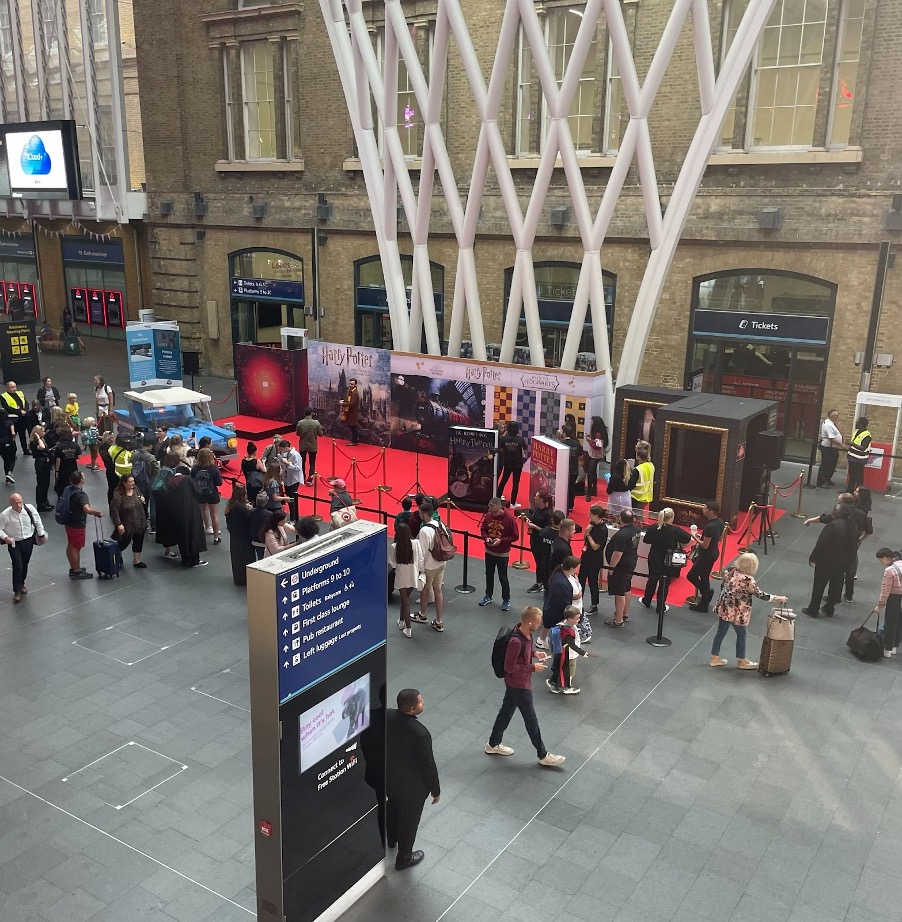 I took this opportunity to chat and take pictures with other fans, many of whom had traveled specifically for the celebrations. I spoke to a family on holiday from Northern England whose 10-year-old daughter had insisted on making the journey to King's Cross and an engaged couple from Germany who had met through their mutual love for Harry Potter and who were taking in the sights of London before traveling up to Edinburgh. However, the Longest Distance Prize, and 10 points to Gryffindor, went to a lovely couple from Texas who had based their entire vacation around the film locations, including London, York, Durham, Edinburgh, and finally the Highlands to ride on the "real" Hogwarts Express over the Glenfinnan Viaduct.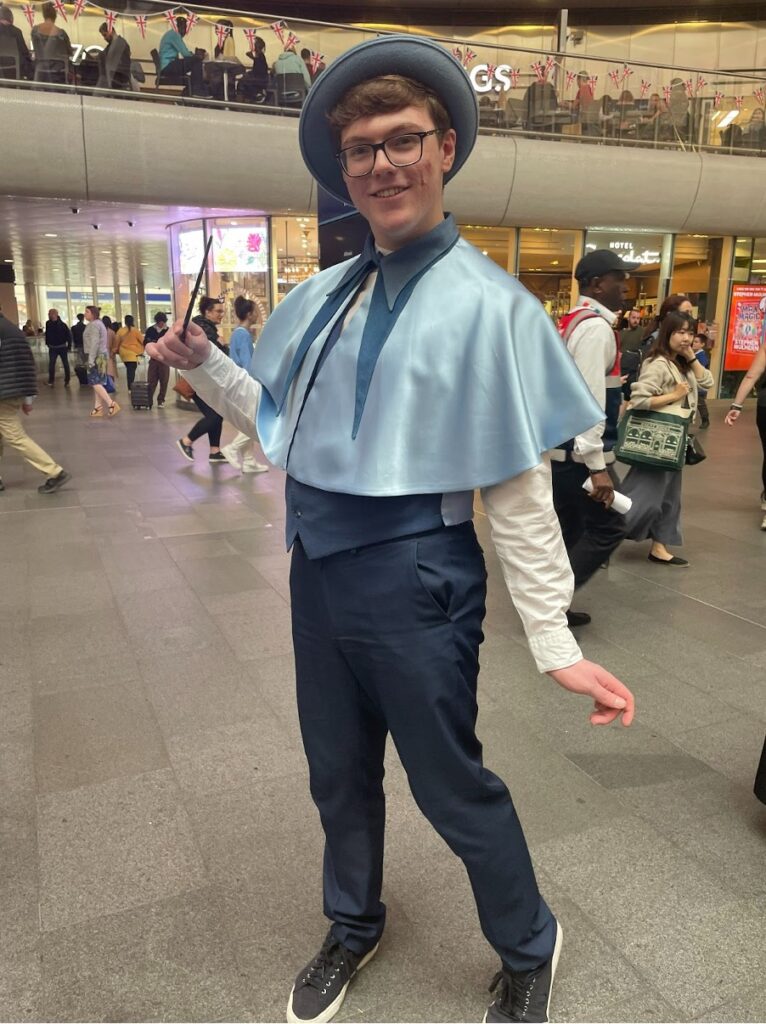 There was an amazing amount of cosplay on show, with a variety of characters from a jolly Stan Shunpike to a very convincing and scary Bellatrix to a quill-bearing Rita Skeeter, a Beauxbatons student, and the ultimate evil power couple of Lucius and Narcissa Malfoy. Fans also managed to involve their pets, and I saw a somewhat bewildered dachshund disguised as Fluffy!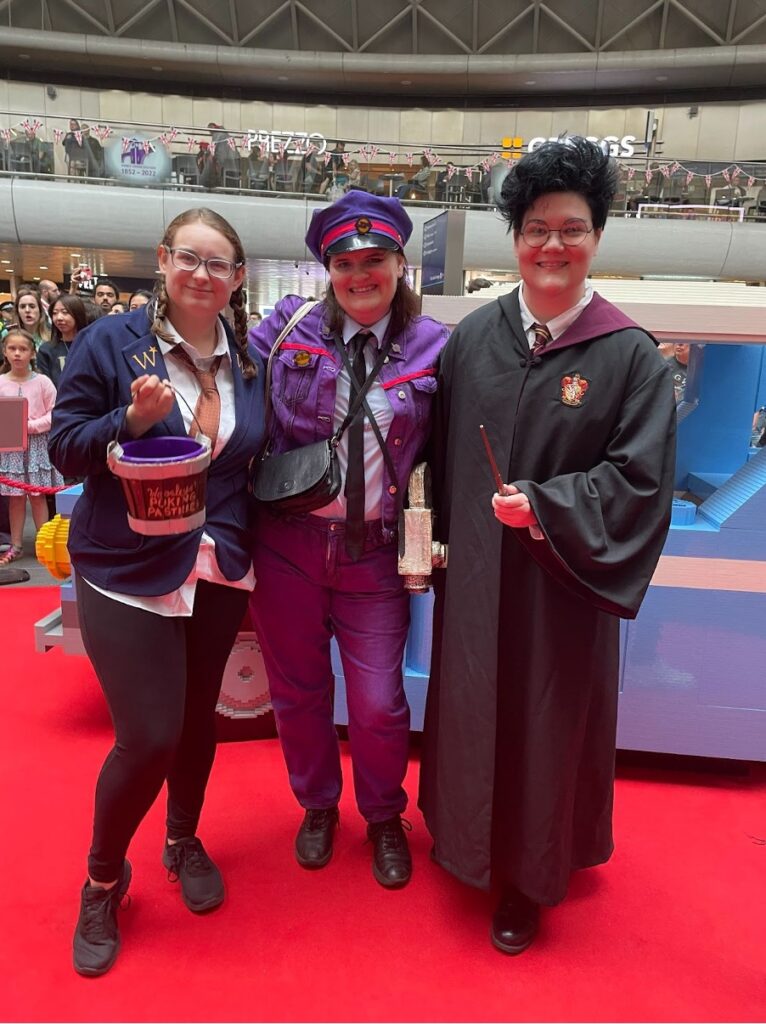 At 9 o'clock, I was able to get up close and personal with the many photo opportunities on offer. There was a full-size Ford Anglia and a Sorting Hat, both made entirely of LEGO, together with backdrops from the Harry Potter Photographic Exhibition and Harry Potter and the Cursed Child. Also on display were two giant Harry Potter and the Philosopher's Stone book covers showing the original 1997 artwork by Thomas Taylor and Bloomsbury Publishing's special 25th-anniversary edition designed by Jonny Duddle.
I was also invited to a video booth to record why Harry Potter was so special to me, share my favorite moments or lines from the films, and answer fun quick-fire questions such as "Diagon Alley or Hogsmeade?" and "Harry or Draco?"
The whole of the concourse plus the upper mezzanine level was a sea of Wizarding World fans, and those of us with wands were asked to get them ready. The one and only Paul Harris, choreographer and wand combat skills trainer, took to the stage, flanked by Death Eaters.
Paul ran through a selection of movements that he had choreographed for the films, both teaching us an attack and defense wand duel routine and explaining how important the swish and flick movement really is. After a few practice rounds and some passionate encouragement, we were drawn into a full-on battle with the Death Eaters. Although there were casualties on both sides, the crowd was triumphant and the Death Eaters left, trailing their wands in disgrace.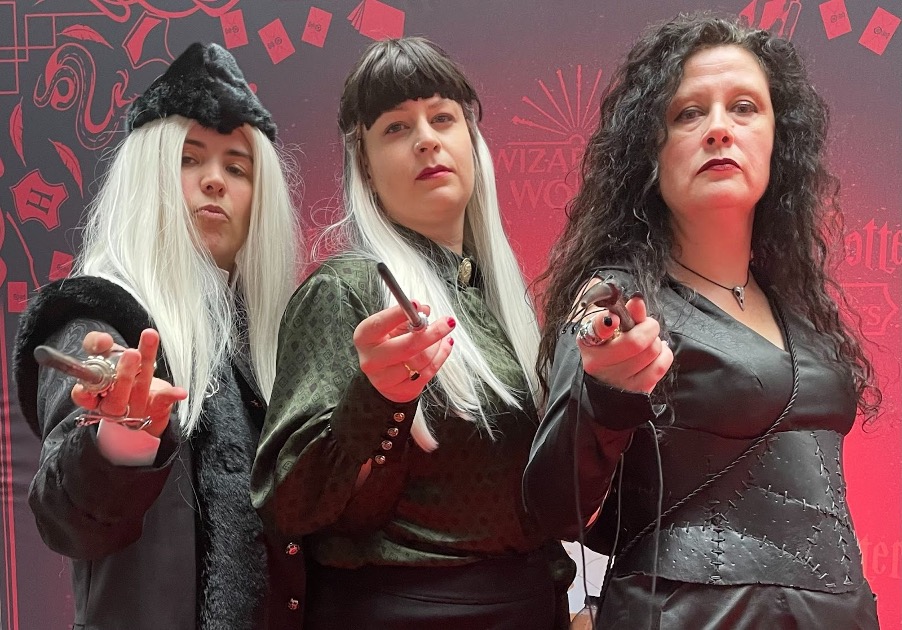 It was then time for the countdown to departure, which was hosted by presenter Vick Hope (a brave Gryffindor) and TV personality Sam Thompson (a passionate Hufflepuff). They are both proud superfans and were equally excited as the crowd to be part of the celebrations. They started the ten-second countdown, and at exactly 11 o'clock, a deathly hush fell across the concourse. The next departure to be announced was… the 11:03 service to Leeds!
The wizarding world had clearly decided that there were far too many Muggles in attendance, but a quick call to Arthur on his "fellytone," some tinkering with the Muggle technology, and the departure from platform nine and three-quarters was finally announced, albeit a little late!
Did you know that MuggleNet is 99% volunteer-run? With your monthly pledge of $5, you can provide monetary support to our volunteers while becoming eligible for exclusive swag giveaways!
Support us on Patreon