Album Review: "An Anthology of Slytherin Folk Music, Volume II" by Draco and the Malfoys
If you have been a fan of Draco and the Malfoys for a while now, you have probably been eagerly waiting to see when they will put out a new album. Good news: The wait is over! On October 16, the band released An Anthology of Slytherin Folk Music, Volume II.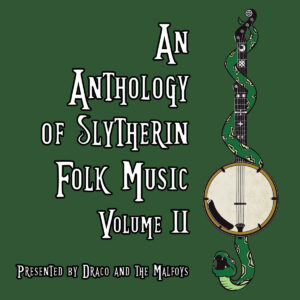 We open with "Brawl at Flourish and Blotts," in which Draco gives his perspective on the fight between Lucius Malfoy and Arthur Weasley. The upbeat tune and folksy harmonica/banjo solos between verses are a hilarious and fun contrast to the chaos of the scene being described.
Next is "Myrtle the Moaner," a parody of "Minnie the Moocher" by Cab Calloway and His Orchestra. Good luck not singing along with the echoes on the chorus (I'm not sure you'll be able to resist).
Listeners may also be already acquainted with "Azkaban Prison Blues," which Draco and the Malfoys contributed to the 2016 Wizard Rock Sampler. This version comes with a slower tempo and a different key, which is oddly relaxing for a song about the infamous wizard prison. Even if you do not play the banjo or the guitar, this song will make you want to pick up one or the other and start playing along.
In "The Carrows," we get a firsthand look at life at Hogwarts during the events of Harry Potter and the Deathly Hallows when Snape and his Death Eater deputies were in charge. The tempo feels more fluid than some of the other songs on the album. It goes with the uncertainty of being a Hogwarts student during this particularly dangerous time.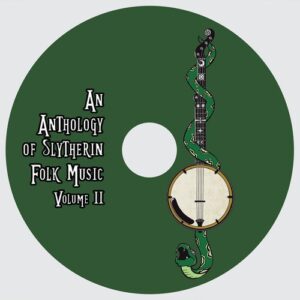 There is something about the melody for "Firewhisky Is Flowing" that feels familiar, but I'm not sure what. Usually, the drink of choice for wizard rock songs is butterbeer. But, a song about having a good, stiff drink is at home in this style of album.
I was especially excited when "Fixin' Up a Cabinet" started playing because I am well acquainted with the gospel song "I'm Working on a Building" that it parodies. It provides a hilarious counter to the gospel version song about trying to give up bad habits and be a better person. This time, Draco is adopting very bad habits to accomplish his mission for the Dark Lord (while we all sing and sway along with the music).
"The Three Broomsticks Tonight" is a touching, folksy love ballad. It is a real standout for a couple of reasons: It is the only romantic song on the album, and it's a great song for a real fan to learn and sing to their special somebody.
"Grabbing a Portkey Home" is a down-on-your-luck anthem with a strong beat and a catchy chorus. I would certainly be singing this song to lift my own spirits if I was down on my luck.
If you have listened to podcasts about the Harry Potter books for as long as I have, you know how often it's pointed out that Draco really is not a bad kid and that he has feelings too. "It's Not Malfoy Manor" is a rare, vulnerable moment where Draco expresses his feelings about having his father taken away. The result is quite touching.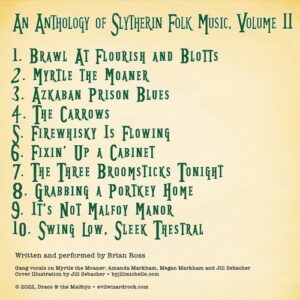 Finally, we bring it home with "Swing Low, Sleek Thestral," a parody of "Swing Low, Sweet Chariot." When this one gets going, you cannot help but want to harmonize with the chorus, even if you haven't learned the words yet. The unexpected changes in key and tempo will keep you on your toes all the way to the end of the song.
All in all, this was an album that I personally needed right now. It is good to have something that's new and yet familiar and comfortable and safe. I never thought I would use those words to describe something that has so much of Draco Malfoy's perspective in it, but that's the sort of unexpected joy one can always find when delving into the wide world of wizard rock, which is very much alive. Grab your copy today on the Draco and the Malfoys website.
A copy of An Anthology of Slytherin Folk Music, Volume II was provided to MuggleNet by Draco and the Malfoys. All opinions belong to the reviewer.
Did you know that MuggleNet is 99% volunteer-run? With your monthly pledge of $5, you can provide monetary support to our volunteers while becoming eligible for exclusive swag giveaways!