Wizard Rock Is Alive and Well and Thriving at LeakyCon
One of my favorite parts of the Harry Potter fandom is the wizard rock (wrock) community. As a child, I saw my first wrock concert at a public library, and I've been hooked ever since. The wizard rock community is so welcoming and caring. I've always felt that there is something so wonderful about all of these different people coming together to help and encourage each other to make music. This is why I was so excited when I saw a large amount of wrock-related programming at LeakyCon this year.
While I love meeting people, going to panels, and buying merchandise, my favorite part of LeakyCon will always be the wrock concert. This year, the wizard rock concert was Friday night's big event. I was so excited for the year's lineup featuring How Airplanes Fly, Hawthorn & Holly, Lauren Fairweather, and Tonks and the Aurors. I've attended many virtual wrock concerts over the past few years, but it was so lovely to get to be together in person. There's such a magical feeling when you are surrounded by people at a concert. It's like you are sharing energy and excitement while singing along to music written about your favorite book series. Getting to express yourself through song is a beautiful thing, and sharing that love with a roomful of people is fantastic.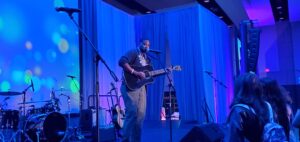 How Airplanes Fly opened the concert, and Avery Marshall was definitely the perfect choice to begin the evening. I saw him perform at last year's virtual Yule Ball, but that was nothing compared to seeing him live. He played songs such as "Poetry in Motion," "Forget the Girl," and my personal favorite, "Astoria," which was on the 2020 Wizard Rock Sampler. Avery truly shined under the spotlight, and I hope to see him perform again in the future.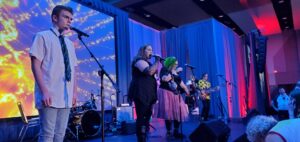 Hawthorn & Holly were up next. This band consists of Christie Mowery, Leah Hamm, Dave Beaucar, and Eddie Mowery. They were also joined by Ahmed Latif on drums, Phoenix on vocals, and Brian Ross, who played lead guitar for a few songs. Their set was filled with high-energy songs like "Marietta's a Sneak," "Felix Felicis," and "La La Luna." The crowd was happy to dance and let loose during this fantastic set. It was my first time seeing them live, and it definitely will not be my last.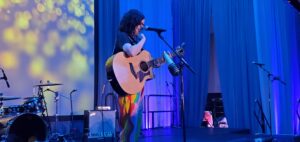 Lauren Fairweather was our penultimate performer. I've seen them perform many times over the past decade, and I always have a great time at their shows. They opened their set by saying "gay" to mock Florida's famous "Don't Say Gay" law, and the crowd cheered at that. They played a few Harry Potter songs, including "Nerve," "Hufflepuff," and "Lost and Found." They also played a few songs from their album Peaches and Plums, which is filled with songs based on The Magicians. Their songs have the most beautiful lyrics, and it is truly a delight to hear them performed live.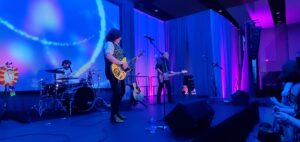 Tonks & the Aurors was the last set of the night. Steph Anderson is always a joy to see live, and she was joined onstage by Andrew Boylan and Brian Ross. This electric set was filled with hit after hit, including "We Are Magic," "Yes All Witches," and "Harry Potter's Alive." There was also a performance of a newer song, "Fandom Autonomous Zone," which I fell in love with when I heard it on Transfiguration: A Wrock Comp for Trans Rights. If you ever have the chance to see a Tonks & the Aurors concert, I highly recommend it.
Of course, in addition to the fantastic wrock concert, there were two WrockTalk interview sessions, a "Wizard Rock Singalong," and a "Wizard Rock Cafe," which was a jam session hosted by Brian Ross of Draco and the Malfoys. There were also two special panels, "Musical Magic: The Wizard Rock Panel," where members of all four wrock bands got together to discuss their experiences making wrock music, and "Musical Alchemy: Songwriting and the Art of Storytelling," which talked about what goes into writing a song.
This year's LeakyCon more than proved that wizard rock is still alive and is not going anywhere. New bands are popping up every day, something discussed at "Musical Magic: The Wizard Rock Panel." There is a fantastic community filled with Facebook groups, Discord groups, in-person meetups, online concerts, and panels at conventions.
Do you listen to wizard rock? What's your favorite wrock band or artist? Let us know in the comments.
Did you know that MuggleNet is 99% volunteer-run? With your monthly pledge of $5, you can provide monetary support to our volunteers while becoming eligible for exclusive swag giveaways!
Support us on Patreon