Castium Revelio: A Devilish Poster and a Musical Rebellion
by Neave Williamson · Published · Updated
Welcome back to MuggleNet's Casting News! After our zombified and friendly trailers last week, we've got a devilish poster and release date, as well as trailers spanning from a musical rebellion to a fantasy finale. Castium Revelio!
Harry Potter Cast and Crew
Before getting into all of that, however, we've got exciting news for any fans of Sir Kenneth Branagh's (Gilderoy Lockhart) Agatha Christie adaptations. We have the first cast announcement for A Haunting in Venice, which is his version of Christie's novel Hallowe'en Party. Branagh will reprise his role of the beloved detective Hercule Poirot, while Kyle Allen (West Side Story), Camille Cottin (Killing Eve), and Jamie Dornan (Belfast) will make their series debuts.
There's a new poster for the upcoming live-action remake of Pinocchio. Both David Bradley (Argus Filch) and Ron Perlman (Gnarlak, Fantastic Beasts) voice characters in the film, which will premiere at the BFI London Film Festival next week and will have a short theater run beginning November 25 before hitting Netflix on December 9. The film is set to be a darker take on the classic tale, and we can't wait to see how it turns out.
View this post on Instagram
Emma Watson has stepped behind the screen to direct a new advertising campaign for Prada's new perfume, Paradoxe. She recently spoke in an interview with Vogue about how the concept "really resonated" with her and how being able to both act and direct for the campaign "revealed a side or a part of [her] that [she] had never seen before." She also described how the acting side of the job was easier because the "story was already inside me, which made the performance easier and smoother."
Up next is a trailer for a sci-fi thriller featuring Katie Leung (Cho Chang). The Amazon Prime series, which is called The Peripheral, will follow a young woman (played by Chloë Grace Moretz) who discovers a dangerous virtual reality world after taking on a job in a simulation. Check out the trailer below, and let us know what you think of it in the comments down below.
Sticking to the theme of trailers, our next one stars Helena Bonham Carter (Bellatrix Lestrange) and David Thewlis (Remus Lupin). They're working together in Enola Holmes 2, which is written by Cursed Child co-writer Jack Thorne. We saw the film's first trailer as a part of Netflix's Tudum event earlier this month, but now we have a sequel to give us more insight into the action. You can watch the second trailer below.
Our third trailer of this week's edition features Dame Emma Thompson (Professor Trelawney) as the terrifying Miss Trunchbull. Matilda the Musical will drop on Netflix on Christmas Day and will include the songs featured in the West End musical version of Roald Dahl's well-loved tale. Have a look at the trailer below, and let us know which of these three trailers was your favorite.
Our next two stories both feature exciting developments on projects featuring David Tennant (Barty Crouch Jr.). First up is a rough release date, first-look photos of new characters, and a poster for Season 2 of Good Omens, a fantasy show based on a novel by Neil Gaiman and Terry Pratchett. These updates came from the show's panel at New York Comic Con earlier this week. The show's second season will be released next summer, although unfortunately, that's as specific as it currently gets.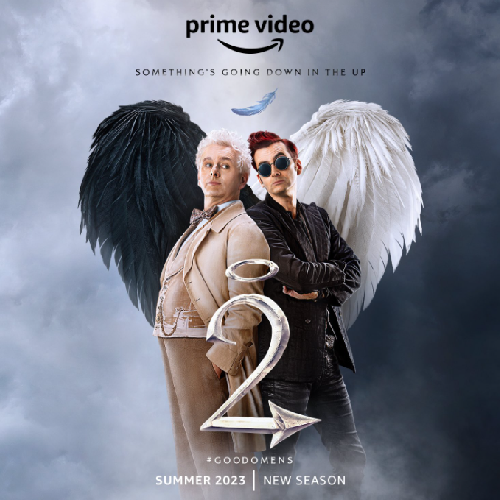 While we'll have to wait until next year to see Tennant back in Good Omens, his time at the Harold Pinter Theatre on the West End for Good has only just begun. The show's press night took place on Wednesday, meaning that we now have photos of Tennant in his role as Professor John Halder, a man who believes he is good but struggles after the outbreak of war. Take a look at one of the images below!
We've got multiple stories about Brendan Gleeson (Mad-Eye Moody) and Colin Farrell (Percival Graves, Fantastic Beasts) causing chaos on different talk shows this week. They both made an appearance on The Late Show with Stephen Colbert, talking about their work together on The Banshees of Inisherin. They spoke about the 15-minute-long standing ovation the film received at its world premiere at the Venice Film Festival, as well as the beauty of the shooting locations and the on-set donkey shenanigans. Check out two clips from their time on the show below!
Farrell also got up to some shenanigans of his own this week by crashing Gleeson's Saturday Night Live party. He snuck up behind Gleeson, who was hosting the show for the first time last weekend, wearing a fake mustache and claiming to be passing by on his way home from the mustache shop. The pair were also both invited on Ryan Tubridy's Late Late Show yesterday.
Fantastic Beasts Cast and Crew
Speaking of talk shows, Eddie Redmayne (Newt Scamander) is set to appear on The Graham Norton Show at the end of the month. He'll be chatting about his upcoming film The Good Nurse, which is based on the true story of serial killer Charles Cullen. The episode will air on October 21, with Redmayne sitting on the sofa alongside musician Taylor Swift and soccer player Alex Scott.
Up next is a new role for Claudia Kim (Nagini). She's set to star in The Dinner, a Korean film based on a Dutch novel of the same name. The film is about two brothers and their wives, who discover a secret around the dinner table. This will be Kim's first Korean film, and we can't wait to see it!
Cursed Child Cast and Crew
Last but certainly not least is a new trailer for Season 3 of His Dark Materials, which is written by Jack Thorne. This season will be the final one for the fantasy drama, which is based on Philip Pullman's bestselling novels of the same name. It will be released this December on HBO in the US and the BBC in the UK. Check out the trailer below.
That's a wrap on this week's Casting News. Which of our trailers are you most excited about, or are the interviews and posters we've shown you more interesting? Let us know in the comments below.
Did you know that MuggleNet is 99% volunteer-run? With your monthly pledge of $5, you can provide monetary support to our volunteers while becoming eligible for exclusive swag giveaways!