"Potter" Alumni Projects at New York Comic Con
Even without programming specifically devoted to Harry Potter, the series always maintains a presence at New York Comic Con and events like it as a staple of the fantasy genre and pop culture at large. One of the ways it does this is through the continuing careers of the talent who brought the stories to life, particularly within the sci-fi/fantasy realm. Multiple Potter alumni are involved in projects that had panels at NYCC this year and are likely to attract many Potter fans.
His Dark Materials
Philip Pullman's books are beloved by many Potter readers, and after an unsuccessful 2007 film adaptation, the HBO/BBC series has fared much better. Written by Harry Potter and the Cursed Child playwright Jack Thorne, the first two seasons did a spectacular job of bringing the story to life, making creative choices that occasionally differ from the novels but work well for the screen. Cast members James McAvoy (Lord Asriel), Amir Wilson (Will Parry), and Dafne Keen (Lyra Silvertongue) and executive producers Jane Tranter and Dan McCulloch appeared at NYCC to promote the third and final season, based on The Amber Spyglass, the last novel in the trilogy.
In addition to Thorne, the late Helen McCrory (Narcissa Malfoy) previously voiced Stelmaria, Lord Asriel's snow leopard dæmon, but unfortunately had to be replaced for the final season following her death. Ray Fearon (Firenze) was in three episodes between Seasons 1 and 2, and Harry Melling (Dudley Dursley) also appeared briefly in Season 1. Might we see more Potter alumni? We'll find out when the third season premieres on December 5.
Good Omens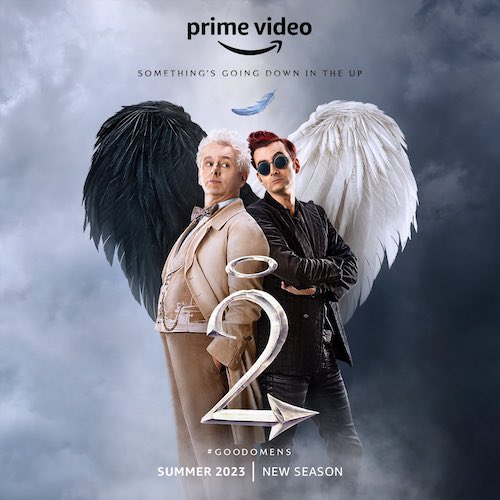 Amazon Prime's adaptation of the novel by Neil Gaiman and Terry Pratchett was so successful that a second season is in the works, despite the fact that the single volume was covered in one season. David Tennant (Barty Crouch, Jr.) returns as the demon Crowley alongside Martin Sheen as the angel Aziraphale. Both made appearances via Zoom, along with Jon Hamm, while Gaiman, director Douglas Mackinnon, executive producer Rob Wilkins, and actors Maggie Service, Nina Sosanya, and Quelin Sepulveda appeared in person.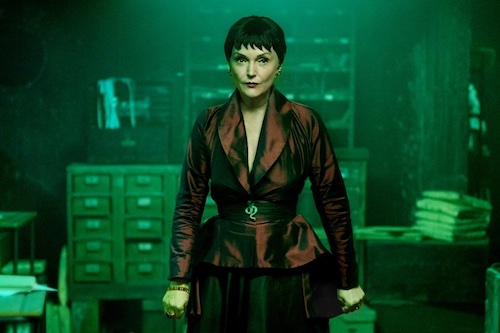 Rita Skeeter actor Miranda Richardson played the clairvoyant Madame Tracy in Season 1, and although her story line was wrapped up, the creators felt it necessary to bring Richardson back as a new character. She will return as Shax, another demon who has replaced Crowley in his role on earth. The second season premieres in summer 2023, so we have quite a while to wait to see her devilish performance.
Star Trek
This one is pure speculation. Cast and creatives from three Star Trek series – Discovery, Prodigy, and Picard – appeared at NYCC, and although there were no Potter alumni present or currently in these shows, fans might remember that Jason Isaacs appeared in Season 1 of Star Trek: Discovery as Captain Gabriel Lorca. Spoiler alert: He turned out to be an evil version of Lorca from the alternate mirror universe. Mirror Lorca was killed, but prime Lorca was never accounted for, assumed to be dead. In Trek, you can never assume anyone to be dead. Lorca wasn't mentioned during the panel, but fans have long hoped that Isaacs might return as the original Lorca we never got to meet. Might we see him turn up in Season 5?
Weird: The Al Yankovic Story
Daniel Radcliffe, Harry Potter himself, appeared at NYCC to promote his upcoming role as Weird Al Yankovic in the Roku Channel's not entirely authentic (but sure to be hilarious) biopic. Check out our coverage of that panel for more details on how Daniel prepared and what we can expect when the film begins streaming on November 4.
Did you know that MuggleNet is 99% volunteer-run? With your monthly pledge of $5, you can provide monetary support to our volunteers while becoming eligible for exclusive swag giveaways!