Daniel Radcliffe Gets "Weird" at New York Comic Con
Daniel Radcliffe took to the Empire Stage at New York Comic Con this Sunday to talk about his upcoming star turn in Weird: The Al Yankovic Story. Closing out the weekend with a bang, Daniel was joined by director Eric Appel, costar Evan Rachel Wood (Madonna), and Al Yankovic himself (via Zoom) for a panel moderated by MTV's Josh Horowitz.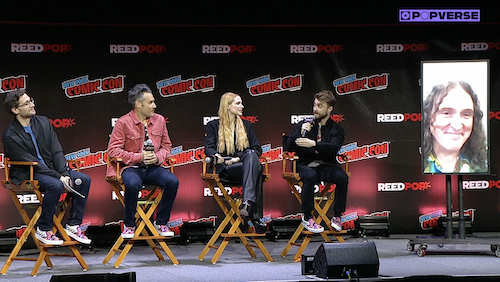 Horowitz noted that Daniel has been fan-cast in many an iconic role but probably not this one. Indeed, upon being offered the role, Daniel thought, "Oh, that's really cool, but there'[re] people who are probably closer physically to him." However, any doubts he had dissipated once he read the script and realized that resemblance and authenticity were not exactly of the utmost importance for this project, which sounded like so much fun that it was a "very easy yes." There is some authenticity, though: The mustache he sports in the film is his own since he believes, "If you can avoid fake facial hair, you should." Resemblance or lack thereof aside, Yankovic thought that Daniel could pull off both the dramatic and the comedic moments of the film, which he envisioned as a comedy played like an Oscar-worthy biopic.
The vocals in the film are recordings of Yankovic, but Daniel did sing under the track while filming to show the necessary energy for the performance. He expressed the hope that the world never sees that footage, but we'd love to see that behind-the-scenes feature. To prepare for the role, Daniel approached his friend Pete Scalzitti, a self-taught accordion player. He kept an accordion that Yankovic gave him at the end of filming ("something I will… maybe be buried with"), and although he is not very confident in his newfound accordion abilities, he feels that he got far enough in his education "that it seemed stupid to stop" and will therefore continue practicing. Here's hoping for a future Daniel Radcliffe accordion concert (Appel teased Carnegie Hall 2027).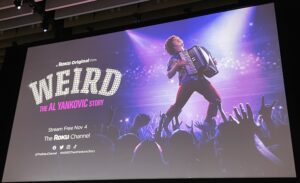 Weird was filmed in a mere 18 days, a process described by Wood as "lightning in a bottle." An exclusive clip shown at the panel featured a scene jam-packed with celebrity cameos in which Daniel as Yankovic improvises an impressive parody on the spot at a pool party. It's an absolutely wild scene, but Daniel claimed, "That clip is very much from the normal part of the movie." Underneath all the wackiness, Yankovic promised a wholesome message about being yourself, finding your people, and celebrating being different and weird. That sounds like something that the Potter fandom can get behind.
Horowitz pointed out that Daniel has been known to audiences, and possibly heckled, as Harry Potter for 20 years and now may become known for another iconic role. Daniel Radcliffe will forever be Harry Potter to us, but it's always a delight to see him take on something new and different, and we look forward to seeing his thoroughly weird performance.
Weird: The Al Yankovic Story will be streaming on the Roku Channel on November 4.
Did you know that MuggleNet is 99% volunteer-run? With your monthly pledge of $5, you can provide monetary support to our volunteers while becoming eligible for exclusive swag giveaways!