Robbie Coltrane's "Harry Potter" Friends and Colleagues Mourn the Loss of Their Friend
It is a sad day for the Potter fandom, as Hagrid actor Robbie Coltrane has passed away at the age of 72. This feeling of sadness is one Potter fans are, unfortunately, familiar with, as many of the Harry Potter cast members have passed away over the years. Robbie is, in fact, the 30th cast member from the franchise to pass.
While the fandom is mourning a man and actor we have fallen in love with on-screen, the cast and crew members of the franchise have lost a dear friend and colleague. Here is what they've had to say.
Daniel Radcliffe
Radcliffe made a statement via Deadline:
Robbie was one of the funniest people I've met and used to keep us laughing constantly as kids on the set. I've especially fond memories of him keeping our spirits up on 'Prisoner of Azkaban,' when we were all hiding from the torrential rain for hours in Hagrid's hut and he was telling stories and cracking jokes to keep morale up. I feel incredibly lucky that I got to meet and work with him and very sad that he's passed. He was an incredible actor and a lovely man.
Emma Watson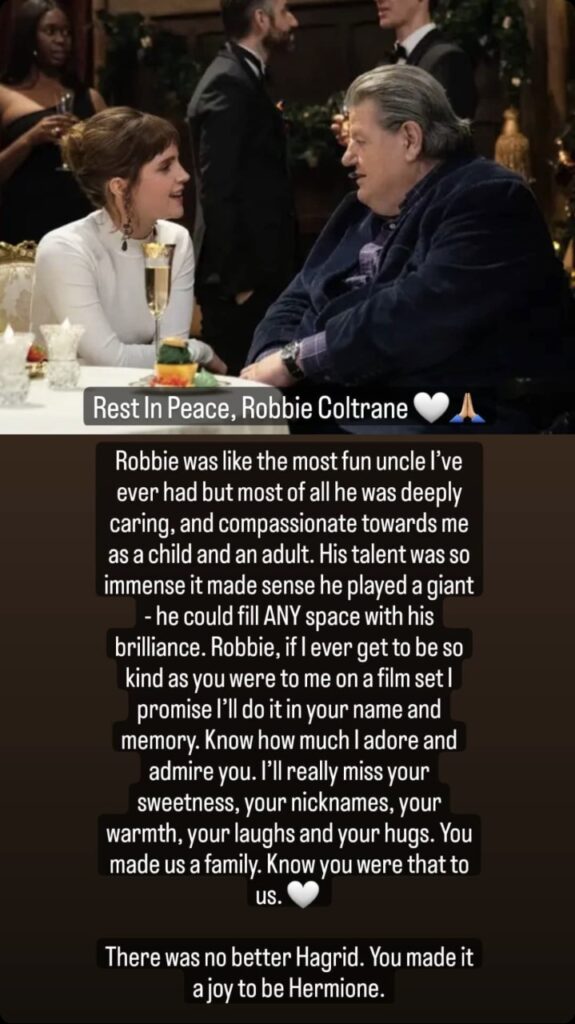 Rupert Grint
View this post on Instagram
Tom Felton
View this post on Instagram
Matthew Lewis
Robbie. Bobser. He called me Space Boy. We shared a love of the final frontier. He didn't give a fuck and it always made you smile. A giant, in more ways than one. We had some times x

— 🇺🇦Matthew Lewis🇺🇦 (@Mattdavelewis) October 14, 2022
Bonnie Wright
View this post on Instagram
David Thewlis (Remus Lupin)
View this post on Instagram
Gary Oldman (Sirius Black)
View this post on Instagram
James Phelps (Fred Weasley)
I will miss the random chats about all subjects under the sun.And I'll never forget in September 2000, Robbie Coltrane came over to a very nervous 14yr old me on my 1st ever day on a movie set and said "Enjoy it, you'll be great". Thank you for that x

— James Phelps (@James_Phelps) October 14, 2022
Oliver Phelps (George Weasley)
November 2001 – Leicester Square, London. "Soak this in lads, its like a Rolls-Royce for your first car"! Robbie Coleraine when he was next to me on the red carpet of the first HP premiere. Over the years we had some great chats about history and travel. Rest in peace Robbie x

— Oliver Phelps (@OliverPhelps) October 14, 2022
Chris Rankin (Percy Weasley)
As @melissaanelli and I finished up the opening of @LeakyCon in Denver we came off stage to the news that Robbie Coltrane has died. A lovely man full of humour and good will and incredible talent xx

— Chris Rankin (@chrisrankin) October 14, 2022
Afshan Azad (Padma Patil)
So so sad. Hugs to all our Potter family tonight. 🤍🕊

— Afshan Azad (@afshan_azad) October 14, 2022
Sean Biggerstaff (Oliver Wood)
Being extremely silly with Robbie on the telly. RIP Uncle Bob. ❤️ pic.twitter.com/cRmHCVotfk

— Sean Biggerstaff (@Seanchuckle) October 15, 2022
Warwick Davis (Filius Flitwick/Griphook)
I was saddened to learn that fellow #HarryPotter cast member, Robbie Coltrane died today. Always jovial, he brought warmth, light and laughter to any set he walked on to. RIP Robbie, Beloved Giant of comedy.x pic.twitter.com/NGT644dA7K

— Warwick Davis (@WarwickADavis) October 14, 2022
Chris Columbus (Director, Harry Potter and the Sorcerer's Stone and Harry Potter and the Chamber of Secrets)
View this post on Instagram
James Payton (Frank Longbottom)
Deeply saddened to learn that Robbie Coltrane has died.
A lovely, lovely man, and a wonderful actor. My words don't do him anywhere near justice.

— James Payton (@MrJamesPayton) October 14, 2022
Natalia Tena (Nymphadora Tonks)
View this post on Instagram
Rohan Gotobed (Young Sirius Black)
First met Robbie Coltrane in hair & makeup and was crazily starstruck (Hagrid!!!) Saw him filming months later – he remembered my name and was delighted to stop and chat. Also his performance in #NationalTreasure was brilliant. Rest in Peace. pic.twitter.com/vdMl40Vc4C

— Rohan Gotobed (@Rohan_Gotobed) October 14, 2022
Jim Tavaré (Tom the Innkeeper)
RIP Robbie Coltrane. He was always nice to me

— Jim Tavare (@jimtavare) October 14, 2022
Stephen Fry (Narrator, British Audiobooks)
I first met Robbie Coltrane almost exactly 40 years ago. I was awe/terror/love struck all at the same time. Such depth, power & talent: funny enough to cause helpless hiccups & honking as we made our first TV show, "Alfresco". Farewell, old fellow. You'll be so dreadfully missed

— Stephen Fry (@stephenfry) October 14, 2022
MinaLima (Graphic Designers)
View this post on Instagram
Jack Thorne (Playwright, Harry Potter and the Cursed Child )
He never played on his status, he'd delight in talking to anyone. When my parents went to the set of National Treasure, a bit awestruck by it all, Robbie practically gave them a tour. He was beautiful.

— Jack Thorne (@jackthorne) October 14, 2022
Dan Fogler (Jacob Kowalski)
View this post on Instagram
Did you know that MuggleNet is 99% volunteer-run? With your monthly pledge of $5, you can provide monetary support to our volunteers while becoming eligible for exclusive swag giveaways!