Ten Surprising Things We Learned from Tom Felton's Memoir, "Beyond the Wand"
Have you read Tom Felton's magical memoir, Beyond the Wand, yet? If not, then look away to avoid any spoilers! If you have read it, then continue to read about ten things that we've found out.
1. People mistook Tom for Macaulay Culkin when he was younger.
Tom recalls a funny story from when he first went to New York to shoot his very first commercial. While filming in Times Square, people were cheering at him, and he says, "Turns out that with my angelic little face, my beanie and my puffa jacket, they thought I was Macaulay Culkin in full Home Alone garb, or maybe his little brother." This is particularly interesting since the first two Harry Potter films have the same director as Home Alone, the fabulous Chris Columbus.
2. Emma Watson calls Tom her "soulmate."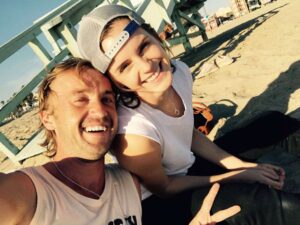 Unless you have been living under a rock, then you would know that Emma Watson wrote the foreword for Beyond the Wand. It is impeccably written, and she writes adoringly about her friend and co-star — so much so that Emma declares Tom as her "soulmate" and how they share "one of the purest loves" she can think of.
3. Tom auditioned for both Harry and Ron first.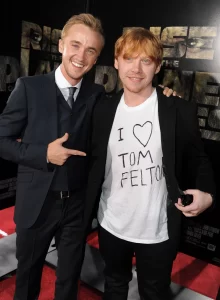 Some die-hard Harry Potter fans may already know this fact, but Tom Felton actually auditioned for Harry Potter and Ron Weasley before landing the part of Draco Malfoy and having to dye his hair blonde. It's mad to imagine him in anything other than green robes, isn't it?
4. Tom was "wary" of Alan Rickman during filming.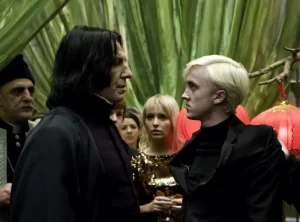 As many stars of Harry Potter have confessed over the years, Tom revealed that he became "wary" of Alan Rickman. Recalling one scene in the sixth film where Draco and Snape have to walk closely together, Tom says that Alan told him, "Do not step on my f***ing cloak." Of course, Tom ended up stepping on his cloak, which apparently wasn't well received by Rickman.
5. The Malfoy family became as close to Tom as his real family.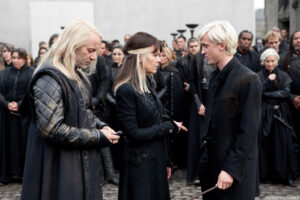 Tom is known for constantly praising his on-screen mother and father, Jason Isaacs and Helen McCrory. Once again, he comments on how they became "as close as my Muggle family." Tom writes of how "even now I get goosebumps when I remember Jason's transformations" from being Jason to being Lucius. Tom also fondly speaks of Helen McCrory and how he found himself "comfortable enough to ask her all sorts of questions about life, love and everything in between."
6. Tom and Daniel Radcliffe weren't close in the beginning.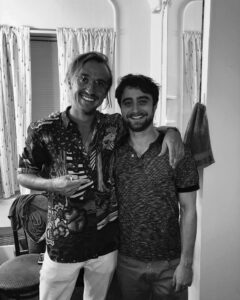 It would make complete sense that the on-screen enemies didn't get on in real life. Tom admits that he and Daniel did keep their distance at first, but they quickly realized they had more in common than they thought. Tom said that he "admired" Daniel's acting ability, and it inspired him with his portrayal of Draco in Harry Potter and the Half-Blood Prince.
7. He used to get bullied at school for having bleached hair.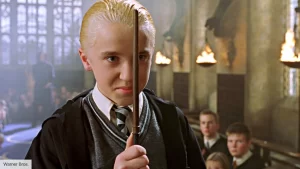 Having icy blonde locks 24/7 wasn't all it was cracked up to be for Tom. Since he was in and out of school for filming, he writes, "It was not cool to be Draco," and even says that he was called names such as "broomstick *****." Who's laughing now, though?
8. At the premiere of Harry Potter and the Sorcerer's Stone, a young kid called him "a real d**k."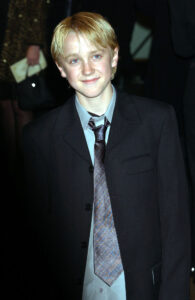 In the book, Tom looks back on his first Harry Potter premiere in Leicester Square, where a young kid came up to him afterward and called him "a real d**k." Tom didn't know how to deal with this comment and was quite hurt by it at first. His grandpa told him that it was "a good thing" and clearly meant he was playing the part well.
9. Tom bravely opens up about his stints in rehab.
Tom has never before spoken publicly about this part of his personal life, so to open up about it was incredibly brave. His book mentions how he went to rehab three times and how he recovered by volunteering on Venice Beach. Luckily, he is now as happy and healthy as ever!
10. Tom hasn't watched all the Harry Potter films back.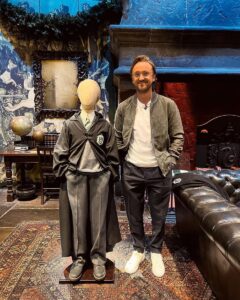 In a shocking confession, Tom says he hasn't watched all of the Harry Potter films back because he is saving them. "I'm saving them for the moment I look forward to most in the future. One day sharing these stories — books first, then the films — with my own little Muggles."
It's mad that even after so many years, we're still learning brand-new things about the actors and the Harry Potter franchise. It definitely keeps the flame alive! Beyond the Wand: The Magic and Mayhem of Growing Up a Wizard is available to purchase now.
Did you know that MuggleNet is 99% volunteer-run? With your monthly pledge of $5, you can provide monetary support to our volunteers while becoming eligible for exclusive swag giveaways!