My Experience Making Rock Cakes from "The Unofficial Harry Potter Vegan Cookbook"
I live in a Muggle studio apartment that's not much bigger than Harry's cupboard under the stairs or Arthur Weasley's broom closet-sized office at the Ministry of Magic. I have a miniature convection oven on the very narrow counter in my kitchenette and a limited number of bowls, measuring cups, and other kitchen utensils. For my first recipe from The Unofficial Harry Potter Vegan Cookbook, I chose to make Rock Cakes because it is one of the precious few recipes that doesn't require fancy ingredients or special cooking or baking equipment.
With just a bowl, a rubber spatula, some measuring spoons and cups, and a tray lined with parchment paper, I was ready to conjure some baking magic.
While I'm not quite Mrs. Weasley in the kitchen, I do have a knack for baking and strong intuition, so I wasn't afraid to go off-script and make a few modifications to the recipe. For one, my oven is so small that I halved the recipe in order for the rock cakes to fit on my baking tray. Additionally, I have food allergies, so I had to use gluten-free flour instead of all-purpose. I didn't have any gingerbread spice or fresh oranges on hand, so I made my own spice blend with cinnamon and ginger, and I left out the orange zest. I love dried fruit, so I added extra dried cranberries. I added 1⁄2 teaspoon of baking powder to the recipe as well because I didn't want my rock cakes to be flat but to have a scone-like lift.
The recipe was simple to follow, and it was fun to play around with the sticky dough and shape them into rock-like balls. I can see this recipe being a big hit with young Potterheads who are just learning how to bake or families who want to make some Potter treats together.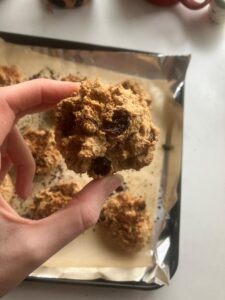 The Rock Cakes were a total win! Unlike Hagrid's teeth-breakingly hard rock cakes, the texture of these rock cakes is very scone-like (without being dry) with the changes made. They have a bread-like chewiness to them, and they'd taste wonderful paired with berry jam – especially a raspberry or strawberry – and freshly brewed hot tea. Next time I'll make sure to add orange zest to the dough for a little extra zing because, yes, I'll be making them again.
This editorial was written and submitted by a reader. The views expressed within it are the sole opinion of the author. To submit your own editorial, please follow our submission guidelines.
Did you know that MuggleNet is 99% volunteer-run? With your monthly pledge of $5, you can provide monetary support to our volunteers while becoming eligible for exclusive swag giveaways!