Types of Transportation in the Wizarding World
Have you ever wondered how you can magically get from point A to point B? Well, the wizarding world has some great transportation options! We've created a list of every single method of transportation in the wizarding world and included examples from the Harry Potter books. It's probably a much longer list than you originally thought.
1. Apparition
Apparition is a form of magical transportation where you can transport instantly from one location to another. Wizards are able to learn how to Apparate in their sixth year at Hogwarts once they turn 17. However, it comes along with the risk of Splinching, where part of the body can get left behind if a wizard Apparates unsuccessfully. Who else remembers when Ron left half an eyebrow behind in Harry Potter and the Half-Blood Prince? That was a mild case of Splinching – but as we know from Harry Potter and the Deathly Hallows, it can be much more dangerous and painful.
2. Flying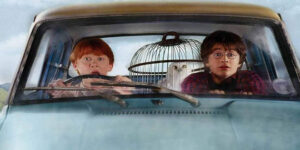 This is probably the primary method of transportation everybody is thinking about, but it certainly isn't the only method. Flying could include the typical broomstick, or it could be on a Thestral, a magic carpet, a motorcycle, or in a car. The flying Ford Anglia in Harry Potter and the Chamber of Secrets is a great example of how flying can get a wizard to their desired location.
3. Toilet Network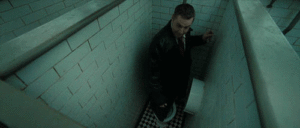 Famously used as the workers' entrance to the Ministry of Magic, the toilet network is an unusual method of transportation. Although the only toilet network we know about is these specific toilets in Whitehall, there is no doubt that this isn't the only toilet network in the wizarding world.
4. Ground Transportation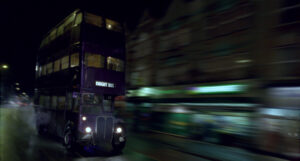 Ground transportation is one of the only methods of transportation that the Muggle world also uses, but it's still much more exciting in the wizarding world. Wizards can use the Hogwarts Express and the Knight Bus, as well as normal transportation such as cars – although even those might have a few magical modifications, such as the Ministry cars that are magically extended to fit Harry and his friends on the way to King's Cross in Harry Potter and the Prisoner of Azkaban.
5. Vanishing Cabinet
This method even got a full Harry Potter book based around it – we're looking at you, Harry Potter and the Half-Blood Prince. A Vanishing Cabinet allows a wizard to transport from one cabinet to another. As mentioned, this is demonstrated in Half-Blood Prince when Draco brings Death Eaters into Hogwarts through the passageway formed between Vanishing Cabinets in the Room of Requirement and Borgin and Burkes.
6. Portkey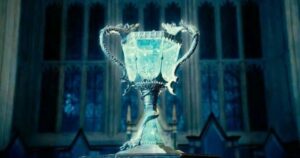 A Portkey is a way of transportation where a wizard touches an everyday object and ends up in a specific place. Perhaps the best example is in Harry Potter and the Goblet of Fire, where the Triwizard Cup is secretly a Portkey (thanks to Barty Crouch, Jr.) and transports Harry and Cedric Diggory to the Little Hangleton graveyard.
7. Floo Network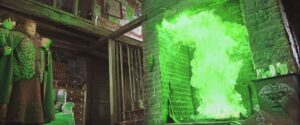 The Floo network must be quite a memorable method of transportation for Harry Potter himself, seeing as he got lost when he used it for the first time in Harry Potter and the Chamber of Secrets. The Floo network enables wizards to travel between different fireplaces and is a method that the Weasleys introduced to Harry.
These transportation methods seem to be widely used within the Harry Potter book series, some more than others. If you were a wizard, which of these would be your preferred method of transportation? Let us know in the comments.