Sorting 12 Magical Creatures into Hogwarts Houses
As Harry Potter fans, we have a tendency to Sort everyone we meet, and we certainly don't shy away from applying this gift to friends of the nonhuman kind. We are sure that you, too, have Sorted at least one animal companion before. But have you ever thought of assigning Houses to magical creatures? No need – we have done it for you!
Niffler – Slytherin
Nifflers are well known for their penchant for everything that shines and glitters. The resourcefulness and cunning they employ when hunting for treasure land them a spot in Slytherin. One could say they are a bit self-serving, but we'll forgive them – after all, that much cuteness more than makes up for the occasional loss of a coin or two.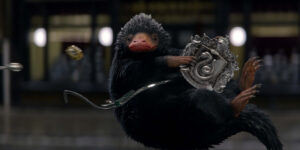 Porlock – Hufflepuff
In Fantastic Beasts and Where to Find Them, the famous Magizoologist Newt Scamander notes that a Porlock "lives to guard horses" and can be found among the herd it protects. The Porlock's loyalty to its herd, compassion for creatures of a different species, and efforts to care for them clearly Sort it into Hufflepuff.
Pixie – Gryffindor
As we learn in Harry Potter and the Chamber of Secrets, pixies are mischievous, impulsive, humanoid creatures. They enjoy playing tricks on people and show little to no fear of their surroundings. Just like the Weasley twins and the Marauders, pixies enjoy managing their mischief in groups to cause the maximum amount of mayhem. For all these reasons, pixies would make the ideal Gryffindors.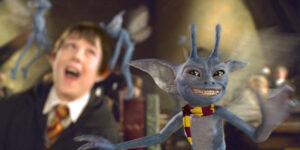 Basilisk – Slytherclaw Hatstall
Surprised? We think a basilisk's Sorting is not as clear-cut as it may seem. In Chamber of Secrets, we see the basilisk easily navigating through the complex tunnels of Hogwarts. However, it doesn't just blindly go out for a midnight snack – it waits for a command. This creature's ability to form cohesive thoughts is a mark of its high intelligence. Their cunning easily places them in Slytherin, but their intelligence just as equally Sorts them into Ravenclaw.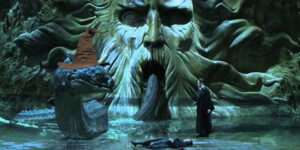 Mooncalf – Hufflepuff
The shyest of creatures, Mooncalves only come out of their burrows during a full moon. Those lucky enough to witness their mating ritual agree that the dance is a sight to behold. Keen Herbologists appreciate Mooncalves for their dung, which serves as a potent fertilizer for a variety of magical plants. It is their gentle nature and connection to Herbology that led us to their Hufflepuff Sorting.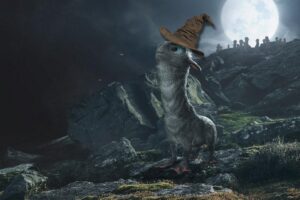 Kneazle – Ravenclaw
Kneazles are intelligent, independent, and occasionally aggressive. We believe this means that they make for perfect Ravenclaws. After all, have you ever interrupted a Ravenclaw while they were reading? "Occasionally aggressive" is a pretty fitting description. Crookshanks, who is part Kneazle, shows remarkable intelligence when aiding Sirius after his escape from Azkaban. We are sure that Crooks would make Ravenclaw House proud.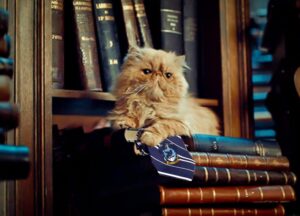 Demiguise – Hufflepuff
Like Porlocks, Demiguises are peaceful, shy creatures. But this doesn't stop the Demiguise from helping others when they are in need, as seen in Fantastic Beasts and Where to Find Them. We are particularly impressed given the size of the Occamy – Dougal did not have an easy task. That said, we think Demiguises would make for great Hufflepuffs.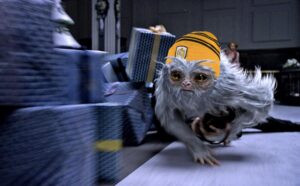 Crup – Gryffindor
While the Crup displays fierce loyalty, a trait typically attributed to Hufflepuff, we ultimately Sorted this scruffy, magical dog breed into Gryffindor. Like their Muggle counterparts – Jack Russell terriers – Crups can become aggressive if not given enough attention and proper training. These little ferocious dogs are known to show bravery when protecting their wizards from potential danger in the form of their Muggle neighbors.
Sphinx – Ravenclaw
Known to be extremely intelligent, the sphinx is undoubtedly among the biggest fans of puzzles and riddles. Naturally, we Sorted this fascinating creature into the House of the eagle. We would love to see a sphinx and the door to the Ravenclaw common room pitted against each other!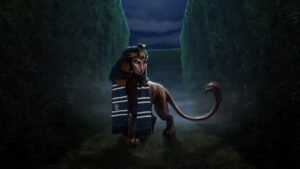 Phoenix – Gryffinpuff Hatstall
The Sorting Hat would likely take several minutes and maybe even break a sweat while deciding on the ideal House for the phoenix. Their scarlet and gold feathers are a great match for the Gryffindor colors, and their song is said to inspire courage in those pure of heart, leaving the deceitful trembling in fear. Phoenixes are peaceful herbivores, display an admirable amount of loyalty, and are gifted with an innate ability to heal with their tears. These characteristics prove that the magnificent magical bird fits both Hufflepuff and Gryffindor in equal measure.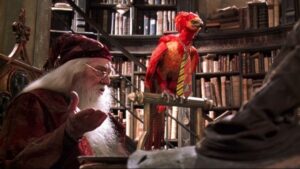 Hinkypunk – Slytherin
Hinkypunks may have the appearance of a harmless puff of smoke, but they are far from innocent. They delight in tricking hikers in the dead of night, luring them into bogs and marshes, where they succumb to a dreadful, slow death. Of course, we don't mean to say that the hinkypunk's affinity for causing humans harm is the reason for their Slytherin Sorting. It's their cunning and determination that makes them a great fit.
Bowtruckle – Gryffindor
Bowtruckles are small but feisty creatures. Despite its size, a Bowtruckle will not hesitate to protect its tree from much larger adversaries, including humans. Because of their courage and nerve, Bowtruckles would make excellent Gryffindors – Pickett would wholeheartedly agree.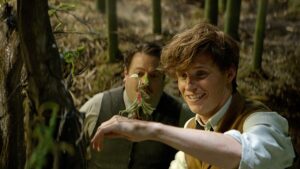 Do you agree with our Sorting prowess? Let us know!