Welcome Home: Your First Visit to the Wizarding World
For most Potter fans, visiting one of the Wizarding World theme parks is the closest we'll feel to actually receiving our Hogwarts letters. And while a large number of fans visit the park regularly, there are also many who are still planning their first visits. If Hermione has taught us anything, it's the value of being prepared; here are five tips to help you navigate your first visit to one of the Wizarding World of Harry Potter parks.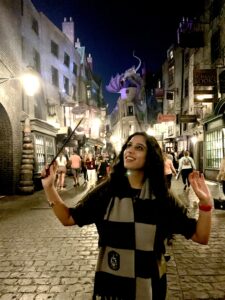 1. Go during the off-season.
The Wizarding World of Harry Potter really shines during Christmas, Halloween, and the summertime, when the park puts on special shows and decorations. Naturally, these also tend to be the busiest seasons. While every fan needs to visit Wizarding World during those seasons to really feel the Hogwarts magic, for your first visit, try going during a slower season when there will be fewer crowds. This ensures you'll get the chance to experience everything the park has to offer. We promise it'll still be absolutely magical.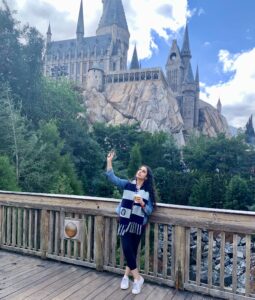 2. Pack your patience. Then pack some more.
It doesn't matter what time of year you go; the Wizarding World is the busiest part of the Universal theme parks. You'll be waiting in lines to go on rides, waiting in lines to cast spells, waiting to get your butterbeer – the list goes on. Some people beat the wait by purchasing an Express Pass (to lower the wait time on most rides) or taking advantage of Early Park Admission (for those who stay at a Universal Hotel), but even then, you're required to be patient. The parks have an app that allows you to see wait times for different attractions and set notifications for when wait times go down, which will help avoid waiting as long. We suggest going on the rides when wait times are lowest – which is typically early morning and later in the evening – and exploring in the middle of the day when ride lines are long.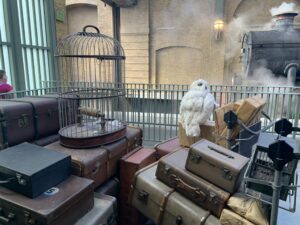 3. Splurge on the wand; save in other areas.
Is the $67 USD wand worth it? It absolutely is. These interactive wands can be used throughout the entire Wizarding World to cast spells in select locations. And it's not some foolish wand-waving; you have to actually do the spell correctly to get it to work, proving your abilities as a witch or wizard. The wands come with a map of the different locations to produce spells, which also makes a great souvenir.
One of the most tempting things to do in Wizarding World is to spend your life savings on everything in the shops and put together your whole wizarding attire from all you can find in the stores. However, before you go on your trip, compile everything you already own. You probably already have a house scarf and a shirt, and maybe even a robe from Halloween. Pull those out and wear them with pride – in the Florida heat, you'll most likely feel way more comfortable wearing breezy swag that you can easily walk around in rather than a $137 robe that'll burn you up.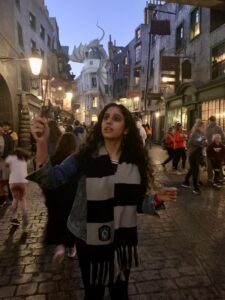 In addition, when going on most rides, you'll need to put your belongings in a locker. Small lockers are free, and larger lockers are a small fee. Many people bring a backpack to the parks and naturally assume it doesn't fit in a small locker. However, those fees add up, and if you pack light and share lockers among your group, you'll find that you can fit everything in small lockers. Just be sure to bring only what you need and nothing more, and save those extra bucks.
4. Talk to the staff.
The Wizarding World has the nicest, most knowledgeable staff in the entire park. Whether you're struggling to produce a spell at one of the shop windows or you want to know some of the secrets of the park, they're there to help. Strike up a conversation with one of the shopkeepers and see what you learn – for example, if you line up for Hagrid's motorbike ride even one minute before the park closes, they will let you in! Also, the Nighttime Lights at Hogwarts show often plays every 15 minutes from sunset until the park closes (even if the schedule on the app tells you it's not playing).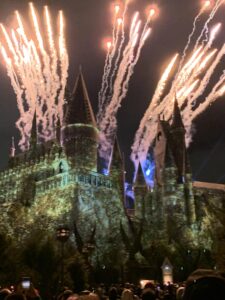 5. Keep your eyes peeled for details.
Half the reason one goes to Wizarding World is for all the photo and TikTok opportunities. However, the park is filled with so many details that you'll miss them if you're not paying attention. We don't want to spoil everything, but if you look carefully, you'll see Kreacher peeking out the window at 12 Grimmauld Place; there's a bit of Knockturn Alley hidden in the corner of Diagon Alley with its own shops and things to see; you can have a full-blown conversation with the goblin at the Gringotts Money Exchange; and so much more. Take your photos and get that TikTok with the "Professor, is this all real?" music in the background, but try to keep that phone out of your hands so you can really take everything in.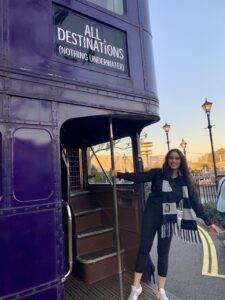 Take it away, Ernie – off to the Wizarding World!