Back to Hogwarts 2023: Worldwide "Harry Potter" Screenings and a Special Experience for One Young Fan
Harry Potter fans from all around the globe are gearing up for the annual Back to Hogwarts Day, taking place on September 1. This enchanting event celebrates the departure of the Hogwarts Express from King's Cross station, marking the beginning of the new school year at Hogwarts.
What began as a fan gathering has evolved into a grand promotional event at London's King's Cross station each year. See our report from last year's Back to Hogwarts celebration.
This year, the Wizarding World team has launched a search for the UK's most enthusiastic Harry Potter fan, who will have the honor of leading the countdown to the Hogwarts Express's departure. The competition is open to fans between 5 and 17 years old in the UK, who are invited to submit a video of themselves doing their best countdown by August 7. See the details on WizardingWorld.com.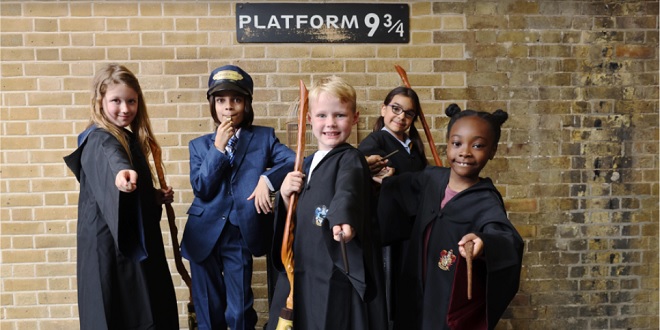 Following Back to Hogwarts Day, the magic will continue for the winner and their parent or guardian, who will be treated to the ultimate Harry Potter London Breaks Experience. This package includes a visit to Warner Bros. Studio Tour London – The Making of Harry Potter, tickets to Harry Potter and the Cursed Child, and a merchandise bundle from the Harry Potter Shop.
And all witches and wizards who visit King's Cross station from September 1 to 3 will have the opportunity to indulge in butterbeer, play Hogwarts Legacy on PlayStation 5, enjoy exciting Lego Harry Potter giveaways, and take advantage of photo opportunities. Bloomsbury will also have a giant wand spinner that will allow fans to discover which wand they are best suited to, with free gifts available.
Those who can't make it to London will also be able to take part in the festivities. Theaters in various locations worldwide will be hosting special screenings of the beloved Harry Potter films, providing fans with the chance to relive the movie magic on the big screen. In the UK, Everyman King's Cross will be showing all eight Harry Potter movies. Other Everyman cinemas across the country will show select Potter films, while Odeon will show the first two films. Both parts of Harry Potter and the Deathly Hallows will be featured at Cinemark in the US and at Village Cinemas in Victoria, Australia. More showings at international locations are expected to be announced soon, including in Barcelona and Madrid.
Additionally, Max subscribers in the US will be able to join Harry Potter watch-along parties on September 1, and there will be a Back to Hogwarts Digital Showcase that can be watched from anywhere.
So don your best cosplay, grab your wand, and get ready to immerse yourself in the wizarding world once again.