UPDATED: "Harry Potter" Alumni Pay Tribute to Sir Michael Gambon; Fans Raise Wands at Hogwarts Castle
Following the news on Thursday that Albus Dumbledore actor Michael Gambon had passed away, his colleagues from the Harry Potter cast and crew publicly expressed their admiration for the performer and shared memories of working with him.
Daniel Radcliffe made this heartfelt statement via his publicist:
With the loss of Michael Gambon the world just became considerably less fun. Michael Gambon was one of the most brilliant, effortless actors I've ever had the privilege of working with, but despite his immense talent, the thing I will remember most about him is how much fun he had doing his job. He was silly, irreverent and hilarious. He loved his job, but never seemed defined by it. He was an incredible story and joke teller and his habit of blurring the lines of fact and fiction when talking to journalists meant that he was also one of the most entertaining people with whom you could ever wish to do a press junket.

The sixth film was where I got to spend the most time working with Michael and he made the hours spent in front of a green screen together more memorable and joyous than they had any right to be. I'm so sad to hear he has passed, but I am so grateful for the fact that I am one of the lucky people who got to work with him.
On Instagram, Rupert Grint wrote about how Gambon's mischievousness made him a "personal role model" for Grint.
View this post on Instagram
Emma Watson wrote to Gambon on her Instagram story, saying, "You never took it too seriously but somehow delivered the most serious moments with all the gravitas."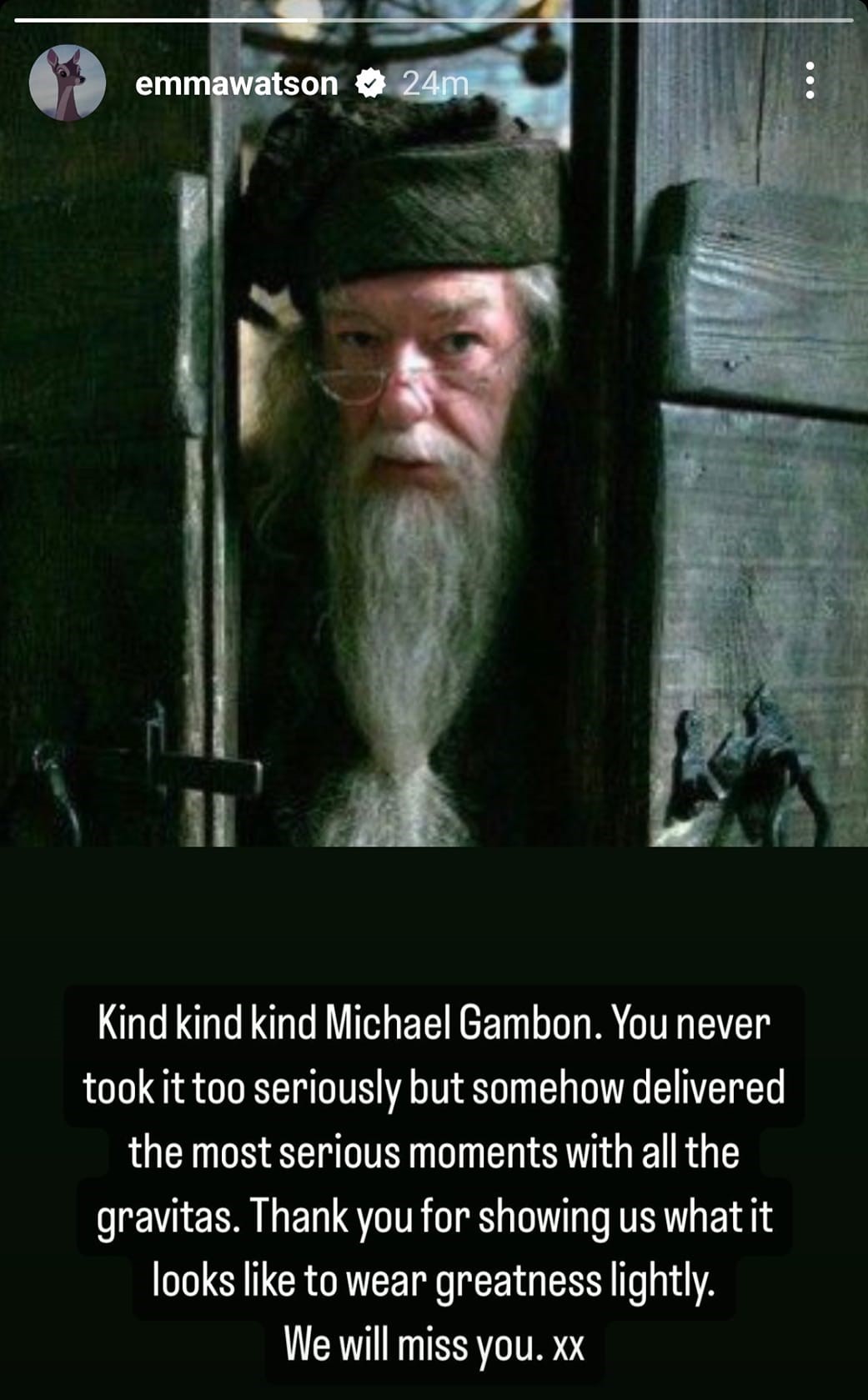 Bonnie Wright also expressed her admiration for Gambon and condolences to his family.
View this post on Instagram
On Twitter, Jason Isaacs (Lucius Malfoy) recognized one of Gambon's earlier roles – in the 1986 BBC miniseries The Singing Detective.
Magnificent Michael Gambon has died. I learned what acting could be from Michael in The Singing Detective – complex, vulnerable and utterly human. The greatest thrill of being in the Potter films was that he knew my name and shared his fearless, filthy sense of fun with me.

— Jason Isaacs (@jasonsfolly) September 28, 2023
Along with Gambon, another Harry Potter actor who appeared in The Singing Detective was David Thewlis (Remus Lupin). He shared how he met Gambon on that project at the start of his career and called him, "simply the greatest actor of stage and screen I ever worked with."
View this post on Instagram
James Phelps (Fred Weasley) shared a fond memory of working with Michael Gambon from behind the camera on Harry Potter and the Half-Blood Prince.
Very sorry to hear about the passing of Michael Gambon. He was, on and off the camera, a legend. Just a little memory of Michael pic.twitter.com/4M6E6inWMy

— James Phelps (@James_Phelps) September 28, 2023
Afshan Azad (Padma Patil) posted to her Instagram story, as well as reposting MuggleNet's own tribute with the caption "He'll always be our Dumbledore."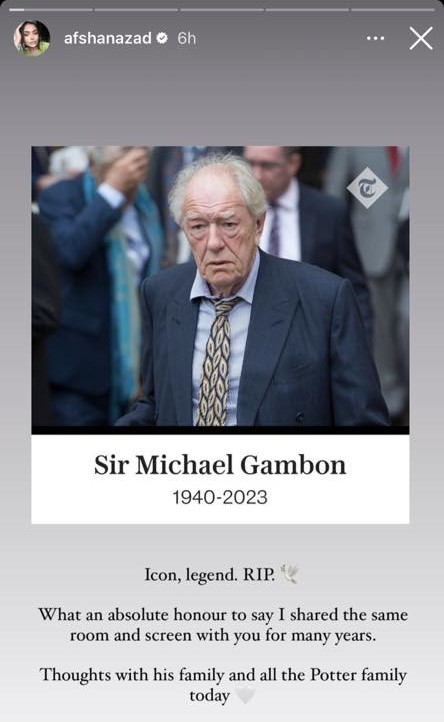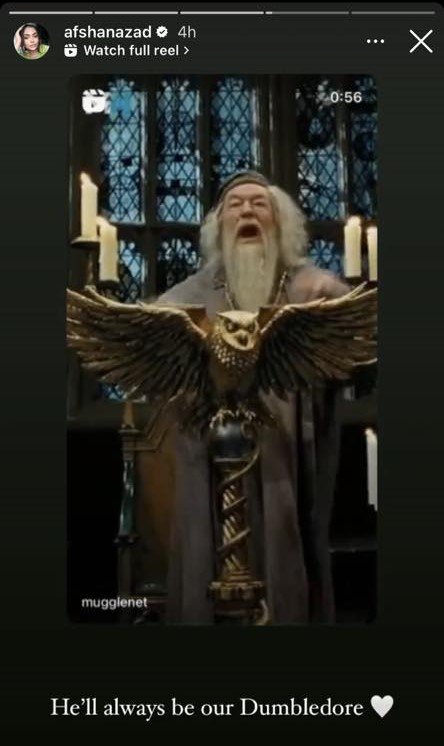 Fiona Shaw (Petunia Dursley) spoke on BBC radio about Gambon.
He varied his career remarkably and never judged what he was doing; he just played…. I will think of him as a trickster, [a] brilliant, magnificent trickster. But with text, there was nothing like him; he could do anything.
Harry Potter graphic design team MinaLima – Miraphora Mina and Eduardo Lima – expressed their sadness and posted an image of Gambon as part of the cover design of The Life and Lies of Albus Dumbledore.
At Universal Orlando Resort, fans gathered in front of Hogwarts Castle to pay tribute by raising their wands, as has become the custom whenever a Harry Potter cast member passes away.
It's interesting to note that this tradition originated with Dumbledore's death in the Harry Potter and the Half-Blood Prince film, and now the actor who played him is gone as well.
---
UPDATE (Oct. 1):
David Yates, director of the last four Harry Potter films, made this statement about Michael Gambon, per Variety:
Michael was a mischievous, playful, yet also deeply thoughtful actor. I got the sense he was bemused, somewhat amused, by all the fuss and hoopla surrounding the world of 'Potter,' yet he poured his heart into creating a memorable, subversive, soulful Dumbledore. He was also enormous fun on set, pragmatic, accessible, funny, down to earth, and despite his enormous talent, effortlessly made all of the younger actors around him feel at ease. He was one of the greats, and we'll all miss him.
Additional Potter actors Warwick Davis (Filius Flitwick/Griphook), Stanislav Yanevski (Viktor Krum), and John Cleese (Nearly Headless Nick) have also paid tribute on social media.
Myself and my family had the pleasure of knowing and working with Michael Gambon. As well as being a mesmerising storyteller, he was an actor with gravitas and good humour in equal measure. #RIPMichaelGambon pic.twitter.com/yawQIbJG6C

— Warwick Davis (@WarwickADavis) September 29, 2023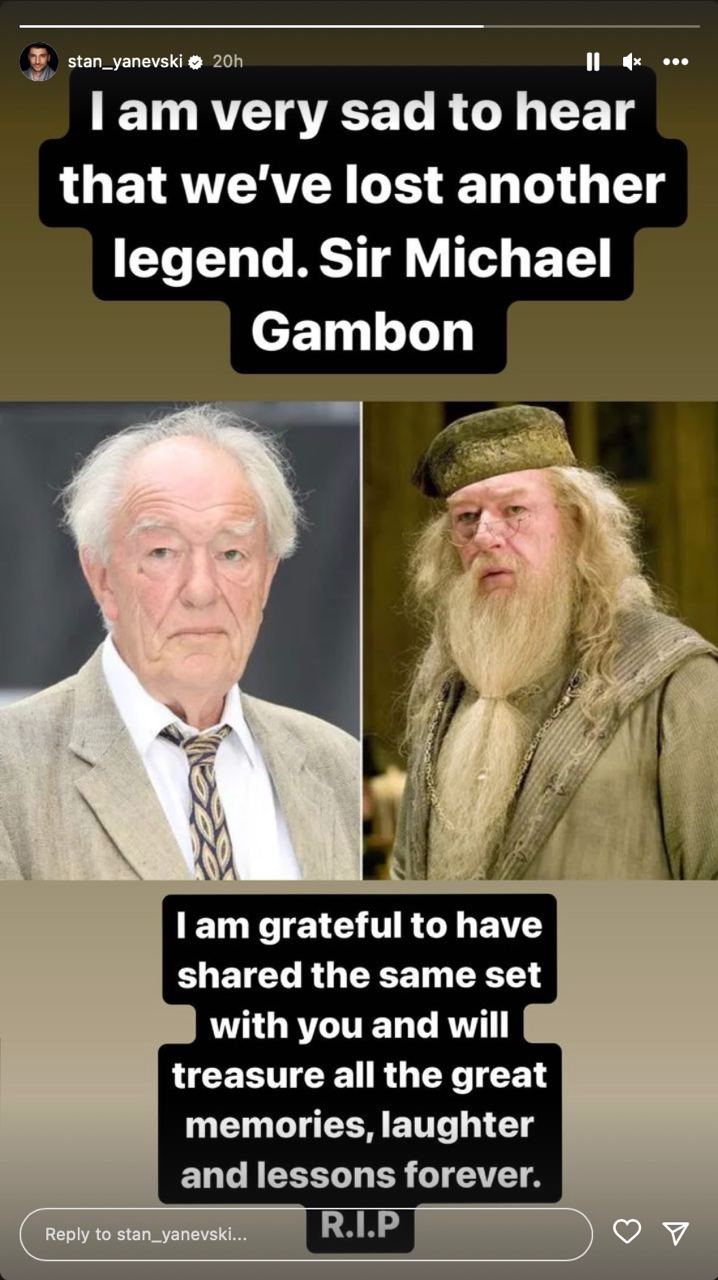 My heart gave a jerk when I heard about Michael Gambon

He was so special. He could act anything, Farce, Ayckbourn, The Singing Detective, LBJ…

He once delighted me by saying that comedy was much harder to act than drama

I feel disoriented when the greats go missing

— John Cleese (@JohnCleese) September 29, 2023