Check out a behind-the-scenes clip and interviews with David Thewlis and Emma Watson from their psychological thriller, "Regression"!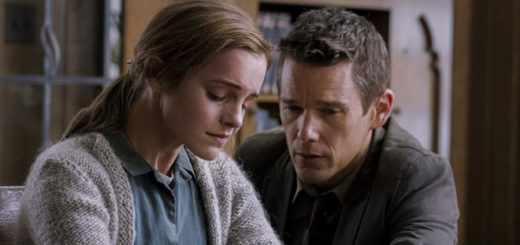 In readiness of its DVD/Blu-ray release, "Entertainment Tonight" has an exclusive interview of "Regression", a thriller starring Emma Watson and David Thewlis.
Emma Watson's latest film, "Regression", has received a new US release date! The film, which also co-stars another former "Potter" alumnus, David Thewlis (Remus Lupin), is set to be released stateside in limited theaters on Friday, February 5.
It's nearly Halloween, so it's the perfect time to watch some spooky film clips. It seems right, then, that three clips from Emma Watson (Hermione Granger) and David Thewlis's (Remus Lupin) latest film, "Regression", have been released!
Spanish director Alejandro Amenábar is probably best known for the intensely creepy movie "The Others", with many hoping his latest movie "Regression" would be a return for the chilling work he became known for. Starring Ethan Hawke as Detective Bruce Kenner, "Regression" is set in the small town of Hoyek, Minnesota, in 1990 and follows Angela Gray (played by Emma Watson), who accuses her father of sexually abusing her. Although he has no recollection of doing so, her father John (David Dencik) confesses to the crime and hands himself over to the police.
Emma Watson attended the world premiere of her new movie, "Regression", in Madrid this past Thursday, August 27 and has kicked off a new fashion challenge. Read on to learn more about her new effort!
Yesterday, Emma Watson (Hermione Granger) posted a message on social media, telling her followers about the "True Cost" film, which she states is the reason behind designing a collection for UK-based ethical fashion company People Tree, as well as her visit to Bangladesh. The film looks at the reality of the fashion industry, the cost of making clothes, and the impact on the world.
"Regression," a thriller in which Emma Watson plays Angela Grey, a young woman whose father may have committed an unspeakable crime he has no memory of, now has a world premiere date!
Last month, the first trailer for Emma Watson's (Hermione Granger) upcoming film "Regression" was released. This week two new posters have been released, as the anticipation for the thriller begins to build.