Rock Cakes by Misty
The rock cakes were shapeless lumps with raisins that almost broke their teeth, but Harry and Ron pretended to be enjoying them as they told Hagrid all about their first lessons." (SS 140)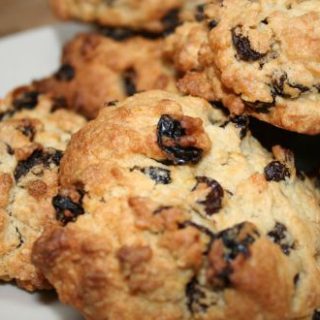 Rock Cakes by Misty
Misty
Hagrid's rock cakes might usually turn out to be more rock than cake, but with this recipe, you can make your own batch that won't break your teeth!
Ingredients
4

cups

self-rising flour

1/2

tsp.

kosher salt

2

tsp.

pumpkin pie spice

1

cup

butter

cubed, chilled

1

cup

sugar

1

cup

raisins

4

egg

large

1/2

cup

milk

cinnamon sugar mix

(for sprinkling)
Instructions
Preheat oven to 400°F.

Line a baking sheet with parchment.

Sift flour, salt, and spice together in a medium bowl. Cut butter into dry mix until it has the consistency of large crumbs.

Stir in the sugar and dried fruit.

In a separate bowl, whisk the egg and milk together.

Pour egg mixture over flour mixture. Using a large spoon, mix together just until everything is incorporated.

Using a spoon, dollop equal portions of dough onto lined pan 2 inches apart. Do not flatten.

Sprinkle each mound generously with the cinnamon sugar mixture. Bake 12–15 minutes.

Transfer baked cakes to wire rack & cool.
Notes
Avoid "Hagrid's Rock Cakes" by being careful not to overmix. This will make the rock cakes hard and dense.