Harry Potter: The Exhibition – Seattle, WA, USA
From October 23, 2010, to January 30, 2011, Harry Potter: The Exhibition was hosted at Pacific Science Center in Seattle, Washington. This was its fourth North American stop and fourth stop overall.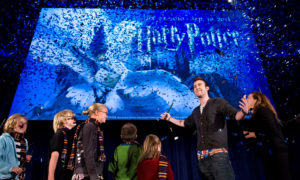 There is magic, even for us Muggles, and we were lucky enough to experience it as soon as we walked through the entrance of Harry Potter: The Exhibition. We instantly went from middle-aged adults to children in a split second. The books and movies have all done the same thing, but the happiness, awe, and pure joy we felt wandering among the set pieces, costumes, models, and memorabilia took us out of Seattle and Apparated us straight into the wizarding world.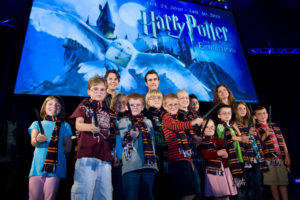 We were greeted by a lovely witch, who asked us a few questions in order to Sort us into our Houses. For the most part, all items in the exhibition have a "hands-off" policy, and we were also not allowed to take pictures. We were able to stand on Platform 9 3/4 to see the Hogwarts Express, complete with billowing smoke. Every wall is draped with black curtains, and the exhibition is organized into corridors. There are many books and papers in glass cases to look at, like Harry's Hogwarts letter, the Marauder's Map, and the test Gilderoy Lockhart gives to the second-year students in Defense Against the Dark Arts.
In the dormitory areas, we saw Harry's and Ron's beds, which are the actual beds used in the films brought in straight from Leavesden Studios, the golden egg from the Triwizard Tournament, and Quidditch equipment. The exhibition features the Nimbus 2000 and all the balls needed to play Quidditch, including the Quaffle, which is really made of leather. There are many costumes in various areas of the exhibition, including Lockhart's robes, which are very posh looking, the street clothes worn by Harry, Ron, and Hermione, Dumbledore's wizard robes, Hermione's dress from the Yule Ball, and Umbridge's awful pink dress. We don't know how Imelda Staunton wore it because it was made of a scratchy, heavy wool material.
One of the areas where we were allowed to get our hands on some items was the Herbology class. While we were not provided with earmuffs, we were allowed to pull a baby mandrake out and repot it. We felt a little reckless without the earmuffs, but it all worked out in the end. No one fainted, at least!
Hagrid's hut was a highlight of the experience. His costume is as big as we expected, considering Hagrid is a half-giant, and we got to sit in his huge chair. A dragon egg was placed on the table, and we kept waiting for it to hatch, but it never did. Just outside of Hagrid's hut is the animatronic Buckbeak that was used on set. This is no model – it is actually covered in dyed feathers, all applied by hand. It only seemed right that we at least give a little bow to see if he would let us approach… and we did!
The Forbidden Forest section hosts a lot of the Death Eater costumes and masks and is very lowly lit, which gives it an extra creepy feeling. There are Dementors in this section as well, and with the lighting… we were happy not to have to linger in this area since we we're only Muggles and unable to cast a protective charm.
Finally, we were taken into the Great Hall, where there is a long table with food on it. While the food is fake, it looks very real, as if we had interrupted one of the many feasts at Hogwarts. Once we had completed the tour of the exhibition, we were led into the shopping area, which had a ton of merchandise for sale as mementos of our tour.