Harry Potter Wizard's Collection (US)
Complete with 31 discs and over 37 hours of special features, the Harry Potter Wizard's Collection provides fans the most complete and in-depth look at the series to date.
The 19-lb. box set is the largest ever released by Warner Bros., and it is clear that the same kind of creativity, time, and energy that went into creating the films are also represented in this collection.
The box is designed with six main compartments and several secret ones. I'll be honest. I didn't even find the bonus features Blu-ray disc until I watched the cast unveiling video (which you can see below) and saw Matt Lewis (Neville Longbottom) reveal the hidden location.
Watch here
So let's break down this box set one compartment at a time. The top-most compartment contains a booklet with the DVD and Blu-ray versions of Sorcerer's Stone, Special Features: Year 1, and Creating the World of Harry Potter Part 1: The Magic Begins. Each of the other seven films can be found in similar booklets with covers reflective in some way of that specific movie. And each contains a DVD and Blu-ray version, special features (up to Goblet of Fire), and their respective Creating the World of Harry Potter disc.
The second compartment contains Chamber of Secrets and Prisoner of Azkaban, and the third contains Goblet of Fire, Order of the Phoenix, and Half-Blood Prince.
Underneath them lies a small drawer that contains a set of labels created by the production team for potions, wizarding products, and more, as well as sketch prints from production designer Stuart Craig (both pictured below). Fans could easily frame these to hang on their wall or even use them as postcards if they don't mind parting with them.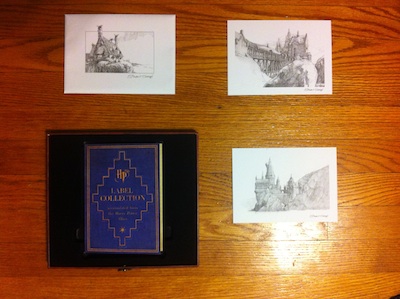 Beneath that is a compartment that holds probably some of the most sought-after content in this set: the booklets containing Harry Potter and the Deathly Hallows – Part 1 and Harry Potter and the Deathly Hallows – Part 2. Fans get both movies on DVD, Blu-ray, and in 3D as well as the conclusion to the Creating the World of Harry Potter series, Part 7: Story and Part 8: Growing Up.
Each set contains a certificate of authenticity (inspired by a Hogwarts Express ticket) and high-quality concept art prints from each film, like the one of the Durmstrang ship on the Black Lake from Goblet of Fire pictured below.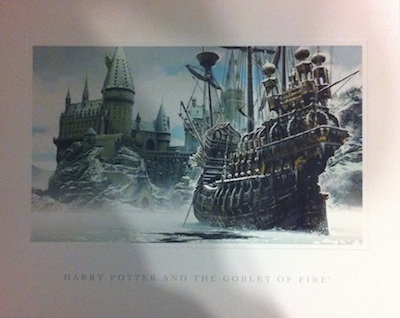 Now to the hidden compartments: well, not all are hidden, but several require a little ingenuity to open. The first contains a map of Hogwarts and its surrounding areas in full color and printed on fabric, the "Harry Potter Catalogue of Artefacts" – a 48-page book featuring the film's graphic designer's favorite props, and a blueprint poster of Hogwarts castle. The second holds a small scroll that gives the owner access to an UltraViolet digital copy of the films. And finally, the third is home to one of Voldemort's most prized possessions, Slytherin's locket.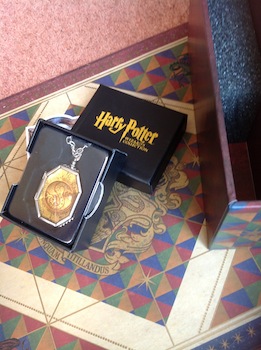 Now, one of the things most fans will be searching for is the close to five-hour bonus features disc I mentioned earlier. Once you find it, here are a few things to look forward to.
The extended version of When Harry Left Hogwarts takes fans behind the scenes and provides unprecedented access to the final two films in the Potter franchise.
The documentary opens with a bit of a prank relating to the Epilogue, but soon enough you're taken back in time two years prior to watch the crew construct the Hogwarts exterior, the same Hogwarts exterior that would be destroyed in battle just months later. You'll witness a read-through of one of the final battle scenes, and I'll admit, it's weird seeing Voldemort in a jumper and a pair of jeans.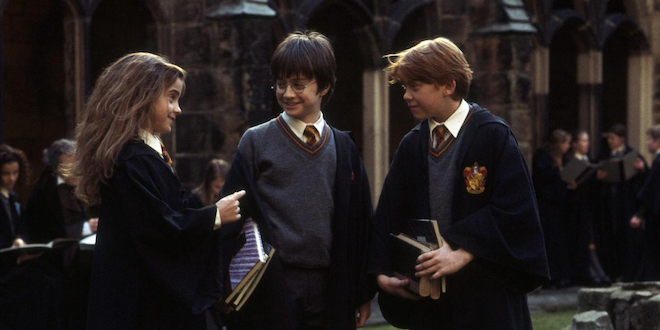 One unique feature in this documentary is hearing from different crew members and how Potter provided them the chance of a lifetime: the hardcore fan turned make-up artist who spoke in great detail about what it was like to watch Ralph Fiennes and Alan Rickman film in the boathouse (she also has a tattoo of Voldemort on her left arm), the showrunner who happens to be Gary Oldman's son, the Death Eaters who have day jobs as salesmen, and the man responsible for plastering the walls of Hogwarts.
There are moments of humor, where we learn every person's car was once searched because a wand went unaccounted for, moments of reflection, as Daniel Radcliffe and Rupert Grint show you the rooms where they took their school lessons, and moments of pause, as stuntman David Holmes recounts his injury on the set and returns to visit with cast and crew for the first time since his accident.
Much more is waiting for you in this close to 90-minute feature that chronicles the last days of filming on the set of Harry Potter.
One of the other features fans will really enjoy is the just-over-one-hour 50 Greatest Harry Potter Moments. From Harry, Ron, and Hermione first meeting on the Hogwarts Express in Sorcerer's Stone to Ron's Howler in Chamber of Secrets, you get to count all the way down to No. 1 with Dan, Emma, Rupert, J.K. Rowling, producer David Heyman, and other various members of the cast and crew. You'll have to watch yourself to see which moment gets the top spot!
Designing the World of Harry Potter, where production designer Stuart Craig and his team discuss how he brought the books to life and how the design evolved over eight films; Secrets Revealed! Quidditch, where the secrets of flying are revealed; Secrets Revealed! Hagrid, where you can see the camera tricks, towering stand-in, and voluminous body suits behind everyone's favorite Keeper of Keys; and The Harry Potters You Never Met, where the stunt doubles for Dan, Emma, and Rupert sit down to discuss their experiences, round out this great bonus disc.
Watch here
If you are or know a Harry Potter fan who is looking for the most comprehensive set of films, features, extras, and then some, this collector's set makes for the perfect gift.
Harry Potter Wizard's Collection is on sale now (September 7) in the US and can be purchased right here!
Read Rosie's review