Harry Potter: The Exhibition – Norrköping, Sweden
by Clara
From May 29, 2014, to September 7, 2014, Harry Potter: The Exhibition was hosted at Nya Parken in Norrköping, Sweden. This was its first European stop and 11th stop overall.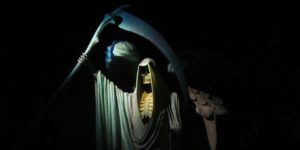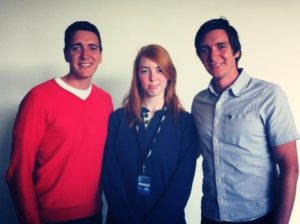 Harry Potter: The Exhibition is not only a magical gift to any so-called Potterhead out there but also a fantastic world to experience for anyone. I have friends who've visited the exhibition in other places in the world and gushed about how amazing it was, so I have to say that my expectations were very high. Yet I was blown away by the amazing way the whole exhibition was built up. Sadly, I didn't get to experience the exhibition in its whole since we were on a tight schedule, so I didn't have time to stop and read and look into detail on everything, but I still thought it was amazing and I hope to visit again someday and take my time in there.
We started by going into a room where we were received by the very gleeful Anna, whose assignment it was to Sort some of us into Hogwarts Houses. But I didn't want to miss the rest of the exhibition, so I quickly turned to follow the guide. We were asked to turn off our cameras when walking into a beautiful corridor decorated with paintings, some moving, of course, and others probably asleep.
After passing by setup rooms like the boys' dorm, where we took in part of Ron's and Harry's possessions in such detail that we never really notice in the films, and the offices of Umbridge, Lupin (have to say that the clown shown in Professor Lupin's aisle was very scary and creepy, especially since I have a phobia of clowns), Slughorn, and Lockhart, we even got to participate in the exhibition in some parts. By Professor Sprout's aisle, we got to try pulling up a mandrake and hear the close-to-fatal cry it gave away. In the Quidditch room, as I like to call it, we saw the different player uniforms worn by each House and also the characters Oliver Wood, Draco Malfoy, and Cedric Diggory. It also had all the different equipment, like wooden bats, brooms, and the Quaffle, Bludgers, and Golden Snitch.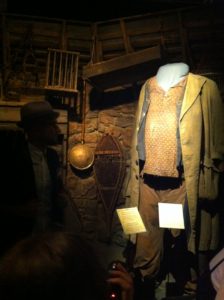 Then we came to what was possibly my favorite part of the exhibition: Hagrid's hut. In here, we could take part in how Hagrid lived and really see for ourselves how big he actually is, from both his costume and sitting in his huge armchair. The Forbidden Forest was very realistic in terms of both the interior and the smell of moss that was created, making us feel like we were outside. In the forest, we saw centaurs, one of Aragog's babies (which is bigger than you think, or that I thought, at least), and last but probably the best, the head of the Hungarian Horntail, sticking out from its cage.
There were so many things to see in the room that contains the Horcruxes and Death Eater attributes. Sadly, I didn't stay too long in this room, but I did see the incredible Dementor in its chilling glory as well as the Death Eater masks and robes.
The Great Hall is breathtaking and contains props from all the movies, which makes you understand what a role this hall has played in the story, from the ballroom for the Yule Ball to the Battle of Hogwarts and just such things like feast food.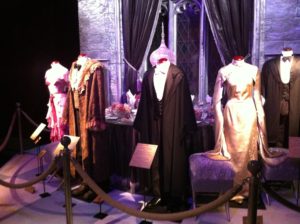 Altogether, it is a thrilling and magical experience that takes you through all the elements of the books and movies, and I think everyone who has the chance should go visit the exhibition. The exhibition is open in Norrköping, Sweden, till September, so you have all summer!
Also, I got to meet James and Oliver Phelps, who play Fred and George Weasley in the Harry Potter movies. They were very nice lads and answered all the questions naturally and with very giving answers.
Want more posts like this one? MuggleNet is 99% volunteer-run, and we need your help. With your monthly pledge of $1, you can interact with creators, suggest ideas for future posts, and enter exclusive swag giveaways!
Support us on Patreon