Potter DIY: Death Eater Mask
While a Death Eater mask certainly isn't the nicest thing to look at, this cool DIY will undoubtedly come in handy for Halloween or cosplay functions. Heck, they even make for some pretty cool wall decor if you don't spook easily.
Thanks to Jen over at Epbot for this awesome step-by-step tutorial! See the original.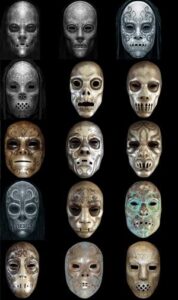 What You'll Need:
Blank pre-made mask
Pencil
Sharpie/marker
Tissue paper
Thin craft foam
Clay
Metal effects or bronze paint
Rust activator (optional)
Directions:
Step 1: Purchase yourself a pre-made craft mask (thank goodness for Amazon!)—although the original tutorial called for making your own mask from scratch (paper-mâché), this might be a little less labor-intensive for those with less time/patience. Once you've got your mask, use clay to re-sculpt details like the eyes and nose to your liking.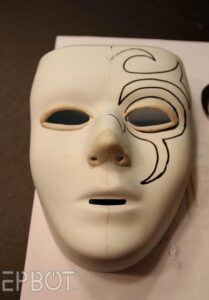 Step 2: Begin to sketch a design of your liking onto one side of your mask using a Sharpie or marker. Use tissue paper to copy the design, and fold the paper in half to make a symmetrical template (don't be afraid to google Death Eater masks for design ideas—they're surprisingly intricate and in some cases beautiful).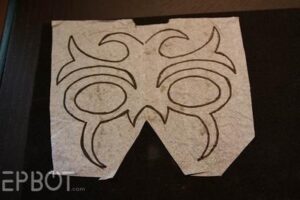 Step 3: Place the tissue paper on top of thin craft foam and cut your design out. Don't forget to make a slotted grate piece like the one Jen has done below to be placed over the mouth of the mask.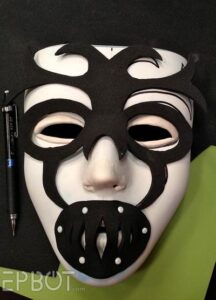 Step 4: Choose your finish. Use metal effect paint (like Jen did below) or choose a bronze paint, and apply this to your foam cut-outs. Jen's foam pieces have around three coats of silver liquid leaf, followed by four coats of silver Rub 'n Buff (if you don't know what these are, Google!) to give them a metallic shine.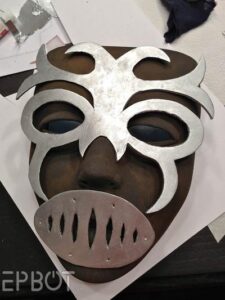 Step 5: Add some finishing touches—color the rest of your mask the way you see fit, or use a rust activator (or sunlight, but both are optional) to lightly age your silver and bronze. Here's Jen's final product that she'll be sporting at LeakyCon: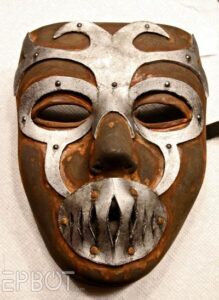 Done! Enjoy completing your Death Eater cosplays with this creepy mask.
Remember to tweet us photos of your DIYs! We love to see them! Check out other tutorials like this one on our main Potter DIY page!
Want more posts like this one? MuggleNet is 99% volunteer-run, and we need your help. With your monthly pledge of $1, you can interact with creators, suggest ideas for future posts, and enter exclusive swag giveaways!
Support us on Patreon