WOULD YOU RATHER… Have a Pet Kneazle or a Niffler? Let Us Know With #MNWYR
Before you answer, consider the following: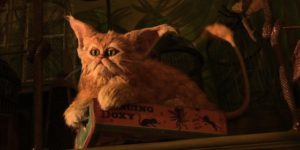 KNEAZLE: A magical feline creature related to a cat. Spotted, speckled, or flecked fur. Large ears. A tail like a lion. Highly intelligent, independent, and occasionally aggressive. Able to detect suspicious and distrustful people. Able to safely guide owners home. Read more on Harry Potter Wiki.
PROS
As long as they are around, you'll find your way home.
If there is, say, a Death Eater disguised as a rat nearby, they'll take care of him.
Easy to take care of because they are so independent.
Breeding part-Kneazles is a way to make a living (As evidenced by Mrs. Figg).
 CONS
They are very independent, so they may not be around all the time.
They have a class XXX classification and require a license to own, unless they are only part-Kneazle, like Crookshanks.
They can be aggressive if they do not like you.
Though their whiskers can be used as wand cores, they make inferior wands.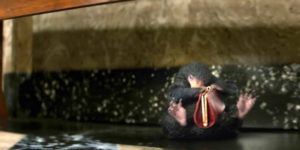 NIFFLER: A treasure-hunting creature with a long narrow snout. Attracted to shiny things. Gentle and can be affectionate. Live 20 feet below the ground in lairs. Read more on Harry Potter Wiki.
 PROS
A pet that fetches treasure.
They are affectionate and cute, I think.
You'll never lose your earrings or watch again!
They could also be a good way to make an income if you come across buried treasure or the like.
 CONS
If you're wearing anything shiny, they might bite.
They may destroy the yard.
You may not lose your earrings; they just might become your Niffler's play toy… 20 feet below the surface.
They could cost a whole lot of money in fines when they destroy the neighbor's property. Then again, you'll be rolling in gold, so what's a fine or two?
There you have it, so WOULD YOU RATHER… have a pet Kneazle or a Niffler? Respond in the discussion section or via Twitter with #MNWYR.