Oz Comic-Con Sydney 2015
Last weekend, I was lucky enough to represent MuggleNet at Oz Comic-Con Sydney. It was packed with people – fans of anime, comics, sci-fi, horror, gaming, and fantasy – all enjoying themselves in the Southern Hemisphere's pop-culture mecca. Oz Comic-Con was located on Glebe Island, just a ferry ride away from Darling Harbour – I have to say, there's nothing quite like seeing Darth Vader and Poison Ivy with the Harbour Bridge as a backdrop.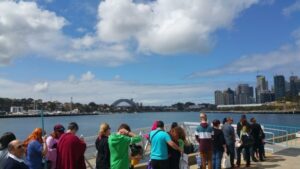 Apart from the incredible cosplayers, and artists, some fantastic guests like Dean Rankine (an illustrator for The Simpsons), Dante Basco (Zuko in Avatar: The Last Airbender), and Clive Standen (Rollo in The Vikings) made an appearance, as well as Evanna Lynch (Luna Lovegood) and Robbie Jarvis (teenage James Potter).
There were some amazing Harry Potter cosplayers:
Some pretty interesting insights were garnered from Evanna and Robbie's Q&A session. The most interesting one was when Evanna revealed:
J.K. Rowling has a really well-fleshed-out character for Rolf [Scamander].
Evanna said J.K. Rowling was going to use Rolf to tell "The Tale of the Three Brothers" instead of Xenophilius.
A few other things we found out:
1. According to Evanna, J.K. Rowling has an owlery in her house because people send her so many!
2. Evanna also stated that she didn't like Luna being used as comic relief:
She has a very strong sense of self due to her ostracism. But I felt like the films pushed the comedy a little too much. In 7 in Malfoy Manor you get more of that sense of how she really is.
3. We found out that Robbie wrote FAN FICTION!!
I'm a massive James apologist – I wrote fan fiction! I think how other people perceive him is based on seeing him in Order at a particularly weak moment. But he's a goodie, he's not a baddie; after all, Dumbledore doesn't trust baddies. Except for Snape.
4. We realized why they were cast. These were their answers to "What spell would you be and why?"
Robbie: [The Levitation Charm] because I've always wanted to fly. Or if it [were] just a magical ability, I would want to be an Animagus.

Evanna: [The Patronus Charm] – it's the happy spell.
If that isn't typecasting, I don't know what is.
5. We found out about on-set pranks:
Evanna: I was used in the jokes a lot.

Like with the wizard food – some things tasted foul. Matt [Lewis] and Alfie [Enoch] wouldn't trust each other, but they trusted me because of my innocent demeanor. So I would have to orchestrate the joke.

Robbie: Actually, Evanna chooses all the bad every flavor beans and feeds them to me!
6. And that Evanna isn't a Neville/Luna shipper:
Evanna: I ship Luna and Dumbledore – both are so soulful, so serene – there's no one good enough for Luna in the books except Dumbledore.

I'm not into the Neville/Luna ship – he wants to settle down, whereas she wants to explore the world/set up a cult…

Robbie: Well.. his idea of a great magical creature is a frog…

Evanna: I think they just had a wartime fling…
7. We found out about their other fandoms:
Robbie: We both love Avatar: The Last Airbender – I'm in air, Evy's in fire. Also Game of Thrones, I may have auditioned, and gotten really close… put it this way, I was the only person cheering during the Red Wedding.

Evanna: You should watch the series.

Robbie: No, I actually can't – the whole Robb Stark thing's too traumatic. I keep trying to find characters I can still be. There was the Young Griff that everyone was really excited about – but it was just a red herring.
8. And Evanna's relationship with J.K. Rowling:
Evanna: I see other actors as normal now, but I still don't see J.K. Rowling as human… I really appreciate that she trusts me with her character. We write letters to each other, but once I got an email from her – it was too real… I didn't want to get that comfortable… I think it's important for people to have idols, who give them inspiration…
9. We found out about the scene Evanna wished made it to the movies:
Evanna: I wish that office scene, where Harry gets really angry, and he destroys all of Dumbledore's stuff – it was such a release/so cathartic. I loved the house-elves, anything that took you away from the main story, that was just about the world.
10. In the end we discovered what being in the Harry Potter films taught them:
Evanna: That you can do anything with passion, and I've learned not to deify things – because when you do it's really hard to be natural. Everyone has something unique to contribute.

Robbie: With James, I guess I learned that we all have bad days – don't let them define you. Just move forward with the best intentions.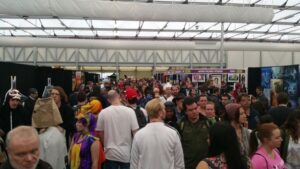 See you again next year!