An Incredibly Decorated Scottish "Potter" Wedding
Kayleigh knew it was love at first sight… with the series, that is. Upon seeing Philosopher's Stone, she immediately went out and purchased all the available books. It would be some time before she met her future husband, Dougie, at her workplace many years later. He surprised her in 2012 with tickets to visit the opening of the London Studio Tour, so the two ventured from Scotland to what would be an unforgettable day in their lives.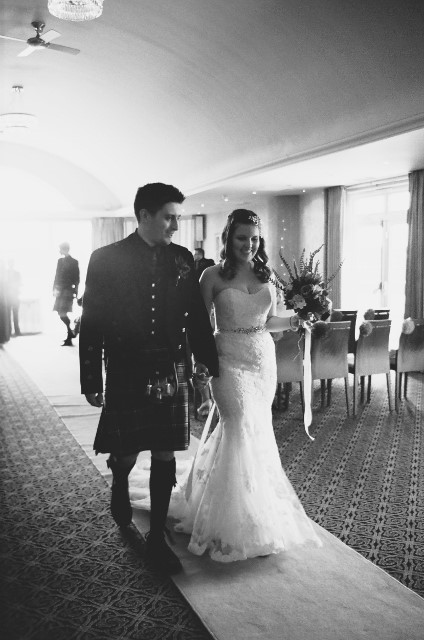 Toward the end of the tour, Kayleigh found herself in Ollivanders and asked to view J.K. Rowling's wand box. Much to her surprise, the tour guide responded by brandishing one inscribed with her own name. As she reached for it, Dougie got down on his knee. Inside the box was Ron Weasley's (her favorite character) wand with a very special addition placed over its center. To which Kayleigh accepted. It's no surprise that this romantic gesture has been replicated many times over since.
In her quest to maintain an absolutely authentic look for the wedding, Kayleigh put on her DIY hat and set out to source the materials. Invitations were modeled after the Marauder's Map and finished with an owl's silhouette. Keeping with this, a string quartet played "Hedwig's Theme" during the ceremony. Meanwhile, to accompany the magician, two large and laid-back snowy owls were the live props with which guests interacted.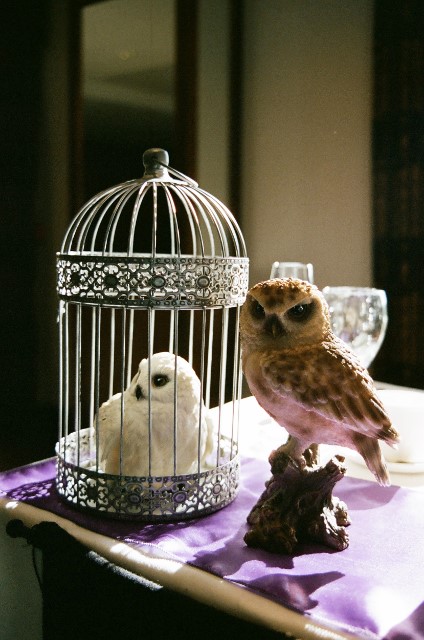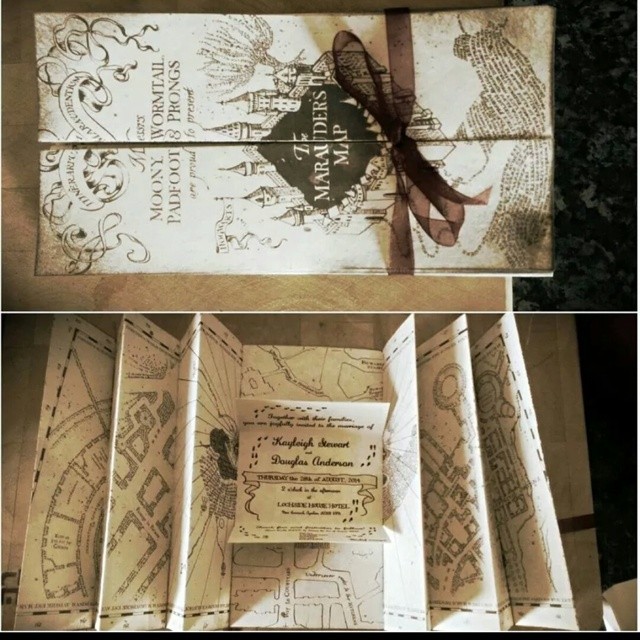 Wanting to go all out for reception décor, the dining tables were designed in the theme of Gryffindor, Hufflepuff, Ravenclaw, Slytherin, Quidditch, and Hogwarts professors. Gryffindor was decked out with Remembralls, the DA's list, Scabbers, and textbooks. Ravenclaw's featured riddles, a butterbeer necklace, and Luna's Quibbler. Hufflepuff's was a fruit and veggie lover's paradise inclusive of potted mandrakes. Slytherin's naturally had a slightly darker theme with potions, a Hand of Glory, Dark Mark tattoos, skulls, and eyeballs in jars. The Quidditch table was particularly memorable and utilized trunks, trophies, and Hermione's clever blue flames. Plus, only seven were made to sit there. Finally, the Hogwarts professors table spotlighted cauldrons, House points, and House banners.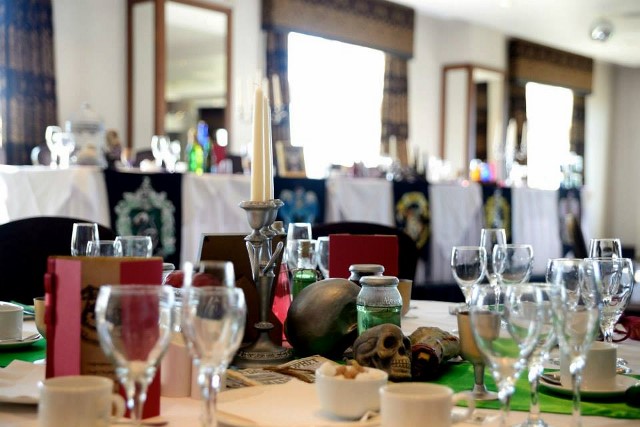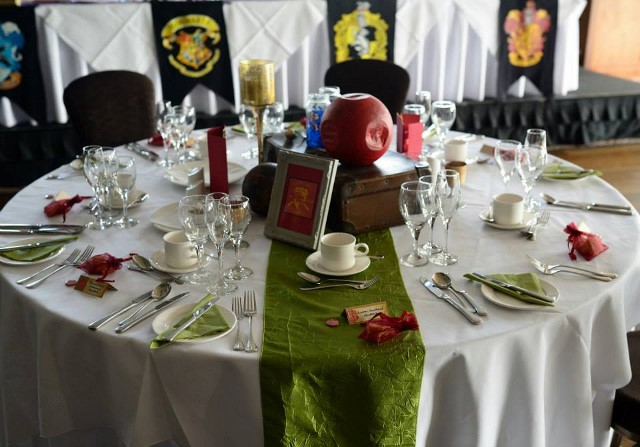 Kayleigh further  surprised guests with a Fawkes-themed cake. For those who may have been reluctant to leave this Potter bash, Honeydukes sweets, handmade wands, and the comical "Potter Stinks" badge from Goblet of Fire rounded up the goody bags.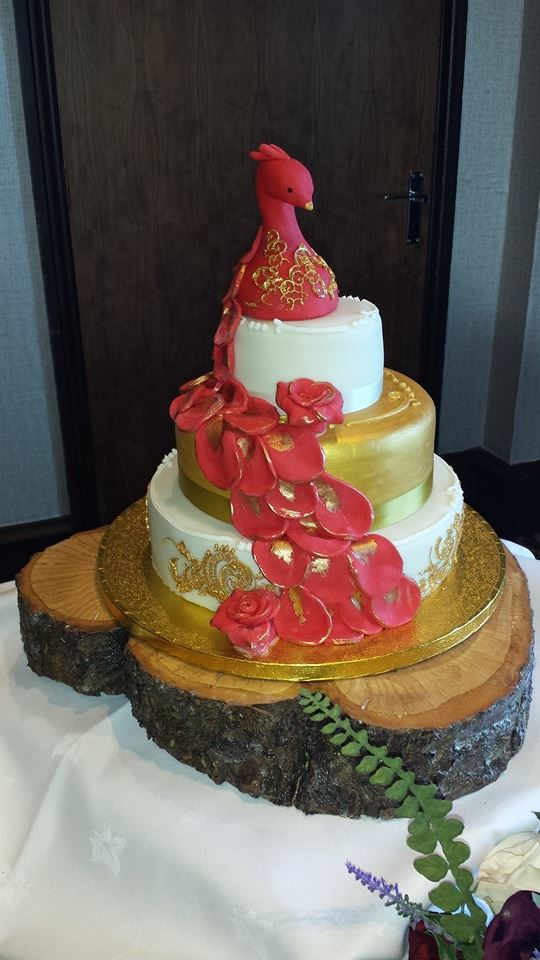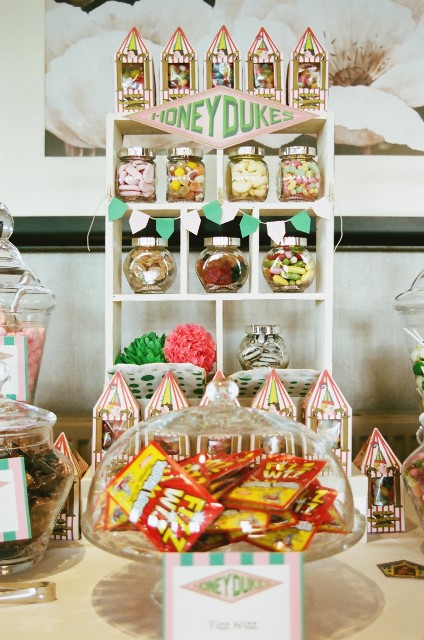 To truly complete the experience, the two set off to the Wizarding World of Harry Potter and just about managed to hold off the waterworks as they stepped through Diagon Alley. As for their newborn baby? Well, Dougie has vetoed a Potter-themed name. But Fantastic Beasts is around the corner, so you never know.
Congratulations to Dougie and Kayleigh on a meticulously planned and detailed wedding! The table themes were some of the best executed we have ever seen. If you or someone you know has a Potter event to share with the fandom, be sure to get in touch with us.