"Fantastic Beasts" Roundup: "Just a Smidge"
In this week's Fantastic Beasts and Where to Find Them roundup, we take a look at some of the details behind the trailer, including that MACUSA logo.
Of course the big Fantastic Beasts news this week was that Warner Bros. released the first trailer for the film, plus an official poster. We break down the trailer into more detail here. In case you missed it in all the trailer excitement, here's the poster in full again: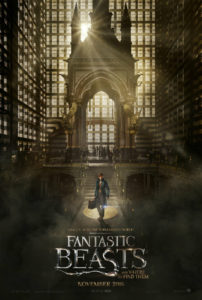 Entertainment Weekly revealed some more information about the symbol for MACUSA seen in the trailer and the meaning behind it, as well as other symbols seen in the trailer.
It's worth noting that as Tina explains to MACUSA what happened after Newt Scamader arrived, she's standing on a pentagram, a symbol with various meanings over the course of history. Some occurrences of the five-pointed star are undoubtedly virtuous, as we see in Sir Gawain and the Green Knight. [However], the symbol's connection to more sinister occults is more widely known.
The MACUSA logo shows
a phoenix emblazoned with the stars and stripes of the American flag. Phoenixes are an important symbol of magical life in the States, as they are used as remembrances of those who died during the Salem witch trials, a watershed moment for relations between American wizards and No-Majs.
Writer J.K. Rowling shared her relief and gratitude for the Fantastic Beasts love across social media after the trailer's release.
Thank you for all your #FantasticBeasts messages! It feels wonderful to show you a tiny part of what we've been working on for so long!

— J.K. Rowling (@jk_rowling) December 15, 2015
She also reminded fans that she wrote the whole thing.
I wrote the whole script! https://t.co/ceRNxh1KZ6

— J.K. Rowling (@jk_rowling) December 15, 2015
And some former Harry Potter stars chimed in with their thoughts.
Must say I am BUZZING to get to see @FantasticBeasts the trailer looks amazing! Well done guys.

— Devon Murray (@DevonMMurray) December 15, 2015
Another actor, Tom Hodgkins, announced this week that he had recently finished filming for Fantastic Beasts.
The wonderful Tom Hodgkins has recently finished filming in FANTASTIC BEASTS AND WHERE TO FIND THEM @FantasticBeasts pic.twitter.com/krm7liAOCv

— StevensonWithers (@StevensonWither) December 17, 2015
In other news: 
Director David Yates spoke about casting Eddie Redmayne, as well as the characteristics of the main characters.
And finally: Here at MuggleNet we have something very special launching today – a brand new Fantastic Beasts podcast.
The case has been opened… #SpeakBeastyPodcast

— SpeakBeasty (@SpeakBeasty) December 20, 2015
Find out more here about the newest addition to MuggleNet's podcast family, where you can also listen to the very first episode.
That's it for this week!
What was your highlight? Are you still watching that trailer over and over? Let us know in the comments.