Signed Illustrated "Philosopher's Stone" Sold at Auction for Lumos
Last month it was announced that a very special edition of the new illustrated Harry Potter and the Philosopher's Stone would be auctioned to raise money for J.K. Rowling's charity, Lumos. The deluxe edition of the Jim Kay-illustrated book was signed by both J.K. Rowling and Jim Kay and embellished with a drawing of a dragon by Jim. It was expected to make around £2,000–3,000 for Lumos.
As can be expected with signed J.K. Rowling books, the sale far exceeded expectations. The book sold at auction on December 17 for a staggering total of £13,750.
The signatures in the book can be seen below, and it includes J.K. Rowling's message,
the book that changed my life.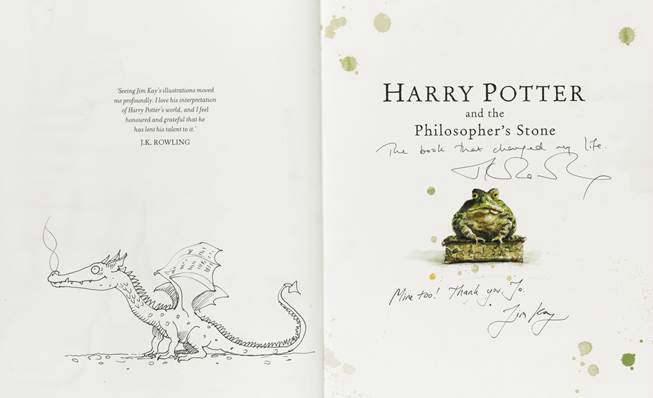 Previous J.K. Rowling items auctioned through Sotherby's have also exceeded expectations. In 2007, a handwritten copy of The Tales of Beedle the Bard sold for a whooping £1,950,000, while the Lumos charm bracelet sold for £20,000 in 2013.
Of course, we don't know who brought this precious item, but we can imagine that they are very happy with their new purchase!
Find out more about the sale here.
You can find out more about Lumos and how to support the charity here.
What do you think about the sale? Did you expect the book to be sold for this amount? Let us know in the comments!