The "Fantastic Beasts" Announcement Trailer Is Finally Here!
Warner Bros. teased us last week by revealing that they would be releasing a very special Fantastic Beasts and Where to Find Them announcement trailer on December 15. Since then, we've been waiting impatiently to find out just what this announcement video would entail and hoping that we would get a first glimpse at the film and Eddie Redmayne (Newt Scamander).
First thing this morning, we were teased with the reveal of a Fantastic Beasts poster. We've had title designs and some set photos revealed thanks to Entertainment Weekly, but finally, we get to see an official poster. You can see it in full below: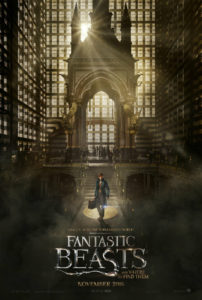 We're sure you'll agree that it looks fantastic.
And now the wait is over – the announcement trailer is finally here, and it features Eddie Redmayne and Katherine Waterston in character as Newt and Tina, giving us our very first glimpse at the film.
You can check out the trailer below:
With just under a year to go until the film is in theaters (November 18), the trailer has certainly whetted our appetites for more, and we're ecstatic to have got our first glimpse of the film!
What do you think of the trailer? Let us know your thoughts in the comments!