"Forbes" Magazine Lists Emma Watson in Annual "30 Under 30"
This month, Forbes magazine announced its annual "30 Under 30," a line-up of people under the age of 30 who have already made their mark on the world in big ways. From actors to humanitarians, this year's list is made of names like Ellen Page, Ansel Elgort, and Zac Efron.
Also making the list is the one and only Emma Watson, who has recently made a name for herself by assuming the role as the United Nations' Goodwill Ambassador. This, in turn, gave Emma a platform to kick off the HeForShe campaign, inviting people from all around the world to stand together for gender equality. Her work has led her to do some incredible things like speaking at the United Nations, interviewing Malala Yousafzai, and facilitating a live International Women's Day discussion on Facebook.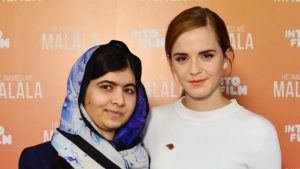 Emma has inspired millions of people through the years as Hermione Granger in the Harry Potter films, but not as many as she has truly motivated by being herself and standing up for what she believes is right. We are excited to see Emma's name among so many inspiring young people and are so proud to see how the world has changed because of her.
How has Emma Watson inspired you?