"Fantastic Beasts" Roundup: Eddie Redmayne and the Eddie Case
Welcome to the latest installment of our Fantastic Beasts and Where to Find Them roundup, bringing you all the latest news from Newt Scamander's magical world – and beyond.
The Pottermore Correspondent had some goodies for us, including a piece about being an extra on the Fantastic Beasts set.
Going undercover as an extra was basically like conducting my very own sneaky study in human nature. The ultimate on-set social experiment: put 100-odd people in 1920s costume, hair and make-up, confiscate all technology, provide biscuits, leave them in a giant tent for hours at a time and see what they do.
Eddie Redmayne also spoke to Pottermore about what it was like to meet director David Yates for the first time – armed with his own… Eddie Case?
I've had it for about eight years. My dad works in the city and has always had a briefcase. I always did this acting thing for a living, which didn't feel like a proper job, and I wanted something that made me feel like I was doing a proper job, […] so I got this case. I use it whenever I go on set. I keep my script and whatever mementos I find useful in it.
He continues, revealing that he had the case with him the first time he met David Yates.
So when David and I had our first meeting about this movie I had this case with me. We met in a pub in Soho and sat down by a roaring fire. As he started telling me about Newt and the basic plot of this film – which included Newt having a magic case – I said, 'I promise I didn't know about Newt's case. I didn't bring this as some sort of weird method audition – like, don't worry David, I come with my own case!' And I'm afraid it's still here; it's still got my life in it. Not quite as much as Newt has in his case, though…
You may remember that J.K. Rowling tweeted a few months ago about being on the set. A picture of Jo posing with the main cast (L-R: Katherine Waterston, Dan Fogler, J.K. Rowling, Alison Sudol, Eddie Redmayne) has emerged, which you can see below.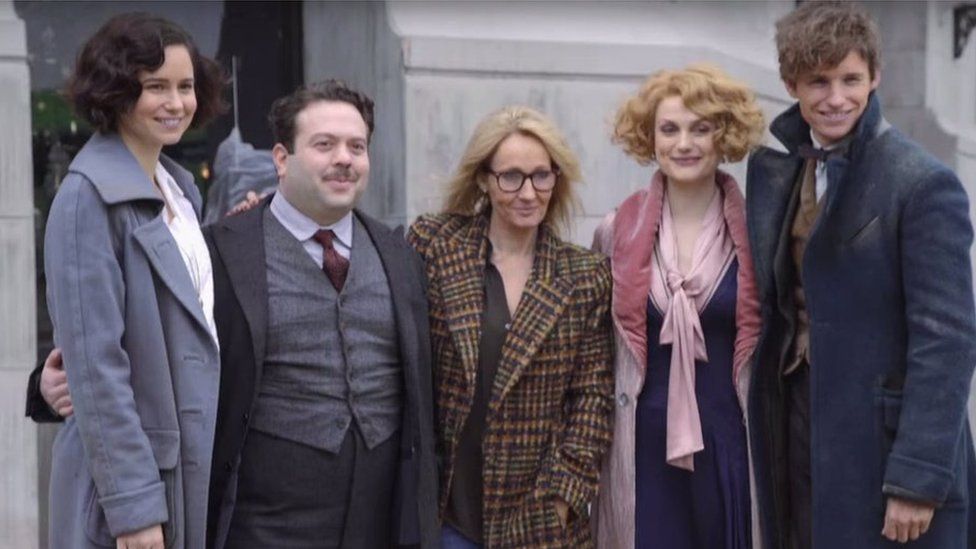 Eddie has also been busy promoting The Danish Girl and attending premieres all over the world, including this one in Copenhagen.
The BAFTAs take place in London tomorrow night (February 14) – will Eddie walk away with Best Actor for his role? The Danish Girl has a total of five nominations while both Steve Jobs (starring Katherine Waterston) and The Lobster (Colin Farrell) are also nominated for awards.
Don't forget to tune into BBC1 at 9:00 p.m. GMT to find out!
In casting news:
Josh Crowdry has been cast as Senator Henry Shaw.
Sam Redford as a customs official.
Dino Fazzani and Pete Meads as factory workers.
Jorge Leon Martinez as a Spaniard ship passenger and Kornelia Horvath as a South American passenger on Newt's boat, which suggests that Newt will be traveling to New York by ship! Other related castings include Alphonso Austin as a boat crewman.
Check out the full (and ever-growing) cast list here.
And there was some Fantastic Beasts BOOK news this week! Of course we're all familiar with the Fantastic Beasts text book that was released in 2001 to raise money for Comic Relief, and from which the film sprang. Now, Bloomsbury UK has released its upcoming Harry Potter plans, and we're excited that the plans involve Fantastic Beasts.
First up will be a newly updated version of the original Fantastic Beasts book, with new content from J.K. Rowling. The book is due to be released February 9, 2017, and the cover will be illustrated by Jonny Duddle.
This will be followed by an illustrated edition of the book, the first in the set of Hogwarts Library books. The book will be released in autumn 2017. The illustrator is yet to be announced, but watch this space for more information!
Find out more about these announcements here.
Finally, don't forget a new episode of SpeakBeasty, MuggleNet's Fantastic Beasts podcast, is released tomorrow (February 14). While you're waiting, make sure to catch up on previous episodes!
That's it for this week! Join us again soon for another roundup of everything that's happening in the Fantastic Beasts world. In the meantime, share your highlights from this week's roundup in the comments. Will you be buying the new Fantastic Beasts editions? What do you think of Eddie's Eddie Case? Let us know!