Harry Potter and the Celebration of Ireland
In celebration of St. Patrick's Day, here is a compilation of all things Irish in the Harry Potter series.
Seamus Finnigan
The lovable Gryffindor with a talent for explosions hails from an Irish family. His mother is an avid supporter of the Irish Quidditch team, and he has a cousin named Fergus. How much more Irish can things get? Of course, Devon Murray who portrays Seamus on screen is also Irish.
Kenneth Branagh
Branagh, who plays the perfect Gilderoy Lockhart, was born and raised in Belfast, Ireland. Also, banshees are rooted in Irish mythology, so this is a double shot of whiskey.
Evanna Lynch
Evanna Lynch is more than any fan could have asked for in her portrayal of the beloved Ravenclaw, Luna Lovegood. Lynch is from County Louth, Ireland.
Boggart
The word "boggart" is awfully similar to bagairt, the Gaelic word for threat or menace.
The International Irish Quidditch Team
The 1994 Quidditch World Cup champions, the International Irish Quidditch Team is a force to be reckoned with. "Troy! Mullet! Moran!" Of course, the Irish team's mascot is a leprechaun.
Both Dumbledore Actors
It seems everyone has an opinion on which actor played a better Dumbledore, but they are both superb actors and both Irish. Richard Harris was born in Limerick, while Michael Gambon was born in Dublin.
Brendan Gleeson and Domnhall Gleeson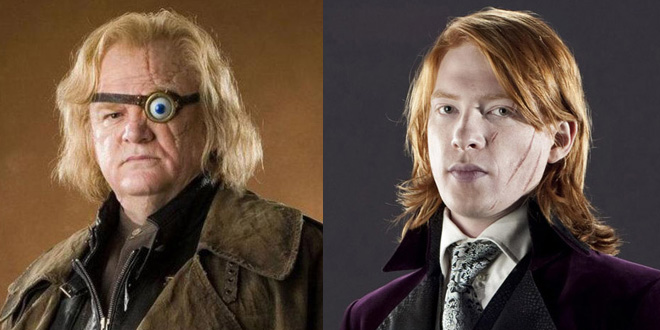 The father and son, both from Dublin, Ireland, had the experience of acting in the Harry Potter movies together as Mad-Eye Moody and Bill Weasley.
On Location
Many locations in the Harry Potter films were shot in Ireland. These filming locations include the Cliffs of Moher, which were seen in Half-Blood Prince before Harry and Dumbledore enter the cave. The rock on to which Harry and Dumbledore Apparate is Lemon Rock, off the Iveragh Peninsula in County Kerry.
The Irish brought a lot to the Harry Potter series, so it is only right to recognize this contribution. Happy St. Patrick's Day!