Role Call: Come One, Come Spall
This week has been full of interesting projects and appearances from our favorite Potter alumni. So interesting, in fact, that for the first time, Justin Bieber's name is in this article. Want to see why? That and more in this week's Role Call!
If you are thinking that Domhnall Gleeson (Bill Weasley) doesn't have time to squeeze a comedy into his schedule, you're wrong. Gleeson will star in the Netflix feature A Futile and Stupid Gesture alongside Will Forte. The film is about the guys who founded National Lampoon, turning it into a comic force and producing some of our favorite movies.
Will Forte will be starring as Doug Kenney, and Gleeson will assume the role of Henry Beard, who created the humor magazine. There is talk that production for the film will start this month, with a release date soon to come, but we don't know everything for sure yet. But have no fear! You can get your Domhnall Gleeson fix in the upcoming Mena, Crash Pad, and, later this year, in the second installment of Star Wars.
Helena Bonham Carter (Bellatrix Lestrange) recently lent her voice to Ryan Blyth's creative new music video for "Trust Me," a track on his album After 6. The video follows two dancers dressed in feathered costumes in a mating-sort of dance ritual across what can only be referred to as the urban jungle. Helena Bonham Carter acts as a wildlife narrator for this urban jungle.
It is a strange and gritty kind of video, but interesting nonetheless. Check it out below!
Mark Williams (Arthur Weasley) surprised the Bromsgrove's Age UK Men in Sheds project last week by popping in. Men in Sheds is a project that orignated in Austraila, providing recently retired men and women a place to get together to work on DIY projects or furniture reclamation as a way to encourage community.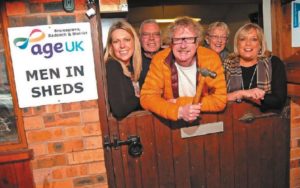 Williams started supporting the project after his parents used the project's Home Maintenance Service; from there, he saw the benefits of the group and jumped on board.
The great thing about 'Men in Sheds' is that men need something to do while they are socialising. We can't just sit and have a cup of tea and a cake. It's just not us.
The socializing aspect of the project is a hugely important one too, as retirement can come as a shock to many older people because it feels as though they have lost both their status and contact.
It's sad to think that when someone retires that experience is lost. In a way, it's like losing a library.
The project will continue to make a difference in Bromsgrove, and the group is hopeful that they will soon be able to make a profit by selling the furniture they refurbish.
The beginning of the production process has begun for That Good Night, which stars John Hurt (Ollivander). The cast has been rounded out and photography has begun, leaving what I can only assume is filming. The film, which takes its name from Dylan Thomas's famous poem, follows Ralph (played by Hurt), a famed screenwriter preparing for his death.
As he [Ralph] does so, he resolves to attempt two final missions in life: to be reconciled with his long-lost son, and to ensure he doesn't become a burden to his wife Anna, by hiring a mysterious visitor to help him pass painlessly into that good night.
The film will shoot for five weeks on the Algrave coastline of Portugal and is expected to be beautiful and thought-provoking.
We recently reported that Timothy Spall (Peter Pettigrew) would be starring in The Caretaker as Davies, and we are pleased to inform you that production has now begun! Some pictures were released of Spall embodying his character, and the unkempt, crazed look is very reminiscent of his stint as Wormtail! Do you agree?
Get a first look at Timothy Spall in The Caretaker below, and visit this link to book your tickets now!
You can hear Gary Oldman (Sirius Black) chat with comedian Chris Hardwick on April 12 during a Nerdist podcast. Hardwick posted a picture of himself and Oldman together on Facebook last week, saying:
Tshirts, beards & hats w/ Gary Oldman! The Nerdist podcast episode goes up April 12th and I have to say it was a particularly moving chat. Excited for you to hear it!
Doesn't Gary Oldman look like the father you always wished you had?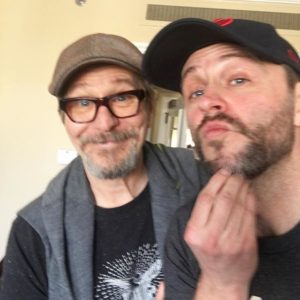 Gary Oldman also recently appeared on The Late Late Show with James Cordon as one of Salma Hayek's three lovers (the other two played by Ray Romano and James Corden). The makeshift soap opera is comprised entirely of Justin Bieber lyrics, making what is supposed to be a drama impossible not to laugh at.
Watch the dramatic mini soap opera below. Are there any Beliebers in the house?!
Last but not least, Gary Oldman's Criminal hits theaters this Friday, and to talk about the film, Kevin Costner chatted with Empire during a podcast last week. Costner also relayed memories of sword fighting with Alan Rickman (Severus Snape), a subject that is sure to bring us all to tears.
You can listen to the Empire podcast via their iTunes page, SoundCloud page, or by pressing play below. Enjoy!
Jack Thorne, playwright for Harry Potter and the Cursed Child, will be adapting Philip Pullman's His Dark Materials for BBC One. After receiving BAFTA nominations in three separate categories, Thorne has made quite the name for himself. Regarding his upcoming film adaptation, he had this to say:
It is such an honor and a privilege to be given this opportunity to delve into Philip Pullman's world, the His Dark Materials trilogy are vast and glorious books full of beautiful characters and I'm going to work as hard as I can to try and do justice to them.
The His Dark Materials trilogy follows an orphan who lives in a parallel universe where science, theology, and magic are all entwined. The series will be filmed in Wales, marking Thorne's first experience with British television. Catch Thorne's latest work, National Treasure, starring Robbie Coltrane (Hagrid), on Channel 1!
John Tiffany's (director of Cursed Child) Broadway production of The Glass Menagerie will open at the Edinburgh International Festival this fall. The production was transferred from the King's Theatre to Broadway in 2013 and follows a similar story to that of Tennessee Williams.
The full line-up of the festival includes a series of classical, opera, and pop music events. Find out more here and don't forget to purchase your tickets when they go on sale next Saturday!
A new clip for Clémence Poésy's (Fleur Delacour) upcoming film The Ones Below was released last week, giving us a glimpse at some strange neighbors that I just know are trouble. For those of you who don't know:
The story follows a young couple, eagerly awaiting their first child, who become involved in a psychological battle of wills with the tenants in the apartment downstairs. And it's one that only intensifies when the couple below lose their own baby-to-be in a freak accident.
We have been following this movie for a while now, so whether you want to check out more clips or read Clémence Poésy's take on the film, we've got you covered. The Ones Below opens May 27, but in the meantime, watch the newest clip below! Have you ever had neighbors like these? (I sure hope not)
David Tennant (Barty Crouch Jr.) has joined the cast of a new children's animated TV special, Fireman Sam: Alien Alert, voicing the part of the villain alien-hunter Buck Douglas. The hour-long special will debut sometime in 2017, and we will see the show take on a sci-fi theme. The show is meant for pre-schoolers, but I think we can all agree that anytime Tennant plays a villain, it is something worth tuning into watch.
That's a wrap on this week's Casting News! How excited are you for The Ones Below? Will you be tuning into Fireman Sam: Alien Alert? Are you hoping to see a Justin Bieber/Gary Oldman mash-up in the future? Let us know in the comments below!