Katherine Waterston and Alison Sudol Talk Becoming the Goldstein Sisters
With just another four months to go until Fantastic Beasts and Where to the Find Them graces our cinema screens, Pottermore has kindly shared an exclusive interview with two of the movie's main actresses, giving us an insight into how they prepared for their characters.
Katherine Waterston and Alison Sudol auditioned and succeeded in claiming the parts of Tina and Queenie Goldstein, respectively, who are of course sisters. David Yates (director) was apparently "looking for a very specific type of chemistry: the natural, inimitable kind between sisters."
Talking to the Pottermore Correspondent in detail about the day they met, Sudol says,
We were introduced, and it was kind of like, 'Okay Katherine, this is Alison. Alison, this is Katherine. Why don't you have a seat on that couch and be sisters?' We were both like, 'Right, okay!'

And so I sat down and something happened: I just looked at Katherine's face and felt incredibly empathetic towards her. In this scene, she – Tina – was suffering, and I could see that. I started playing with her hair and plaiting her hair, and it was a really emotional moment for both of us.
Going on to talk about their chemistry, Sudol continues:
You know when you meet somebody and you just know, 'We don't know each other yet, but we will. Where have you been all my life?' [Katherine and I] spent a lot of time together after that day, but you don't have to push that connection if it happens naturally.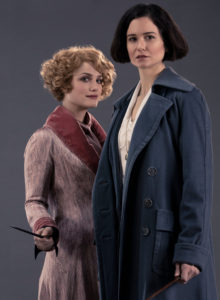 When also asked about the day they met, Waterston remembers it fondly.
The truth is that I saw Alison in a scene first. I got to watch her work a little bit before we did the improvisation, so I already knew she was a really good actor,' Katherine says.

So I went into the improvisation knowing I was with someone who would be able to hold up their side of the bargain. With things like that when you're nervous and you're auditioning, to know you can trust your partner gives you confidence you might not otherwise have in that situation.

I think that made a big difference. I don't know if I'd have been able to sit down and play like that. Just seeing this brief interaction, I was like, 'Oh, she knows what she's doing'. But also, she's so sweet-faced; feeling close to her just sort of happened naturally.
Fantastic Beasts is scheduled for a November 18 release – are you ready to head back into the wizarding world? Let us know with your comments how excited you are!