Sorting the Founding Fathers into Their Ilvermorny and Hogwarts Houses
With today being the 4th of July and the recent release of Pottermore's Ilvermorny House Sorting quiz, we thought it would be fun to Sort a few of America's Founding Fathers into both their Ilvermorny and Hogwarts Houses!
Without further ado we present to you, the Founding Fathers: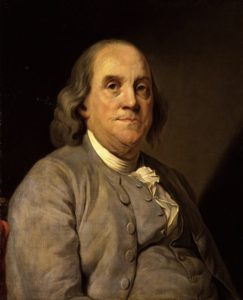 Benjamin Franklin ~ Horned Serpent & Ravenclaw
To do these Sortings, we looked at what we know about the Founder's childhoods — since they would have been Sorted as children. Franklin, for lack of money, was mostly self-educated through voracious reading. As we know, Franklin went on to be a great inventor and scientist. Well done, Professor.
Ravenclaws value wisdom, and Horned Serpents, the mind. Franklin was a great proponent, as an apprentice at his brother's newspaper, of freedom of speech and the ability to share freely the thoughts of one's mind. He was such a proponent of this freedom, he thwarted British authority (sorry, Jo) and eventually earned the title of "the First American."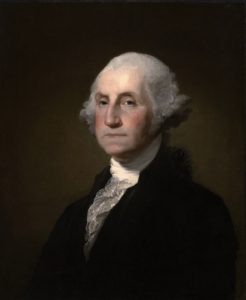 George Washington ~ Wampus & Slytherin
Washington's father died when he was just 11 years old, which prevented him from further education in England. But Washington learned enough in his schooling to become a proficient surveyor, completing around 200 surveys of more than 60,000 acres in his lifetime — and he didn't have a car or a broomstick.
Washington's Wikipedia biography reads like a story of being in the right place at the right time and taking advantage of every opportunity. Even the bad things in life, like the loss of his brother, who was a second father to Washington, seemed to propel him to new heights.
Slytherins value cunning and ambition, and Washington climbed as far up the ambition ladder as anyone could hope. In Wampus House, whose members define themselves by what they do, Washington would excel. He was always doing something — surveying, fighting military campaigns, traveling, being the first President, etc.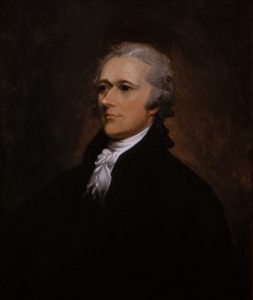 Alexander Hamilton ~ Thunderbird & Gryffindor
Hamilton was born in the Caribbean to unwed parents (major no-no back then). His father abandoned them, and his mother died when he was just 13, leaving him orphaned. Then, his cousin who adopted him and his brother committed suicide. This led to the brothers being separated.
Hamilton loved to read and write. An essay he wrote about a hurricane that hit the island where he lived earned such notice that funds were collected to send him to the American colonies for his education. Hamilton and his friends at King's College (Columbia University) formed a literary society. Hamilton went on to write anonymously for the revolutionary cause.
Like Hermione, Hamilton was very smart, but he chose to use that wit in great acts of bravery — we have a feeling he would have vehemently supported SPEW. For that, he seems to fit best in Gryffindor. Thunderbirds are adventurers who define themselves by their soul. Being orphaned at a young age, adventure became a lifestyle for Hamilton, traveling far from his island home to grasp the opportunity of an education.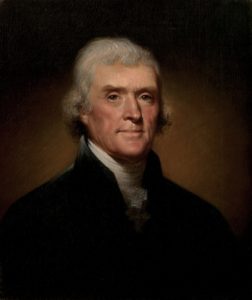 Thomas Jefferson ~ Pukwudgie & Hufflepuff
Finally, Thomas Jefferson. The author of the Declaration of Independence, second Vice President of the US, and third President. As a boy, he rode horses and studied nature. At age 16, he entered the College of William & Mary where he graduated after two years. While obtaining his law license, he also worked as a law clerk, and in his free time, he read English classics and political writings — he would have loved Harry Potter!
Though Jefferson treasured his books, we did not put him in Ravenclaw because we felt his hard working attitude overshadowed even his brilliance, thus his Sorting into Hufflepuff. And we placed him in Pukwudgie, which values the heart and is known to produce healers, because of his heart for slave reform. He fought seven cases without fee for freedom-seeking slaves.
Even his library had his heart. When his house burned down, taking the books his father left him, Jefferson worked tirelessly to re-establish the collection, even incurring debts to do so. It seems that whatever Jefferson did, he did it with his whole heart.
There you have it. Four founders, eight Sortings — they could be foreign exchange students! So we know you disagree with us on at least one of these. Fire away! Why are we wrong? What did we get right?
Oh, and Happy Independence Day!