New Behind the Scenes of "Fantastic Beasts" Books Announced
After the new trailer released at San Diego Comic-Con earlier this month, fans everywhere are counting down days until the release of Fantastic Beasts and Where to Find Them. On November 18, fans can dive even deeper into the anticipated film with new behind-the-scenes books!
According to HarperCollins publishers, the first of these books, Inside the Magic: The Making of Fantastic Beasts and Where to Find Them,
introduces filmmaking fans to Newt Scamander, Magizoologist, and the principal characters, locations, artifacts and beasts that he encounters in 1920s New York. Explore the filmmaking magic behind MACUSA, the secretive American counterpart of the Ministry of Magic, and the magical secrets of Newt's case.
Meanwhile, the second book, The Case of Beasts: Explore the Film Wizardry of Fantastic Beasts and Where to Find Them, will be a little more technical:
The Case of Beasts delivers an enchanting interactive experience by sharing filmmaking secrets, film photography and artwork, and behind-the-scenes stories from cast and crew. Full of removable, facsimile reproductions of props and paper ephemera from the movie, along with some very special effects, this collectible volume offers a unique look from the talented group who created this movie magic.
Even more exciting, The Case of Beasts has been written by Mark Salisbury and designed by graphics team MinaLima, and the beautiful cover image released seems to indicate another spectacular job!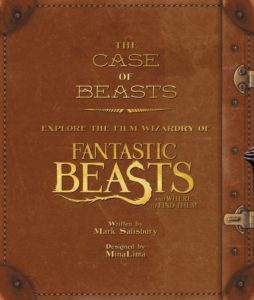 It seems that these books will be much like Page to Screen and Film Wizardry, the books released after the Harry Potter films offering film making trivia and information. However, it is exciting to know that we will be getting these behind-the-scenes books on the same day the movie is released, allowing fans to indulge themselves in every aspect of the filmmaking process.
You can pre-order the books, which will be released November 18, here.
What do you think of these new books? Will you be picking up a copy? Let us know in the comments!