New Images of LEGO Newt – and Niffler!
Last month, it was announced that Harry Potter and Fantastic Beasts characters would be coming to the popular LEGO Dimensions game. Now, we have a first look at what Newt Scamander will look like in brick form – as well as his trusty pet Niffler!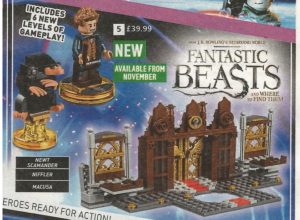 According to Brick Fans, the Fantastic Beasts pack will included a Newt minifigure, Niffler gadget, and Magical Congress of the United States of America (MACUSA) gateway. The pack will include a six-level story campaign based on the corresponding movie.
The set goes on sale in November, with an estimated retail price of £39.99 (about $53).
Will you be buying the Fantastic Beasts expansion pack? What kinds of story lines are you hoping to find in it? Let us know in the comments!